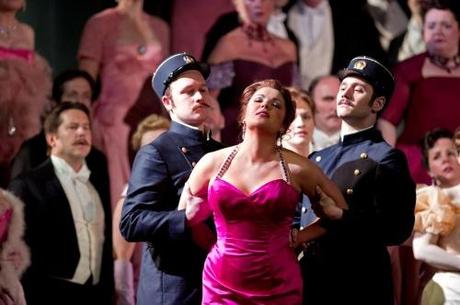 Anna Nebtrebko in Manon /Covent Garden Production photo by Bill Cooper
Should the Metropolitan Opera's award-winning series The Met: Live in HD  be considered a cash cow or a godsend? 
More of a godsend, dear readers. And here's why. The Met pays plenty to offer Live in HD to 1,500  theaters in 46 countries. In a recent statement to opera media, Met officials stated that nine live transmissions grossed $48 million while netting $24 million in the last completed season, 2009-10.  That means the participating theaters earned a healthy premium of  revenue, such a healthy portion, it might be considered fatback in the deep American South. 
But what the healthy figures (more than seven million HD tickets sold worldwide since the HD series began five seasons ago) don't show is how The Met: Live in HD is building audience for live opera. Yes, live opera.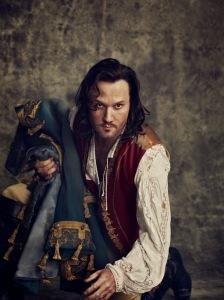 Mariusz Kwiecien as Don G. / photo by Nick Heavican, Metropolitan Opera
It is a hugely impactful outcome–that Live in HD can build younger and broader audiences worldwide–precisely what opera, the art form, needs. And cinema opera brings in revenue–to the tune of $24 million, which buys a lot of period costumes (and other stuff) for shows like Don Giovanni (scheduled for HD Live, October 29, 2011.) 
Whenever the Met transmits an HD broadcast, it always encourages viewers to frequent live opera–of course, at the Met, but in their hometowns and home countries as well. 
In a recent event announcing their 2011-12 season, Managing Director Peter Gelb affirmed that Live in HD is serving current audiences as well as building future audiences for opera. 
"Our tour guides who interact with tourists to the Met report far greater numbers.  Most tourists come with a mission to see a landmark in the house that they've seen in HD shows.  The main purpose of The Met: Live in HD is to increase the bond between the Met and our global audience, and increase attendance." — Peter Gelb 
 The Met has announced eleven Live in HD productions for 2011-12 and they are:  Anna Bolena on October 15; Don Giovanni on October 29; Siegfried on November 5; Satyagraha on November 19; Rodelinda on December 5; Faust on December 10; The Enchanted Island on January 21; Gotterdammerung on February 11; Ernani on  February 25; Manon on April 7; and La Traviata on April 14.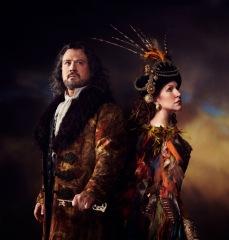 'The Enchanted Island' / Photo by Nick Heavican
Tickets go on sale in September. Met members in the U.S. and Canada have ticket priority before general viewing public. 
Happy viewing. And if fish have lips, I'll be stuffing my face with popcorn during Don G in fall of 2011.