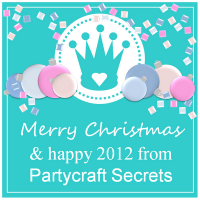 It's no secret that tomorrow is Christmas - hooray!  We're having friends over today for lunch, and then family over on the 26th for a second gathering, which will make Christmas Day a lovely calm between two 'party-storms', where we can be a little family and concentrate on the children and all the wonder that goes with being young at Christmas time.  
We've all been up today since 5.30am (thanks Mimi!), having breakfast, putting up some last minute decorations (you can never have too many), and making necklaces out of 'ball-balls' (baubles) for our young friends for a bit of Chrissy-dress-up fun.  When the girls remember we'll open the last of the
advent calendar
boxes, then pop all the cardboard boxes back into the plastic container for next year.  There will be one last flurry of activity as we set the food on the table, and then it's party-time.
I hope that you all enjoy the festive season with your family and friends, remember to slow down, enjoy the company, and focus on what's truly important.  When it comes time for those New Year's Resolutions, make them many and varied, but do me one favour; add 'be-crafty' to the list!  
Merry Christmas everyone and thanks for sharing my first few months of this creative blogging journey - and see you back here on Wednesday the 4th of... wait for it... 2012 - wow. x