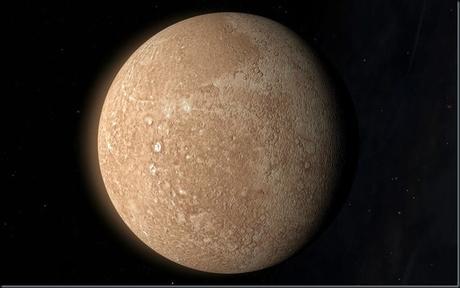 Mercury is stationing retrograde in 4 days time on 10th April at 00.14 hrs in London, it'll be the evening of 9th April if you are in the Caribbean or in the Americas. Mercury this time stops at 4.51 degrees Taurus and it will go into retrograde motion until 3rd of May where it stations direct at 24.17 degrees Aries.
This Mercury retrograde stations exactly to the second on the the fixed star Fornacis, the main star in Fornax, the constellation of the furnace. This part of the sky is concerned with fire and heat and it would not surprise me in the slightest if the matter of a fire, burning or something catching alight makes the news as Mercury stops retrograde. This signature of things catching alight may affect this Mercury Retrograde, maybe burning bridges between people or a relationship that catches fire. Fire is started by a spark, and a spark of an idea or a situation that lights up in a good and/or in a bad way may occur during this 3 week period. As I said before in the introduction, you may feel the heat in a specific situation in your life.
So is Mercury retrograde all bad? No, definitely not. It is said that those with Mercury retrograde natally in their charts tend to do better and make wiser decisions during a Mercury retrograde period. As yet I haven't seen any direct proof in my own work to back this up. I think that as Mercury is moving at a slower in speed than during most of it's direct motion period, we are able to review and reassess parts of our lives in clearer focus, making sure that the things we are doing is correct. I believe that we naturally sense that things are not entirely right, and so we go back to check to make sure. Have you ever had this sense when Mercury is reversing?
This actually something I stress anyone should do under Mercury retrograde, double check everything!! This is a time when you can successfully review your own decisions, look into your own attitudes and analyse if you are doings things right or wrong. It is perfectly acceptable and probably a good idea to make your mind up during Mercury retrograde, however it's best not to sign on the dotted line confirming your plans and decisions until Mercury is moving direct. By the same token it is generally accepted that one should desist from starting any new projects, making drastic changes at work, getting any new technology (phones, computers) or items ruled by Mercury (like cars), sending important documents, booking travel tickets or making important plans.
If you know your Rising Signs or your Ascendant, these following issues will be ones that you will be reviewing or taking greater notice of in the next 3 weeks.
Aries Rising
The front door to your world; the self-Image; your reactions to your environment; how others see you; physical characteristics; outer personality; how you initiate actions - be careful, not advised to start new projects until the retrograde ends
Taurus Rising
Your unintegrated, unconscious self; what you project on to intimate relationships; your dreams; your hidden fears and enemies; breakdowns; sacrifices you make and your service to a greater cause. Matters connected confinement, hospitals and clinics, charity work, your need for solace and peace.
Gemini Rising
Your need to make contact with others; how you receive love; your friendships; social groups, associations and clubs that you are a part of; your shared hopes and ideals; any team activities.
Cancer Rising
Your public role and status and your career; any volunteer work you do; your ambitions; how you set out to achieve your aims; your dominant parent normally the Father; relations with authority figures; your tendency to be dominant or dominated.
The abstract or higher mind; your belief systems; higher education; matters with teachers; foreign travel and connections abroad; religion; the spirit of the law and ongoing legal matters. Anything you publish or broadcast widely.
Virgo Rising
Results of what you share with others; intense relationships; sex and intimacy; other people's money and possessions and how you deal with them; legacies; death and rebirth as in endings and beginnings; crises occurring and dealing with change.
Libra Rising
One to one encounters; partners; relationships and marriage; lawsuits; challenges; open enemies; how you co-operates or competes with others.
Scorpio Rising
Your daily routine; your work and practical skills & techniques; relations with employers and employees; health and well being issues. Matters of service and people who serve your needs. Matters with pets and nature around you.
Sagittarius Rising
Your creative instincts; the urge to express yourself spontaneously; children; how you give out and spread love to others; love affairs; leisure; speculation, children's matters
Capricorn Rising
Home and family issues; your sense of belonging; psychological foundations; how you are in private; your 'background' parent normally the Mother; home and matters to do with domestic and family issues.
Aquarius Rising
Communications of all types; the analytical mind; early and immediate environment; school and educational matters; relatives; brothers and sisters; using any sort of transport or making any short journeys.
Pisces Rising
Your process of valuing; self worth; body awareness; how you develop your natural resources; your attitude towards money and possessions; emotional attachments to objects.
If you are interested in getting a reading from me either now or in the future please email me at [email protected] or find me on Facebook by following this link "Solaris Astrology on Facebook". Thank you...