Meralco invited me and a number of bloggers to be familiarized creatively with their electronic innovations through the Bright Light Quiz Night, in which our team ranked second. Now I can't wait to tell you how the country's leading electricity provider is stepping it up to reach and connect with us in this digital age! Read more…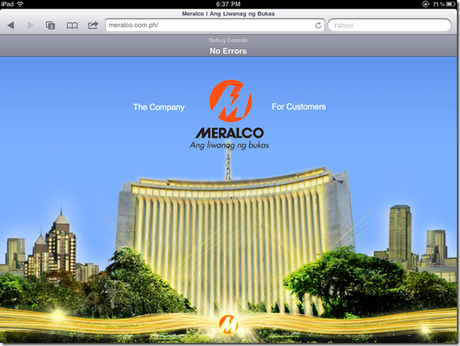 We need not wait while on hold at Meralco's service hotline for our inquiries and concerns anymore. Now, Meralco joins us netizens in our virtual world with a website that contains everything we need to know about the company and the services they offer. And to put the social in social media, Meralco is likewise now on Twitter, Facebook, and YouTube—all of which can be accessed on-the-go through our smartphones and tablets!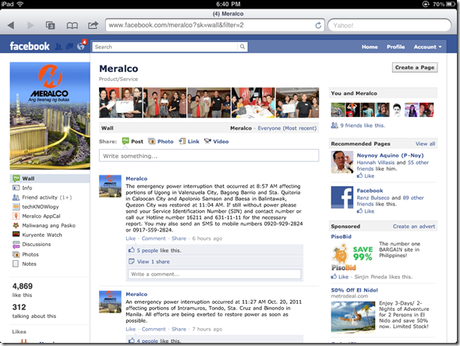 All the vital information we customers need and want to know, such as electricity consumption, bill status, and new account applications, among others are now available in the revamped website under the "For Customers" section of the main portal of their website. Meanwhile, corporate reports, business partnerships, stakeholder relations, and investor information are all willingly shared to us under "The Company" section.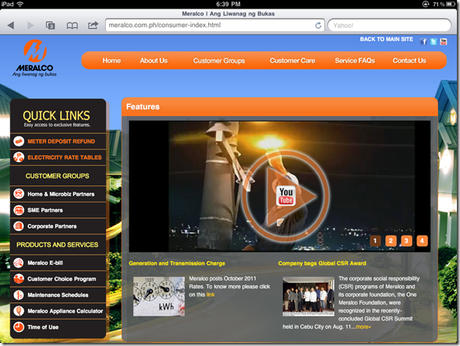 What's more is that dealing with bill-related matters is made easier with the Meralco E-bill app, which allows us to register our billing information and get track of our current and even overdue bills. It's great because aside from the usual bill sent to our mailboxes, we can now also access our monthly bill online and download it.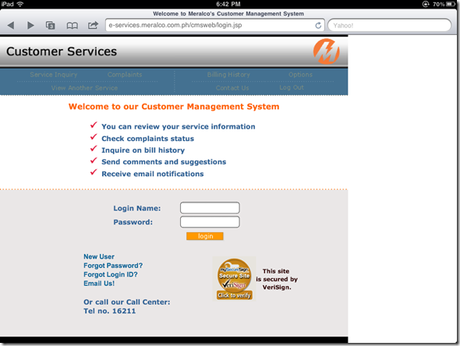 And in case we want to know how much your electric consumption costs, Meralco has a user-friendly Appliance Calculator or AppCal, which allows us to compute and estimate the total cost of our common appliances at home. We just have to input the type of appliance, its wattage, and frequency of use. Afterwards, AppCal can instantly gauge how much our consumption would cost in any way we want—be it per hour, day, week, or month. We need not to worry about generation charge too, as it is conveniently included in the computation already. The mobile-friendly AppCal is available not only in the Meralco website but also in  the Apple AppStore for iOS-enabled devices—iPhone, iPod touch, and the iPad. Android,  BlackBerry, and Symbian users can also use the AppCal through especially made apps for their respective operating systems.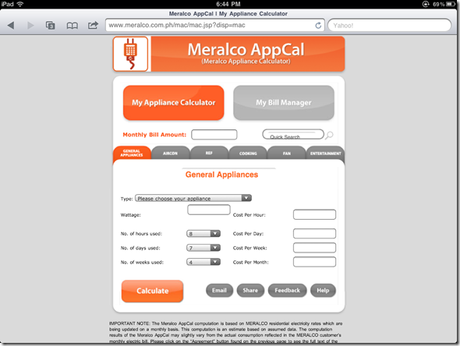 Meralco is also beefing up its social media reach. Their Twitter account (@meralco) gives us quicker customer service by tweeting announcements and replying to concerns in real time, while Meralco's Facebook page provides the company's latest campaigns, services, CSR projects, as well as answers to queries from the customers. Lastly, the Meralco channel on YouTube hosts the company's television commercials and other video features.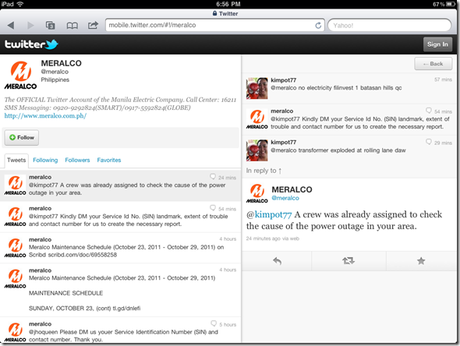 By the way, Meralco's presence in the internet is just one of the many initiatives of this socially-responsible company. To live up their "Ang Liwanag ng Bukas" slogan, Meralco will work to extend its reach to more areas in the country and in anticipation of the country's quincentennial year in 2021. And to alleviate the living standards of Filipinos, Meralco has outlined several projects, including wider power distribution, prepaid electricity, Meralco Power Generation, the Automated Area Network, and Meralco-Powered Electric Vehicles.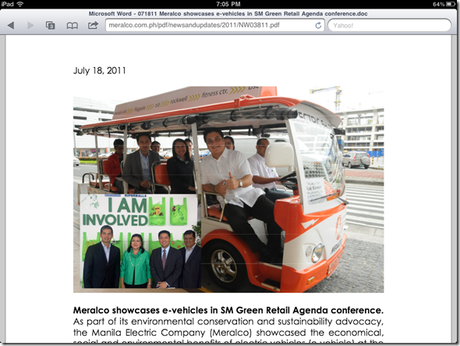 Truly with Meralco, every Filipino's future gets brighter and brighter through the years. Do visit their website at www.meralco.com.ph.