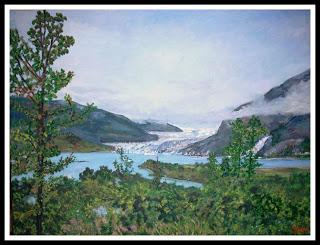 The

Mendenhall Glacier

is one accessible glacier you should check out. In recent times, this 12-mile (19 km) long, 100-foot (30.5) tall, and 1.5-mile (2.4 km) wide glacier has both grown and melted, based on increased or decreased amounts of snowfall and temperature. Because of Alaska's unique geography and climate, glaciers like Mendenhall have been able to survive longer than others. The

Mendenhall Glacier

is fed from the Juneau Icefield, an icefield that covers more than 1,500 square miles (3885 sq km) and feeds 38 large glaciers.
Travel:

Explore the Mendenhall Glacier
Glacier trekking is an adventurous way to explore Juneau's glaciers. Holly Firfer reports for CNN.