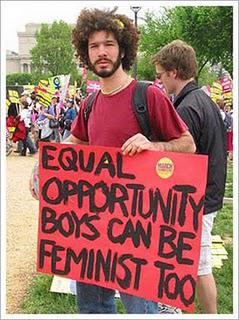 Where have you been
all my life, Beardy?
This is an excerpt from "Feminism: The F-bomb that Horrifies Men" by Catherine Ford of Troy Media. It was published on March 13th, 2011.
Want to see apoplexy? Drop an F-bomb into a conversation.
As soon as a woman says she's a feminist, watch the boy-men and mamma's boys, the braggarts and blackguards, the weak and the puffed up turn red in the face.
Try it. It's one of life's little pleasures if you're a woman.
It's also an excellent way to sift the wheat from the chaff in the male gender. Men who are secure in their own selves, men who are grown-ups, men who make the best husbands, boyfriends and just-plain-friends embrace feminism. It frees them to be real people, not the cardboard cutouts of masculinity promoted in action movies and cartoons. "
Read the rest of Ford's article here!