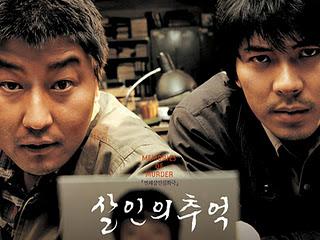 Every time I am about to watch a Korean film, my heart simply warms up. There is something so spectacular about the movies that have come out from this part of the world, that it amazes me why it has not yet become as mainstream as say Indian cinema. You are unlikely to find Korean films in a theater (aside from Festivals) and they have usually only gained success by word of mouth. Brash and genuinely original, Korean cinema is any cinema lovers dream come true.


Memories of Murder is a rather unorthodox serial killer film. Documenting one of Korea's still unsolved serial rape/murder case, the film follows a team of police officers as they try and nab a serial killer who is sexually assaulting and killing victims in a small village.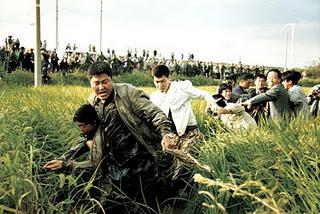 Initially, the movie seems farcical with the two police officers, Detective Park Doo-Man and Detective Cho Young-koo, almost comically running around the village trying to catch anyone suspicious, including a mentally disabled young man, to pin down the murders on. But, as the movie progresses, the audience realizes that the film amidst all the killings and growing mystery subtly highlights social issues such as police brutality. It also cunningly portrays the mounting frustration felt by the police officers as the serial killer goes about attacking, always a few steps ahead of them. The story does take a more serious investigative turn on arrival of the city Detective, Seo Tae-Yoon, but the desperation faced by the village detectives soon seeps into him as well with each new murder.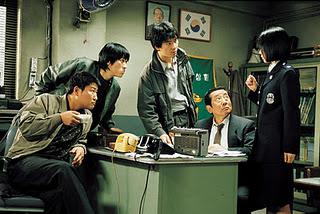 Memories of Murder is not for everyone. It's not gory, never really showing the murders taking place, but it is very gritty, realistic, and direct. The movie is extremely sexual in nature when it comes to the dialogues and like most Korean films Memories of Murder does not hide behind curtains. It uses a very "in your face" approach making the audience squirm every time new details about the serial killer emerge.
A borderline serial killer chase movie, an investigative journalism piece, and a fascinating study of human nature, Memories of Murder is cinema at its best.
A 5/5 Star Rating