MANAKAMANA
A film by
Stephanie Spray and Pacho Velez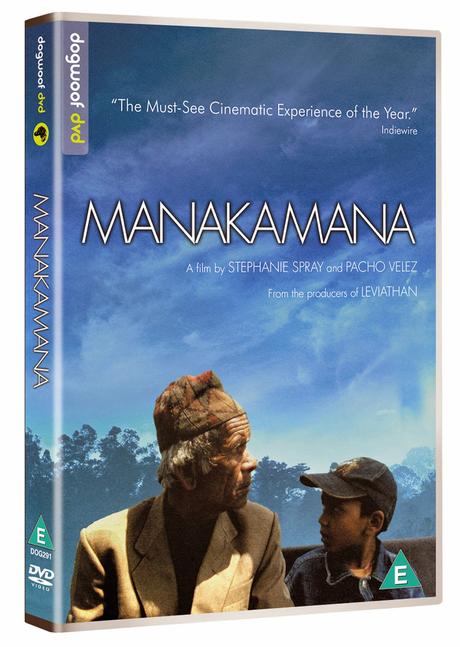 On DVD and VOD 9 February 2015
"One of 2014's best films...how easy and instantly enriching the film is"
★★★★★
Little White Lies
"
You could hardly ask for a more beautiful vision of souls in transit"
★★★★★
Time Out
"The must-see cinematic experience of the year"
★★★★★
Indiewire
"
One of the year's finest documentary achievements"
★★★★
CineVue
"The perfect antidote to the festive rush"
★★★★
The Times
"A hypnotic and profound cinematic experience"
★★★★
The List
Lauded by critics as film of the year, Manakamana is a stunningly original and breathtaking cinematic experience. The film follows pilgrims as they make an ancient journey by cable car to worship high above a jungle in Nepal and makes its home entertainment debut courtesy of Dogwoof.
The Hindu Manakamana Temple is almost a mile above sea level, instead of a lengthy journey on foot, worshippers can now take a 10-minute cable car journey up in to the mountains to pray at this sacred place. Using a 16mm camera co-directors Stephanie Spray and Pacho Velez  join a varied mix of subjects on their pilgrimage. Manakamana
will be available on DVD and VOD on 9 February 2015.
The scenery is mesmerising, as are the characters - a diverse mix of commuters - from a group of old women discussing how much things have changed, a group of young men taking selfies, an elderly man and his grandson, a mother and daughter eating ice-creams, a married couple and their chicken and a herd of goats. Every shot follows a different set of passengers as we learn about them and their lives.
"A tender, ephemeral character study of its passengers and a window onto the lush, rolling landscape of a country in transition from ancient tradition to
modernity"
Cinema Guild
Special features include:
Three exclusive bonus cable car journeys
, Theatrical Trailer
and
Harvard Ethnographic Trailers ­ - Leviathan, Sweetgrass and Foreign Parts.
Release Date: 9 February 2015                                     Catalogue No: DOG316
Running time: 118 mins   Aspect Ratio: 1.85 :1
Language: English, Nepali    Subtitles: English
RRP: £15.99                           Certificate: E