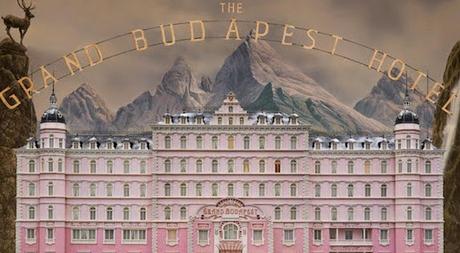 The Grand Budapest Hotel is a classic Wes Anderson quirky comedy.
The movie is all Anderson-esque
including the witty dry humor, the ornately vi
s
ual setting, the impressive ensemble cast, the voice-over narration approach or the presentation of sub plots in the form of the chapters of a book. Here's a savory you wouldn't regret watching!
The film is set at the Grand Budapest Hotel located in the (fictional) East E
u
ropean state of Zubrowka - a luxurious hotel managed by the concierge M. Gustave H (Ralph Fiennes) who spearheads the hotel's day to day activities with passion and an almost
OCD like
meticulousness along with his protégé Zero Moustafa (Tony Revolori), a newly recrui
t
ed lobby boy.
The core plot revolves around Gustave being framed for the murder of one of the hotel's eminent and elderly guests - Madame D (Tilda Swinton). The film spins around how Gustave - with help from Zero - a
t
tempts to prove himself innocent and battles Madame D's money gru
b
bing relatives.
Now before you look at this as a regular murder mystery, let's reme
m
ber it's a Wes Anderson movie! It presents the cast, production, creativity and humour quotients
in a fashion
that Anderson is famous for.
Ralph Fiennes takes the cake as Gustave H (quite literally - as you will find in the movie - a pastry from Herr Mendll's). To start with, you don't quite expect Ralph Fiennes in a Wes Anderson movie. But he is and he has deli
v
ered with perfection a character so beaut
i
fully sketched out by Anderson - a concierge's passion for service
, of all kinds,
to guests, his fuss about everything being pe
r
fect, his compassion for his sidekick, his ranting preachy sermons delivered even when he is hanging in the midst of life & death and his witty dry h
u
mour. You would at times want to stand up and clap!
Tony Revolori is a refreshing sight as the younger Zero Moustafa, with his loyalty to Gustave and love for the baker Agatha (played by Saoirse R
o
nan). 
The ensemble
cast is worth taking note of;
most of them regulars in Wes A
n
derson movies. Tilda Swinton as Madame D has a brief but cr
u
cial role setting tone to the plot, Adrian Brody as Madame D's greedy son Dmitri, Jeff Goldblum as Kovacs - the family attorney, Willem Dafoe as Dmitri's henc
h
man and
Edward Norton as Inspector Henckles who scurries through the st
o
ry with great comic timing.
Of course cameos by Anderson regulars;
Bill Mu
r
ray, Owen Wilson and Jason Schwart
z
man are
ever-so-
delightful.
The movie has a brilliant visual setting t
hat is once again trademark Ande
r
son
. (You will find similar visual settings in his earlier movies like
The Royal Tenenbaums
or
Fantastic Mr Fox).
Add to that the
use of miniatures to depict the hotel, th
e hill or the funicular railway,
without touching them up with vis
ual effects,
gives you a nostalgic old movie world charm.
Keep an eye out
for interesting sets & shots
like the use of pastel co
l
ours for the hotel set up
or
the grand atrium of hotel (apparently filmed at a German department store that had survived World War II) or the 'Society of the Crossed Keys' scene shown in an iris shot. The background score is very Ru
s
sian and in many scenes the
pace laden
score sets the tone for a 'what happens next' murder
ous
suspense.
F
inally, the level of detailing of
the
humour and
the
comic timing in the mov
ie is applaud worthy,
be it in Gustave's ranting sermons to his staff or in
the
way the Society of the Crossed Keys helps him or even in the depiction of Gustave's intima
cies with his guests,
the movie has witty dry humor that
not only entertains but also
respects your IQ!
With T
he Grand Budapest Hotel,
Wes
Anderson has made a fun (and funny) film with
a
murder mystery plot making it a story that everyone
will
love (whether you are a Wes Anderson fan or not).
Rating: 5 on 5
Based in Mumbai, Deepti is a travel writer and a content builder for various projects. As an avid movie-watcher, she believes film makers should respect the audiences
'
intelligence and need for 'real entertainment