Operatoonity.com book review: The Hard Bargain: Music, Medicine, and My Father (Richard Tucker, Opera Legend)
Published: 2018
ISBN: 978-1-5434-4558-9
Hardcover, 285 pages
Written by: David Tucker and Burton Spivak
5.0 out of 5.0 stars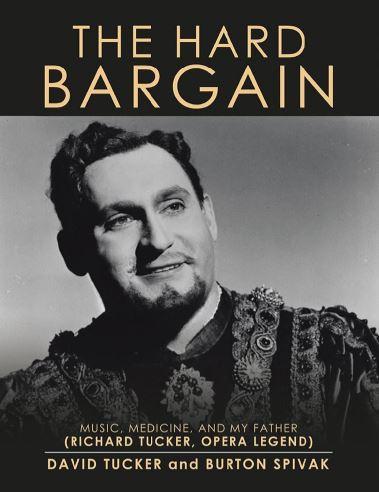 David Tucker memoir
" data-orig-size="379,492" sizes="(max-width: 379px) 100vw, 379px" data-image-title="The Hard Bargain" data-orig-file="https://i0.wp.com/operatoonity.com/wp-content/uploads/2018/07/The-Hard-Bargain.jpg?fit=379%2C492" class="size-full wp-image-9153" height="492" width="379" data-medium-file="https://i0.wp.com/operatoonity.com/wp-content/uploads/2018/07/The-Hard-Bargain.jpg?fit=231%2C300" data-permalink="http://operatoonity.com/2018/07/08/new-memoir-from-opera-legend-richard-tuckers-middle-son/the-hard-bargain/" alt="book jacket the Hard Bargain" data-recalc-dims="1" srcset="https://i0.wp.com/operatoonity.com/wp-content/uploads/2018/07/The-Hard-Bargain.jpg?w=379 379w, https://i0.wp.com/operatoonity.com/wp-content/uploads/2018/07/The-Hard-Bargain.jpg?resize=231%2C300 231w, https://i0.wp.com/operatoonity.com/wp-content/uploads/2018/07/The-Hard-Bargain.jpg?resize=39%2C50 39w" data-image-meta="{"aperture":"0","credit":"KASENIOR15","camera":"","caption":"","created_timestamp":"0","copyright":"","focal_length":"0","iso":"0","shutter_speed":"0","title":"","orientation":"0"}" data-large-file="https://i0.wp.com/operatoonity.com/wp-content/uploads/2018/07/The-Hard-Bargain.jpg?fit=379%2C492" />
The Hard Bargain, a new memoir by David Tucker and Burton Spivak
In homage to an Old Testament precept, Shakespeare once wrote, "The sins of the father are to be laid upon the children." What happens when your father is a world-famous opera singer and a highly principled man, who generously supported and cared for his family while rendering a lifetime of service to his faith and heritage?
David Tucker, son of the Metropolitan Opera's primo tenore for 30 years, and academician Burton Spivak have published a new memoir called The Hard Bargain: Music, Medicine and My Father (Richard Tucker, Opera Legend), 2018. In it, Tucker and Burton explore the relationship with Tucker's father and how it shaped his adult life. While The Hard Bargain is revealed to have two meanings in this memoir, this book is also about hard choices.
What choice does a talented young man have, one who longs for a career in opera when his legendary father insists his son become a doctor? Does he follow his heart and risk estranging his father? Bend to his father's will and give up on his dreams? Without the blessing and consent of a man who defined operatic success for a generation, how could he ever make a mark in his father's world?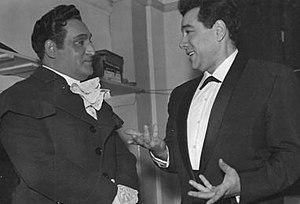 Tenor Mario Lanza was a great fan of Richard Tuckers. This is a photo of their only meeting at Covent Garden.
For opera lovers who revere the stars of a certain "golden" age, Richard Tucker was not only a Met star, he was a celebrity known throughout the world. He starred on The Ed Sullivan variety show, a showcase for the greatest talents of the 50s and 60s—Rogers and Hammerstein, Dean Martin and Jerry Lewis, the Beatles. Richard Tucker had a beautiful pure tenor voice, one of the finest in his fach, the likes of which you just don't hear from tenors these days. The glorious ring in Richard Tucker's top notes paved the way for the popularity of singers like Luciano Pavarotti, whom Met fans grew to treasure after Tucker's sudden death.
One reviewer noted that Richard Tucker never "milked" his notes—he just sang them, which might be explained by his career as a highly sought-after cantor in New York synagogues. At his core, Richard Tucker was both a devout and humble man, crediting his success to hard work and luck. When World War II broke out, and all the international Met stars returned to their home countries, Tucker was literally plucked from singing in a synagogue to singing on the Met stage to fill the void. At the same time, Richard Tucker was devout in his Jewish faith and steadfast to his heritage, refusing to sing under the baton of Herbert von Karajan, the principal conductor of the Berlin Philharmonic for 35 years, once a member of the Nazi party, and believed to be a Nazi sympathizer.
Throughout the memoir, Tucker and Spivak are careful to explain that his father had only the best of intentions for his middle son in discouraging his deep-seated passion for a classical singing career. Richard Tucker imparted that an operatic career would thrust David into a cutthroat world and genuinely wanted to spare him the suffering. After all, a decades' long career at the top of the opera world takes its pound of flesh—emotionally and physically. In fact, in 1975, when Richard Tucker's life was cut short at only age 60, operatic leading lady Joan Sutherland remarked how fresh and young [Tucker's] voice still sounded. In the memoir, David shares that his father waited to sing Pagliacci until later in his career, and performing the lead role so consumed him that it might have contributed to his lethal heart attack.
This reader contends that being forced into a career in medicine is also no easy route. Especially when your father expects you to be admitted to the best schools and study with the best teachers and become world-renowned in your own right. Not to mention, that David faced down numerous cutthroat tactics trying to master his profession and later establishing an ophthalmic practice in Cincinnati, trials his father never lived long enough to observe.
Besides being a father-son story, it is also an historical reflection, revealing highly volatile episodes in United States' history and throughout the world, sharing facets and shades of world events you don't learn in school. Without giving too much of David's story away, his recounting of helping a wounded prisoner in D.C. while the city was being torched by rioters in the aftermath of Dr. Martin Luther King Jr.'s assassination was deeply moving.
What makes this memoir especially compelling, however, is that David Tucker candidly shares the foibles and missteps he made throughout his life. As a school aged child in Brooklyn, he was a poor student until his fifth-grade teacher cared enough to help him realize his potential. As a medical student and then resident, he spent little or no time with his own wife and family. And if there is any trial more difficult to endure than having one's character misjudged, I'm sure I don't know what it is. David Tucker subordinated his heart's fondest desire–to follow in his father's footsteps–yet was accused by a medical partner, a man he considered a mentor, of cashing in on his father's success and reputation? Even after David created the stage name and alter ego for himself as David Nello, so he would not be judged nor carried by his father's success. Even after he gave up his life's ambition in deference to his father's wishes.
At one point in the memoir, David Tucker creates another alter ego for himself as a professional boxer, for reasons you will understand when you read the book. The boxer, he explains, is no saint, perhaps as a way to say that David Tucker is no saint either. There's an undercurrent of "boys will be boys" in this memoir, a world view at which younger generations might bristle. As a professional woman and a humanist myself, I cannot endorse behaviors that objectify women, but I do credit the memoirist for being honest. I don't generally read memoir as a genre because I can't stomach the propensity of memoirists to bestow sainthood on themselves. Or the constant namedropping and bellyaching, after the fact.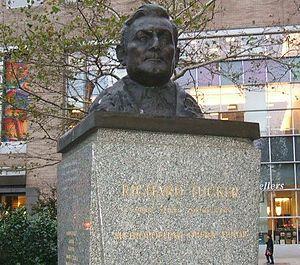 Lincoln Center monument to Richard Tucker, whose foundation generously supports the world of opera with scholarships for rising opera stars.
A Hard Bargain suffers from none of these flaws. Oh, a few names are dropped, satisfyingly enough, but precious few considering the length of Richard Tucker's international stardom. This memoir is a deeply felt, candid examination of life with a complex and "Old World" man as a father who pushed his son into a demanding profession with almost a callous and at times cruel disregard for David's dreams for himself. It is to David Tucker's credit that he gives us a glimpse into the rich and storied life of an opera star who rose from the humblest of origins, who loved his private life and tried desperately to separate family and stage life. More to his credit is that David Tucker accepted and excelled at the life role his father demanded from him.
* * *
The Hard Bargain is now available in hardback, paperback and as an ebook at Amazon.com. Watch for a Q&A with David Tucker, appearing soon on Operatoonity.com.