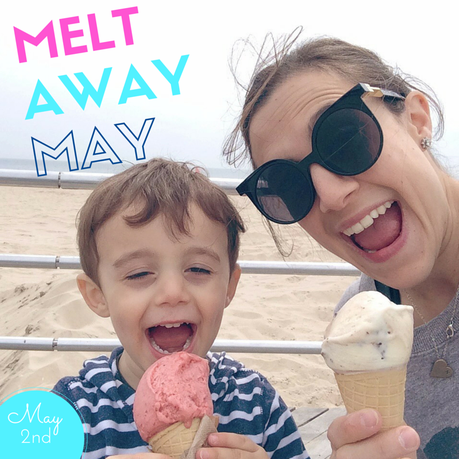 ICE CREAM!!!! No, I am not running an ice cream eating challenge group (although that might be pretty fun😉 ) …
We all like ice cream. You can say you don't, but I know you do…or maybe you are just weird😉 No one wants to give up these kinds of things for life. And we don't have to. Your journey toward health and fitness does not mean you have to eat food that tastes like cardboard, be hungry all the time, or work out like a maniac for hours and hours each day. To me that doesn't sound fun or healthy. And neither does depriving yourself of the finer things in life…like said ice cream.
Just because I love ice cream doesn't mean I need to eat it every day. But it also doesn't mean I can't have it and still live a happy and healthy lifestyle. In fact, that happy factor goes right up after a delicious bite! I'm a firm believer that if you are fueling your body with the right whole foods, vitamins, and nutrients 80% of the time, then you should absolutely enjoy that ice cream (or pizza, or chocolate, or whatever you please)…the other 20%…and you should enjoy it guilt-free! Enjoying these things can be satisfying and it can also curb that urge to go on a super binge down the road.
My post-partum health and fitness journey has been different than any other journey I have had previously because while I have always been an athlete…I never really thought too much about what I was eating. I liked to think that I was eating healthy most of the time, but I never REALLY paid a super amount of attention. After baby #2, I really dialed into my nutrition, paid attention to what I was eating and learned a lot about my habits from doing the 21 Day Fix program. It made me think about healthy habits for a lifestyle rather than just a fad diet.
In addition, the workouts were an awesome variety that really targeted the entire body each week. Previously I was a soccer player, basketball player, a runner, etc…I had natural results because I was so active every day with 2 hour practices or hour long runs. After baby #2, 2 hour practices on the soccer field were definitely no longer practical! With this program I could get a 30 minute workout in each day without ever leaving the house…and I got a total body workout that produced amazing results…while still allowing me to enjoy life with those treats J
While I do still sometimes crave that game on the soccer field…with my current lifestyle and hanging out with my little guys on a daily basis…this is how I am able to get it done…and how I am able to get results. I have to say I am probably the HEALTHIEST I have been in my entire life. All it took was:
*Healthy Meals & a Realistic Outlook on Nutrition
*30 Min Daily Workouts
*Drinking a daily dose of dense nutrition each day
*Checking into a group full of positive, inspiring individuals that keep me accountable each day
*Surrounding myself with positive "co-workers" who build me up and make me a better person, athlete, mom, and businesswoman.
These days everyone has a full, busy life…but it doesn't mean we don't have time for the things that matter. And our health definitely matters. It's all about what we choose to do with that time. You deserve that time for yourself. YOU MATTER!!!
I am starting my next Challenge Group up on May 2nd, and would love to have you MELT AWAY MAY with me! Comment below with "I want to Melt Away May!" and the best way to contact you if you want to learn more information or need help choosing a program to fit your needs, likes, and goals. This summer I am excited to finally feel confident in a bikini while enjoying that ice cream guilt-free! Who's with me? LET'S DO THIS!
Hope you are all having a great day! We are in Maryland this week spending some extra time with family while Nico is on Spring Break from school and the hubby is on a work trip in Austin. Make it a great one all!
XO,
Gina