It has reported that the LA Lakers are "positioning themselves" for the potential signings of Heat F LeBron James and/or Knicks F Carmelo Anthony, who both will be free agents next summer in 2014. As crazy as this sounds, the Lakers are looking for a superstar player, or players, to be "the man" (or men) in Hollywood, especially since former Lakers player Dwight Howard took his talents to the Houston Rockets. Also, let's not forget that Lakers superstar Kobe Bryant is coming back off an injury, and he may not be the same player he once was before his season-ending injury that he suffered late in the season. With that being said, bringing in a marquee player will be great, so Kobe can have one final run for a championship before he calls a quits on his legendary career.
In my opinion, this does sound crazy! It will never happen. As a matter of fact, I doubt that either one of them will leave their respective teams for the legendary Lakers. Carmelo is currently playing on an improving New York Knicks team, a team that is bringing back "Knick pride" back in New York, and I believe that he loves the fact that he is a Knick, therefore leaving the Knicks might sound kind of crazy. Down in South Beach, LeBron and the Miami Heat have just capped off a second straight championship, and LeBron is looking to win more. Besides, the Lakers will be LeBron and Melo's third team in their careers if one or both decide to go to Los Angeles. That kind of move will hurt their careers. With that being said about both players, why would they leave their teams?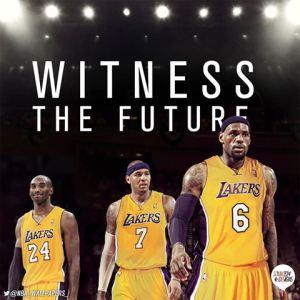 The Lakers may be "talking out the side of their neck" with this idea. As a matter of fact, they are. If LeBron James continues to win championships in Miami, and Carmelo Anthony continues being "that guy" in New York, then there's no way that one, or both, of these guys will leave for LA in 2014.