Hey Loves,
Every season there is always an "it" color or a must have. Right? This spring it was all about corals and mints BUT this coming summer its definitely going to be about that forgotten ray of light, Yellow. Yellow is such a fun color to play with. I personally love it. When i'm looking for that crazy pop of color for my outfit, I tend to grab something yellow. I mean, it's definitely not an easy color to pull off because it can make some a little bit uncomfortable to be that..............bright.
Yellow may not be the color for you but there are many ways to add this pop of color to your summer wardrobe without feeling like a Chiquita banana. For lack of a better term.
 I put together 5 EASY ways to add Yellow to your look!

Check it out!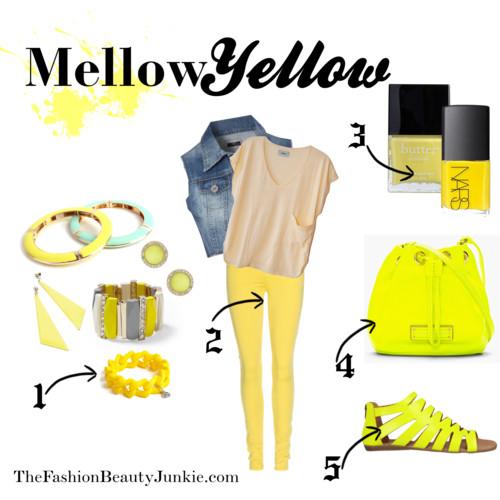 1) Accessorize

: Sounds simple right? Well, it is. Pick just a few pieces because you don't want to over do the amount of colored accessories you buy. I am obsessed with bangles, so that would probably be the first thing I would get!


2) Colored Denim

: If you have been with from the old days of TFBJ, you would know that I did a whole post on colored denim and how to style it. Just so you know, I am STILL not over this trend and my colored denim have become staple pieces in my wardrobe all year round. Picking up a pair of yellow ones can definitely spice up your look this summer. I like pairing it with a neutral top and denim vest to "tone" down the brightness.


3)Nail Polish

: Do I even need to go over this? If yellow nails are too much to take, then maybe try just your ring finger or a funky nail design.
4)Handbags/Purses: This is probably my second favorite way to add my pop of color. Simple yet such a statement piece.


5)Sandals

: Investing in a pair of yellow sandals are a must because when you are feeling like being "boring" with your outfit, you can use your footwear to add the excitement. Trust me, people notice.
Will you be adding a pop of Yellow to your summer look? If so, how? I would LOVE to hear!