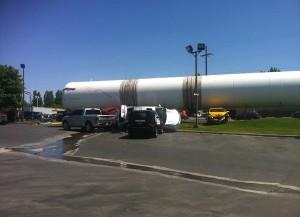 by Benito Baeza / News Radio 1310
A 280,000-pound load being moved through Pocatello broke off its rear trailer and smashed five vehicles at a car dealership. Pocatello Police Sgt. Eric Anderson says there are no injuries from the crash at about 11:30 a.m. Thursday.
A pull-truck and push-truck traveling about 20 mph had just started from a Pocatello plant with the 131-foot-long, tube-like load when the rear dolly malfunctioned. Officials at heavy transport company Energy Transportation Inc. in Casper, Wyoming, declined to comment. Jason Meador of Phil Meador Toyota says the load destroyed four vehicles and dinged another.
He estimates damage at $150,000. Eaton Metal Products made the device that was headed for Colorado to be used at a natural gas facility. Plant manager Wayne Nelson says the device will be brought back to the factory to be inspected.