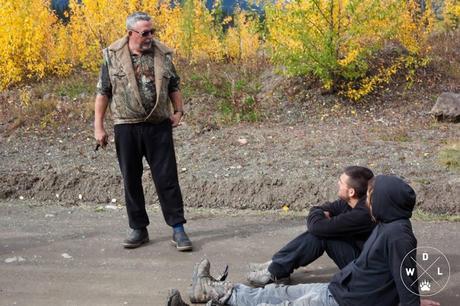 from Wildlife Defence League
Operation Great Bear Campaign Update:

WDL crew recently experienced a heated confrontation with trophy hunters in the Sacred Headwaters. Below is a description of the event from crew on the ground, along with a photo of two WDL members, peacefully blocking the vehicle by sitting in front of it.

Two trucks, one with a camper and the other with two ATV's, attempted to pass through the blockade at 1:00pm. WDL crew handed the trophy hunters the eviction notice, which was immediately tossed aside. In order to stop them from continuing along the road, two crewmembers stood in front of the truck. The trophy hunters then began to drive the truck into WDL crew who refused to move.

"The situation become more dangerous as the truck continued to push us back," said WDL member Tommy Knowles. "I was yelling over and over again for him to stop and that he was going to hurt us but he refused to acknowledge us and kept driving. In the past, activists have been seriously injured and even killed blocking vehicles from moving and I couldn't help but think that something could go terribly wrong."

The truck finally came to a halt when WDL crew sat in front of the vehicle and left the driver with no choice but to run them over or stop. The trophy hunter then threatened to either physically force WDL out of the way or drive over them. Fortunately, the situation was successfully diffused and the Klabona Keepers also spoke with the hunters and left them with no choice but to leave the land. These trophy hunters are now banned from entering Klappan.

Photo: Eliza Muirhead