Located on the corner of Eustace Street and Essex Street you'd be forgiven for thinking Farrington's might be one of Temple Bar's usual tourist orientated, over-priced pubs but the truth is very different.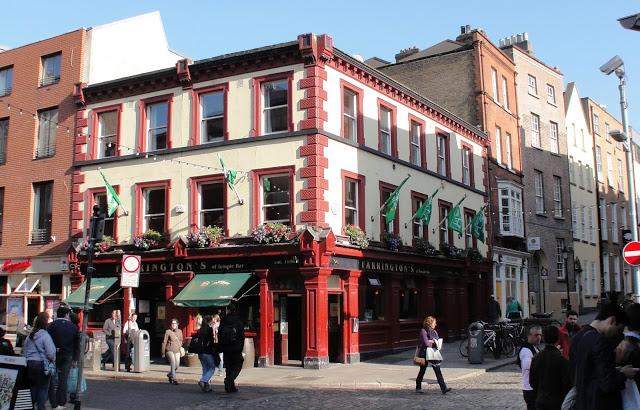 Not your typical Temple Bar boozer! 
Farrington's have a great team of staff who welcome both tourists and locals alike. They have a well stocked bar with all the usual suspects as well as a wide range of craft beers and specialist whiskeys. Perhaps as they are not solely a craft beer pub their prices tend to be very competitive and they often run really good craft beer promotions.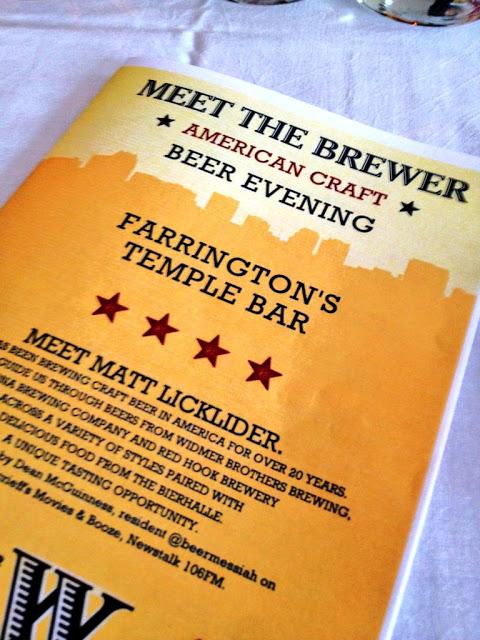 There is a definite focus on good quality craft beer here and last Thursday evening in conjunction with Dean McGuinness from Beer Heaven they hosted what will hopefully be the first of many
Meet the Brewer
events.
Beer Heaven invited Matt Licklider the Director of Brewing Operations for the Craft Brewers' Alliance in the US to talk us through several beers from Kona Brewing, Widmer Brewing and the Red Hook Brewing Company. All the beers were matched to food designed by Farrington's own wonderful chef Eamon Lynch.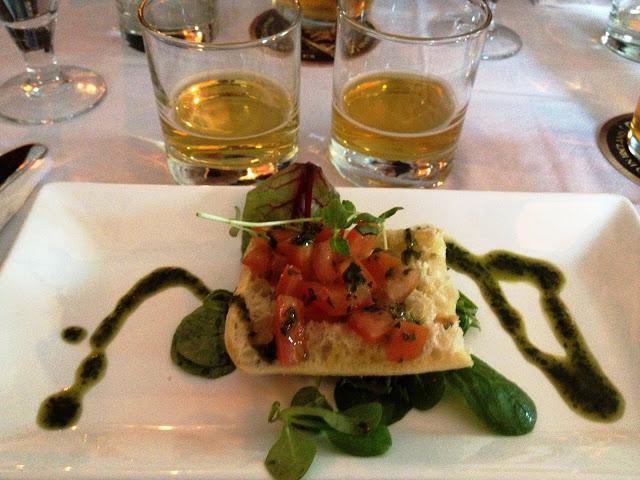 To begin - tomato and basil ciabatta
We began with chopped tomato and basil ciabatta which was matched with a Kona Longboard Lager and A Red Hook Wise Crack Wit. The food was lovely and light, especially the basil oil. The Longboard was really crisp and matched the food in terms of lightness. The Wise Crack packed slightly more of a punch with a nice gingery aftertaste. For me the Longboard was the star of the show here.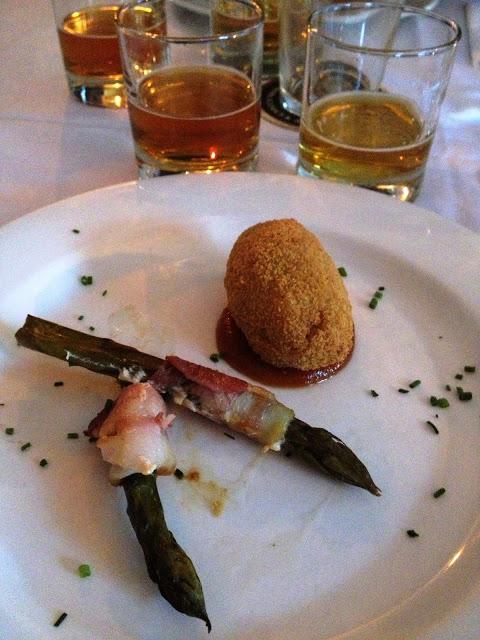 Up next - an absolutely delicious quail scotch egg with bacon wrapped asparagus.
We moved on to the second course of quail scotch egg accompanied by asparagus wrapped in streaky rashers.  The two beers accompanying this were Red Hook's Cooper Hook and their Longhammer IPA. The IPA was fabulous. (I do love IPA) It was clean and crisp and perfectly contrasted the heavy flavours of both the asparagus and the scotch egg. The Cooper Hook was good as well but just a tiny bit on the sweet side for me.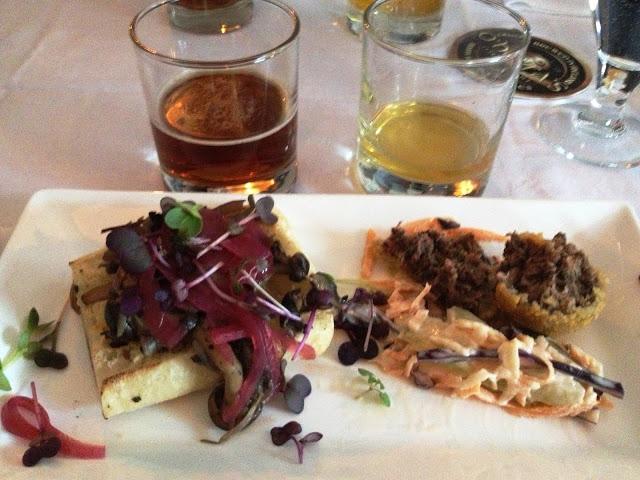 Wild mushrooms with thyme and pickled onion on the left and a fabulous black pudding and ham hock bon bon on the right.
Our third starter was a black pudding and ham hock bon bon with a wild mushroom and thyme bruschetta. For me the bruschetta was a non event but the bon bon was fabulous. The bon bon had great flavours which went really well with the Widmer Hefeweisen. This hefeweisen was lighter than what I have come to expect from this style of beer. I did enjoy the second beer offering, Winter Hook from Red Hook. I'm afraid that my indifference to the bruschetta was probably as a result of my starting to fill up and exacerbated by the fact that I still had two courses to go!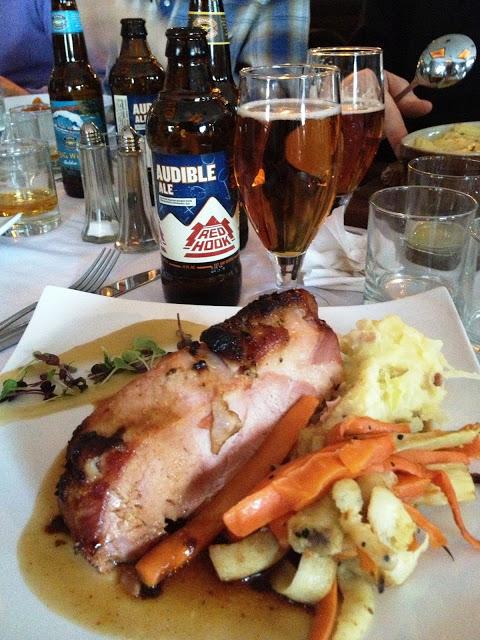 My main course - a gigantic piece of bacon with colcannon and root vegetables. 
The main thing which I remember about my main course was that it was ENORMOUS! I opted for the bacon with colcannon and honey roasted vegetables which I paired it with the Red Hook Audible Ale. The ale was lovely and a really good contrast to the saltiness of the bacon. I did my best with the food, I can't wait to go back to Farrington's again when I'm really hungry to do this dish justice.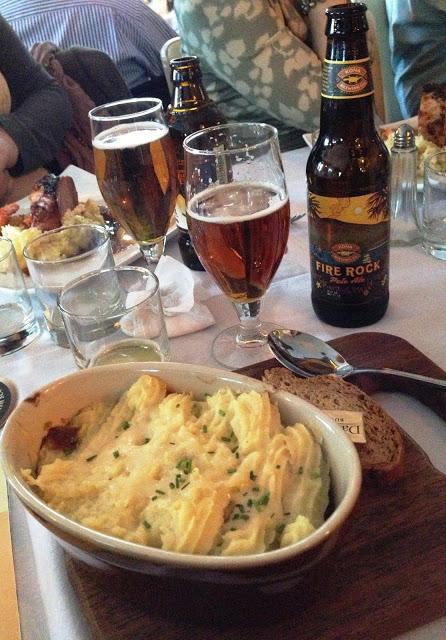 M's equally large main of steak and porter pie which he paired with a Kona Firerock. 
Dessert was the best bread and butter pudding I have ever tasted. We all surmised that Eamon must have soaked the fruit in Red Hook Wisecracker. It was really gorgeous with a crispy caramelized surface. Again I wished I was hungrier!
We also tried a trio of IPAs from Widmer, their Rotator, their Pitch Black and also their Nelson Imperial. The first two were very tasty, I was initially surprised by the color of the Pitch Black. It was the Nelson Imperial which stole the show in my opinion. It was really delicious, malty yet with an intense hoppiness. At 8.6% it's probably the reason my head was a bit iffy the next day, I did indulge in a few more before I left that evening!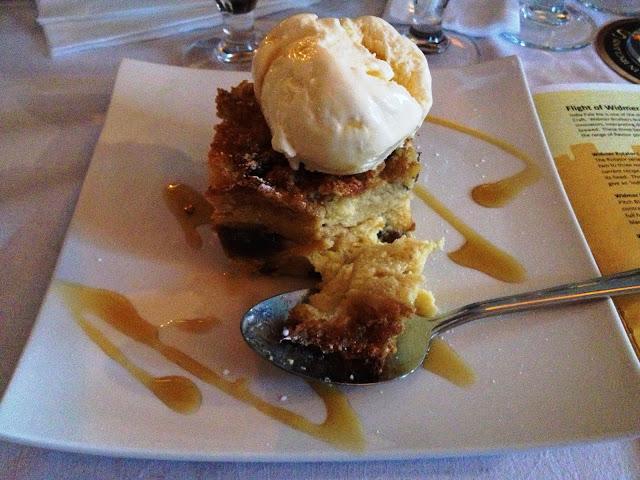 The best bread and butter pudding ever! 
While
I had a really fabulous night on Thursday it's taken me until today to get my head around all the different beers, the evening was certainly intense. Matt did a fantastic job introducing the beers and drawing out the flavours for us. I'll certainly be stocking up on some Longhammer and Nelson Imperial and I may have to try a few of the others again too - just to be sure!
Farrington's really outdid themselves on the night, logistically feeding over 40 people all at the same time had to be a nightmare but Eamon's food was spot on and Stephen and the other bar staff did a really wonderful job, they certainly earned their money that night! We were lucky to be sitting next to Bríd from Beer Heaven who filled us in on little bits and pieces of information about the beers, a big cheer has to go out to her, Dean McGuinness and Dean Clarke for organizing the whole event and being the most enthusiastic hosts.
I'm already looking forward to the next event!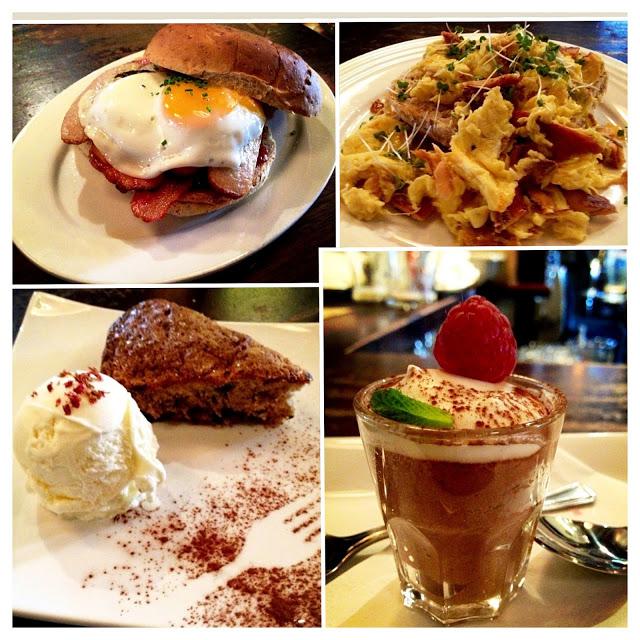 A few months ago we had The Beer Brunch in Farrington's, great food with some interesting beer suggestions.  Something I'd recommend trying while you wait for the next beer event!