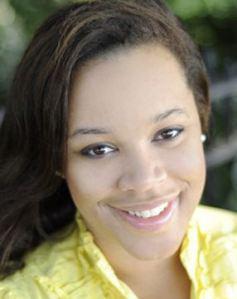 LaToya Lewis, soprano
When you meet La Toya Lewis, you are first struck with her eyes, sparkling with warmth and wit. Then in no particular order, her poise and the rich quality of her speaking voice, assured, full of conviction,  yet warm as honey. And the whole time she's speaking, you're thinking, "This young woman can sing because I can just hear it in her voice. And she can perform, because I can see it in her movements from the way she uses her hands to her gait to her every stance." 
And you want to say, "Sing something now. I want to hear your voice." But you don't because you don't want her to think you're a lunatic. So you make yourself a pledge that next time you can hear her sing, you will move mountains to make that happen. 
That's the kind of charisma La Toya possesses. Oh, and not to mention talent in spades. 
She is an emerging soprano from Brooklyn, New York. The 2010 season was an exciting one filled with singing and learning. She was a featured artist with Opera Singers Initiative, performing in many of their concerts and receiving the Young Opera Recording Award. She also made her company debut with Light Opera of New York as Clementina in The Desert Song this past November. 
She graduated from Binghamton University where she obtained a Master of Music degree while singing with the Tri-Cities Opera. While there, she performed the roles of Donna Elvira (Don Giovanni) and Micaela (Carmen) with Tri-Cities. Miss Lewis was also the Soprano Soloist in the Bach B-Minor Mass with the University Orchestra. She placed second in the 2nd Annual Charles A. Lynam Vocal Competition in Greensboro, North Carolina, and was a finalist in the Spring 2006 Jenny Lind Competition. 
Since graduation from graduate school, she has enjoyed performing on local stages around NYC including Chelsea Opera, Underworld Productions, and Opera Manhattan Repertory Theatre. She did her undergraduate work at Purchase College where she performed Belinda and the First Witch (Dido and Aeneas) and Barbarina (Le nozze di Figaro.) 
It's a pleasure to welcome you to "Operatoonity," La Toya, and to have this chance to learn more about you. 
When did you make the decision to pursue classical vocal performance as a career?
Around the age of 18. I sang R&B and musical theater throughout high school but wasn't too keen on going to college specifically for music. When I went to Purchase College, I intended to major in something having to do with advertising or news reporting . . . or something! Anyway, one day, I figured I'd go see if I could join the choir and stumbled upon the opera chorus. I was blown away by the sound they made and figured I'd take a stab at it. My life has never really been the same since! 
How would you describe your voice? What repertoire best suits your voice?
I'd say my voice is velvety and robust. It also has a shimmery quality on top that you wouldn't expect. It actually sounds pretty delicious. I wouldn't mind eating my voice. Right now, I sing Puccini and Mozart pretty well. I am also discovering that Verismo doesn't sound too shabby either. 
You've done both opera performance and recitals? Do you prefer one over the other?
I definitely prefer to perform entire operas. I love to act just as much as I love to sing. Sure, you can act during recitals but it's obviously not the same. I want to throw myself on the floor or run off stage and if I did that in recital, people might think I'm a nutcase. 
Favorite composer? Favorite opera? Favorite role? Favorite role models?
Favorite composer is a pretty difficult question. I'll just say Puccini for now because I like most of his operas. My absolute favorite opera, however, is Peter Grimes by Benjamin Britten. My favorite role, that I like to watch but can't sing is Scarpia. He's just despicable, and I love villains. My favorite role that I haven't performed (yet) is Liu. She's so brave and her music is beautiful, and I would love to dramatically stab myself onstage while everyone is screaming!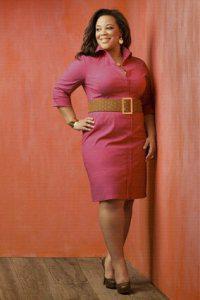 La Toya in 'O' Magazine
You were featured in O Magazine this year. How did that opportunity come about?
Funny story. I was looking for work in any capacity, but stumbled upon this site that posts work for extras in movies, models, cruise ship singers and a variety of other jobs. I saw an ad saying "National Magazine looking for women for Makeover photoshoot." I sent my headshot and a little note thinking nothing would come of it, and they emailed me back asking me to come in! 
I saw an ad for it somewhere, took a chance and contacted them directly. Out of all the entries, I can't believe I got the chance to get called in for a makeover- but I did! 
As a rising opera singer, what is your typical day like, living and working in New York, and is that the best place to be for someone with your professional aspirations?
Anyone who has spoken to me in the past few months knows I have really, really strong views on who should be in New York pursuing this career and who shouldn't. So I may or may not come off brusquely with my answer. I think that New York is a good place for aspiring opera singers who already perform at a high level. By this I mean, those who just need some polishing and networking. 
It can be hard for emerging artists (fresh out of conservatory, or not so fresh out of conservatory) to feel like they're not living above their means and spending all their money on lessons, coachings and auditions. While these things are vital to a singer's growth, it can be enormously expensive. I moved back here because this is my hometown, so I can't say that I know what it's like to live here solely for operatic purposes. 
While I have thankfully landed a long-term temp gig right now, normally, I'd spend the day looking for work so I can afford to live here. And then, when I can, I take lessons and occasional coachings. At other times, I'd scour Youtube and the Performing Arts Library for rare recordings to give myself some ideas on how to interpret some of my rep.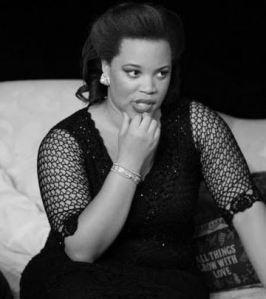 What would you like to be doing in five years? Ten years?
Five years from now, I'd like to have won a major competition or two and be making most of my income from singing regionally. Ten years from now I'd like to be on my way to superstardom, with various recording contracts and singing in major houses around the world. Go big or go home, right? 
You're on Facebook, Twitter and YouTube, and you have two blogs. When did you embrace social media and how has your online network impacted your career or visibility?
Yeah! I'm a social media addict, it's true haha! As soon as Facebook came out, I was on it. The same with Twitter. My friends added my videos to Youtube but I do plan on making my presence a little more known on there. I definitely took the necessary steps to get all those sites going but I could stand to throw it in people's faces a bit more. So for right now, I think it has made me a teeny bit more visible but it hasn't necessarily impacted my career as much as it could! 
What is something most people don't know about you, something not on your resume?
I love books. I have a blog dedicated to them. I've challenged myself to read 112 books this year. I absolutely love math, and would've loved to become a math teacher in a different life. I was also on "Wheel of Fortune" when I was 19 years old. It was a lifetime aspiration of mine – to get on that game show. Something I never thought would happen. So this might sound kind of funny, but once I got the chance to do that, I showed myself that I am capable of great things! 
Where can we expect to see/hear you in 2011?
Well, 2011, for me, is all about self-improvement. I intend to solidify my technique (and subsequently my audition arias) and do a lot more work on my "brand." So you may see me in concerts, recitals and masterclasses around NYC. I also sing in an opera open mic Wednesdays & Saturdays in lower Manhattan called Ido Sushi. 
Here is La Toya's most recent YouTube clip, singing "Ne poj, krasavica, pri mne": 
* * * 
For more information on La Toya's musical career and to hear more audio clips, visit her website. Alternately you can read her blog, "Very Musically Yours," follow her on Twitter @LaToyaLewis, and friend her on Facebook.