We live in a world where most our wake hours are spend on or around our smartphones, and nearly everything we accomplish throughout the day is through them. Want to make an appointment with your dentist? Hit them up using your phone and then set a reminder on Google Calendar. Hungry? Order in using one of the bazillion food delivery apps out there. Human interaction required? 0%, Work efficiency? 100%.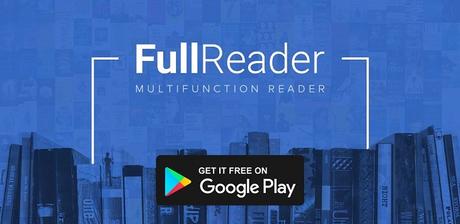 It's the same with entertainment. YouTube, Netflix, Prime Video we've got every single app to satisfy our entertainment needs. Games? Got it. Music? Got it. Is there anything a smartphone can't do? Replicate the excitement of a freshly opened book, our fellow geeks will say. We're talking about FullReader an Android Reader App that has indeed, blown our minds away. Read on to find out. You can also find

Well, what if we tell you, fellow reader, that we've found something that replicates the process, in the best way possible. Of course, you still can't compare it to the smell of a freshly printed book, or the sheer joy of having a physical copy of your favorite book, but in all other regards, this app does the business.
more information here.

FullReader: The Best Android Reader?
Now as mentioned earlier FullReader does a brilliant job of replicating a complete reading experience with its unique feature set and user-friendly nature. Also, did we mention that it's completely free to use?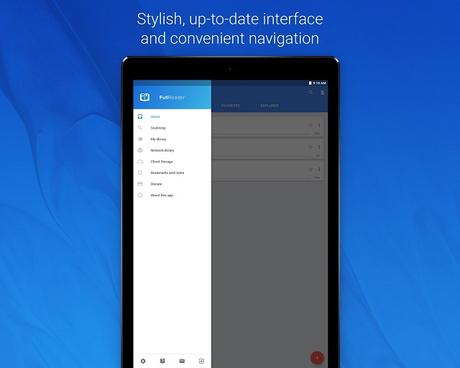 Whether it be an animated manga or a full-fledged novel FullReader handles them all with ease. The full range of supported formats includes fb2, ePub, txt, PDF, doc, docx, rtf, DjVu, DjV, HTML, htm, mobi, xps, oxps, prc, odt, cbr and cbz. It's just mind-blowing, isn't it? We'll be honest with you; we didn't even know most of those formats even existed before checking out FullReader and yet somehow, this free android reader manages to support every single one of them.

Here's a more detailed look into some of the features that make FullReader one of the best Ebook reader app available on Android.

Features of FullReader
1. Customizable Page Turn Options
This one for the connoisseur in you. With FullReader, you have full control over how you want the pages to turn. Now it may seem a trivial little thing to many of you who couldn't give an arse, but to those who do, like us. This is a game changer. Animated effects, to ones that imitate a real book you've got everything in here. Want more?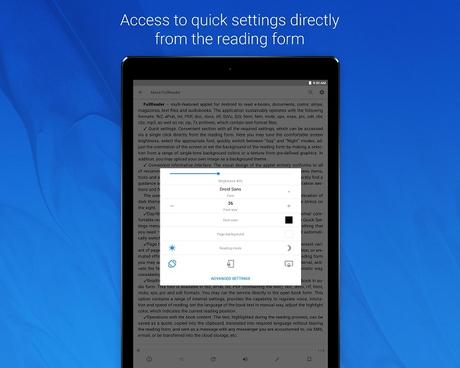 You can also set up an interval in which the pages will automatically turn for when you're feeling lazy.

2. Bookmarks
Another little feature that has us swooning is the ability to add bookmarks or little notes to the books you use. Earlier seen only with Adobe Acrobat Reader for .pdf files, this app allows you to bookmark and highlight sections no matter what the format. This comes in real handy for students and teachers alike. We don't need to tell you how much bookmarks matter to Y'all.

You can also choose to export all the highlighted content in the form of a text file once you're done. This comes in handy when you've to share essential notes/highlighted sections with colleagues.

3. An embedded translator
No more copying lines and pasting them onto Google Translate and then trying to understand whatever broken mess is put in front of you.

FullReader comes in with a brilliant embedded translator that is available at your beck and call.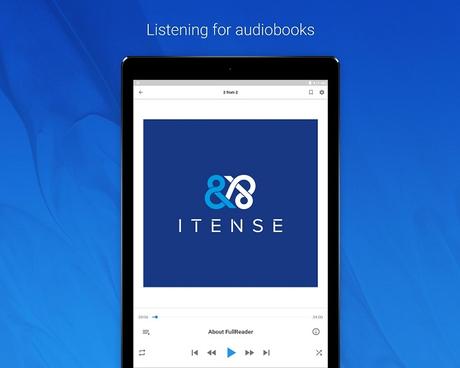 AudioBooks like you've never experienced before
Ever thought you would be able to bookmark an audiobook? Neither did we. But with FullReader you can do so. Not only that, you can set up Playlists, track playback progress and do much much more with the embedded mp3 player.

In Conclusion
In terms of Android Ebook reader s we have to give it to FullReader, not only does it come in with the usual features like cloud sync and day/night modes, but also comes in with nifty little features that really made us swoon.
This free ebook reader is a must-have for the reader in you. Whether you like Ebooks or no, FullReader is an experience that you must undergo. Head here for more details about the features and the app itself.