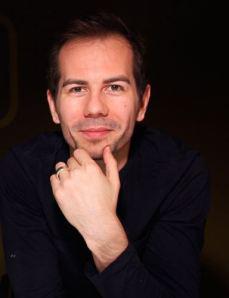 Baritone Michael Adair
Beginning April 11, one of the most thrilling weeks for Twitter's opera lovers kicks off: #Operaplot 2011. While many classical music lovers know all about The Omniscient Mussel, aka Miss Mussel, aka Marcia Adair–#Operaplot maven extraordinaire–what you might not know is that she's getting some assistance this season from a very capable, talented personage, someone closer to her than even the entrants might realize.  
I'm referring to her talented brother Michael Adair, aka M.J. Adair, who's known on Twitter as @Barihunk (an explanation on the selection of  "Barihunk" as his user name follows, so don't touch that dial!)  
Michael is a classically trained baritone from Toronto, Canada, and studied at the University of Toronto under Dr. Darryl Edwards. Following his studies he was accepted as a member of the Zurich International Opera Studio and worked with Sir John Eliot Gardiner, Carlo Rizzi, and Nello Santi. Many of Michael's notable performances have occurred across the pond, including Graun's Der Tod Jesu in Antwerp with Chorale Caecilia, Haydn's masterwork Die Schöpfung with the Helicon Chamber Choir in Brussels and Ein Deutsches Requiem in Paris with the Ginnheimer Kantorei. For those of us hanging back in North America, you'll be happy to know that Michael also has a  recording forthcoming of  newly discovered music by Dutch baroque composer Markus Teller with Studium Chorale and Ensemble Agimont in the Netherlands.  
Welcome to "Operatoonity," Michael. First, allow me to thank you for helping with this season's #Operaplot contest. Second, on behalf of all your intrigued followers on Twitter, thanks for sharing more about yourself. (Hang on, readers! This is one fantastic interview of one talented, enigmatic baritone!)  
What was your home life like growing up, and how did it affect your life choices?
Well, I would describe my home life growing up as very traditional.  I come from a "Leave It To Beaver" type family that was not especially musical.  I grew up listening to a lot of southern gospel and my only exposure to classical music was my involvement in children's choirs from a very young age.  My parents were always very supportive of my musical endeavours and still are.  They even came from Toronto to NYC to see my Carnegie Hall debut.  
When did you make the decision to pursue classical vocal performance?
For me, my career choice is the result of a strange combination of being bad at math, Columbia House, and singing in choirs.  The short version is as follows: Since my solo debut in kindergarten singing "Silent Night" I had always sung in a choir and continued to sing in church as a boy soprano.  
I had every intent on becoming an architect in high school, as I am a great lover of design, there are actually floor plans of houses I drew when I was a boy in the "archives".  My frustration with math was stronger than my love of design so that bubble popped fairly quickly.  
It wasn't til several years after my voice had changed that I started taking private voice lessons. My teacher at the time seemed to think I had what it took to be a professional singer so I applied to the big music schools in Canada.  I told myself if I didn't get into the best school in the country then I would do something else.  I figured "go big or go home". The rest is, as they say, history.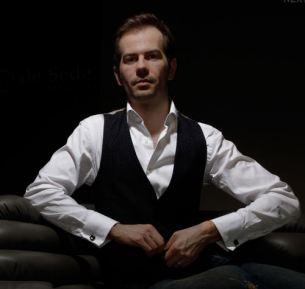 Michael is frequently told his voice is 'beautiful.'
How would you describe your voice? 
In truth I have never thought about it.  Ninety-five percent of the time the first adjective I hear from people after I sing is "beautiful" So I guess that must be true!  I prefer to think of my voice as dark chocolate coming out of a toothpaste tube.  
Though you've performed operatic roles, do you prefer oratorio and recitals to live opera performance?
I think they are really just different animals.  For me currently, I do a lot of concert work because that is what I get hired to do. I think it is a great way to develop my craft technically and musically. It is also a great way to develop stamina and concentration, as generally speaking, the bass has a lot to do in concert repertoire.  
In a recital I am able to sing lieder with beautiful long lines (Strauss or Mahler for example), and I really love being able to do that.  In operatic literature these great long lines really only exist in things that are currently too heavy for me to sing.  Also in recital work it is really a blood sport.  There is nowhere to hide.  No costume, no prompter, no make-up no colleagues.  It is just you and the piano.  I love that.  
Two important debuts in the last year – at the Berliner Philharmonie and with Bach's B Minor Mass at Carnegie Hall. Care to tell us more about either or both of those experiences for my readers?
I sang in the Philharmonie in Berlin around Christmas time singing the Cantatas that Bach based his Christmas Oratorio on.  This was after a long stint of singing Messiahs and Christmas Oratorios in churches and cathedrals throughout Germany.  Personally, it was really great to sing in such a historic and musically important hall however, I was just mostly glad to have a proper soundproof dressing room with my own piano, couch, shower and bathroom.  It was also very nice not to be freezing cold whilst singing.  Although they are stunningly beautiful, these old churches have a bit to be desired in the climate control department.  
Carnegie Hall was also a really amazing experience.  When you're there, if you begin to think about all the incredible artists that stood where you are standing it becomes a bit overwhelming, so I saved that for after the concert.  I was really impressed with the professionalism of the staff of the hall, extremely polite and helpful as well as very encouraging and supportive as they knew it was all of our debuts.  I was the first soloist to lead on and when the stage door opened I had a bit of a "don't step into the light" moment but it turned out to be a very relaxed, exciting concert and I look forward to singing there again soon.  
Do you have a favorite composer? Favorite venue?
I don't have an over all favorite composer.  I am a sucker for Puccini, Strauss, Mahler, Korngold, Bach, Schubert, Lully and Monteverdi. I like to consider every piece on its own merits and of the composers that I sing regularly they all have really great moments and sometimes not so great moments. One thing I will say is: Bach is a god.  
My favorite venues are usually ones that are warm.  Concert halls for example. However some of the churches I have sung in are completely amazing.  There is the Sint-Pauluskerk in Antwerp.  It was an incredible feeling to sing amazing music in this massive Baroque church surrounded by paintings by Caravaggio and Rubens.  It is a bit hard to explain, but it was a moment of total beauty.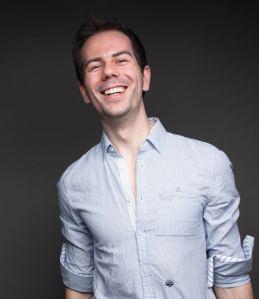 Michael enjoys travel and predicts more travel in his future in pursuit of his career
According to your resume, you've been traveling all over Europe–Berlin, Paris, Brussels. Since classical music is much bigger in Europe than it is in North America, are you resigned to the international travel your career demands or does it agree with you?
In a way I have really chosen an international career.  I know several very talented singers that prefer to sing only in the area surrounding the city where they live or in the province or state that they live in and they are doing just fine. I really like to travel and have really made it a point to pursue an international career by making contact with musicians and conductors throughout Europe.  It is just in the last several months that I have managed to sing professionally in North American as well as in Europe so I think there will be a lot more travelling in my future.  
What would you like to be doing in five years? Ten years?
I have always been a big fan of setting goals.  When I began at the University of Toronto I set out an eight year plan:  four years for a Bachelor, two years for a Masters and an additional two years for a young artist program.  I was lucky and all of that went according to plan.  When I went freelance I also set my self a goal: To be working the "A" circuit consistently by the time I am 35.  I will be 35 in five year's time and so far I seem to be fairly on-track.  
You're on Facebook, Twitter and YouTube. When did you embrace social media and how has it impacted your career or visibility?
The decision to "go public," so to speak, was partially the idea of my sister (Miss Mussel).  I found the whole proposition of leaving images and recordings online for all to see quite terrifying.  When I uploaded my first YouTube video about 8 months ago there was a moderate melt-down but over time I have gotten used to the idea of people being able to listen to me over and over and over if they want.  
A few weeks ago I launched my own website and I think that will be quite advantageous.  It is, essentially, an online business card giving access to all the information fans or other musicians would like to see or hear.  
Concerning Twitter, where I have given myself the self-ironic name of "Barihunk," that idea came 100% from my sister. She thought it would be a good way of networking and meeting other musicians and arty types. I created the account under the premise that if I get a job directly from a connection made on Twitter I am to give my sister 10% of the fee.  So far I am safe.  
Over all I feel in the days of alternative media and "the cloud" it is very important to have a web presence.  It's too early to be able to measure the impact of these things on my career but I am confident I will bring some interesting things my way in the future.  
What is something most people don't know about you, something not on your resume?
I feel I am supposed to write something "wacky" here, but think I am pretty normal.  One of my peculiar goals in life is to sing Miss Sarajevo once with U2.  If that would happen, it would be definitely on my resume! (Bono, it's [email protected]) The other goal of being photographed on the street by The Sartorialist wouldn't really fit into any section of my resume, but would still be amazing.  
Where can we expect to see/hear you in 2011?
Well, I just finished Ein Deutsches Requiem in Potsdam and right now I am working on St. Matthew's Passion, which I will sing in Antwerp just before Easter.  After that I have several Bach Cantatas and a recital of Mahler's Des Knabenwunderhorn lieder before the season ends for the summer.  
Personally my major highlight this year will be A Sea Symphony by Vaughan Williams.  I will be singing it on home turf here in Cologne at the Philharmonie and after a fairly steady diet of coloratura it will be nice to just keep the voice still for a concert.  
 * * *  
Michael is on Twitter as @barihunk and has numerous audio clips on YouTube and on his website  which also features many more juicy info nuggets on his career. And don't forget to submit your entry to #Operaplot next week. I promise you, it's the most fun you'll ever have with 140 characters.