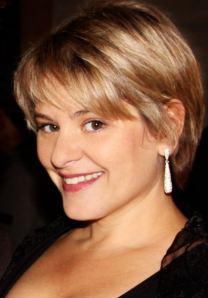 Alison Trainer, coloratura soprano
Coloratura soprano Alison Trainer is rapidly claiming her place among the most important emerging singers today. A gifted singing actress, she has won first prize in several major vocal competitions, including the Liederkranz, Sullivan Foundation, Opera Index, and the Northeast Regional Metropolitan Opera competition. 
Recently, she received critical acclaim for her European debut as Fiakermilli in Arabella in St. Gallen, Switzerland: The St. Galler Nachrichten raved, "Completely amazing were the vocal acrobatics of Fiakermilli, sung by Alison Trainer with virtuosic and sparkling coloratura." During the 2010-2011 season, she returned to St. Gallen to sing Adele in Die Fledermaus and Lisa in La sonnambula. She will be featured in upcoming seasons as Rosina in Il barbiere di Siviglia, Gilda in Rigoletto, Zerbinetta in Ariadne auf Naxos, and Oscar in Un ballo in maschera. 
She has been a soloist with opera companies including New York City Opera, Boston Lyric Opera, San Francisco Opera Center, New Jersey Opera, Cleveland Opera, Central City Opera, Glimmerglass Opera, and Tulsa Opera. A favorite soloist with many up-and-coming conductors, Alison has sung with the National Chorale at Avery Fisher Hall, Phoenix Symphony, Syracuse Symphony, Sinfonie St. Gallen, Annapolis Symphony, Erie Philharmonic, Albany Symphony, Dayton Symphony, Charlottesville Symphony, and the Pennsylvania Symphony at the Philadelphia Academy of Music.  
Originally from San Diego, California, she earned a Bachelor of Music degree from Indiana University, a Master of Music degree from Cincinnati Conservatory, an Artist Diploma from the Opera Institute at Boston University, and is currently a Doctoral Candidate at Stony Brook University. She has been an apprentice artist with Glimmerglass Opera and San Francisco Opera's Merola program, and a vocal fellow at Tanglewood Music Festival and Aspen Music Festival. 
Hello, Alison! A pleasure to have you on "Operatoonity." 
Where did you grow up, what was your home life like, and how did it affect your life choices?
I lived in San Diego until I was 11. I began playing the piano at age 4, and trained in acting, dan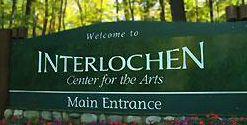 ce, and violin from age 5-11. At age 11, we moved to Tulsa, Oklahoma. I happily spent two of my high school years at
Interlochen Arts Academy
, a boarding school for the arts in Michigan, studying singing, piano, and dance. After I graduated from high school, my parents moved around quite a bit, and they have now settled in Bucks County, Pennsylvania. I am adopted, and neither of my parents are particularly musical or artistic, so my early natural ability and interest was perplexing to them, but they were very supportive of my desire to study music and the arts. 
When did you make the decision to pursue classical vocal performance as a career?
My mother says that I had a vast repertoire of children's songs memorized by the time I was 3, and would perform them for any willing guest. By the time I was 5 or 6, I knew I wanted to be a singer and an actress. No one would give me voice lessons until I was 12, and my first teacher gave me the 24 Italian Art Songs. I fell in love with them instantly. At that point I sang pop and broadway music, and I was obsessed with Whitney Houston, Michael Jackson, and Barbara Streisand. My voice teacher told me that I could sing anything I wanted, but that my voice was well suited for classical music and opera. I loved the linguistic and vocal challenge of classical music. By age 13, I knew I simply had to be an opera singer.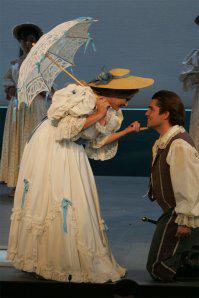 Singing Mabel in 'The Pirates of Penzance'
How would you describe your voice? I am a lyric coloratura soprano. Roles in Strauss operas such as Zerbinetta in Ariadne auf Naxos, Fiakermili in Arabella, or Sophie in Der Rosenkavalier fit me perfectly. I am also moving into slightly larger repertoire, such as Constanza in Die Entfuhrung aus dem Serail, Lucia, Gilda in Rigoletto, and Pamina in Die Zauberfloete. I am comfortable singing in both the lyric soprano and coloratura fachs. 
You've done both opera performance and recitals? Do you prefer one over the other?
I need opera, recital, and symphony concerts in my life in order to feel fulfilled. I simply cannot live without any of these art forms. These genres fulfill entirely different aspects of my musical personality. Recitals are wonderfully intimate. I love being able to see my audience members and communicate with them directly. I love the poetry of song repertoire, and the close relationship one can explore with a pianist. Symphony concerts are also incredibly rewarding. When I sing with an orchestra, I feel like I am surfing on top of this enormous, lush wave of beautiful sound. There is no other feeling in the world quite like it. Repertoire like Carmina Burana, the Brahms Requiem, the Fauré Requiem, Mahler's Fourth Symphony, The Passion of St. Matthew (Bach) and Handel's Messiah are the bread and butter of my concert work, and I will never tire of these incredible pieces.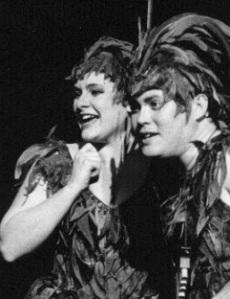 Alison singing Papagena
You've won lots of awards. Which of these means to most to you because it was the most difficult to attain or advanced you career (or for whatever reason)? I have been very fortunate with several vocal competitions, and I am immensely grateful for the support. The Sullivan Foundation has been especially helpful, because every year for their top winners they pledge not only a financial award upon winning, but continued support for the next five years. The Sullivan Foundation helped fund several audition tours for me, including the European tour that resulted in my fest contract here in St. Gallen. Being a singer is a terribly expensive endeavor, and this foundation has really made a huge difference to me. 
According to your resume, you're going to be singing in Switzerland for a few years. What is your typical day like, living and working in another country?
I am almost finished with my first opera season as a fest singer here in St. Gallen, Switzerland. It was been quite a year. I have absolutely wonderful colleagues here in St. Gallen that have really made it feel like home. One of the biggest challenges here is that the language spoken on the street is Swiss German. Swiss German resembles high German very little, and I am completely lost trying to understand. It is my goal to become fluent in high German as soon as possible, but this goal has no doubt been slowed down by being surrounded by Swiss German. Also, there are many Americans and English speakers in the house, so it is all too easy to get by in English. I've had two German stage directors, and working with them advanced my German faster than any course could have. There really is no such thing as a typical day here. Rehearsals are from 10-2 and 6-10, and I often work seven days a week during the busy season. To make up for the long hours and relentless rehearsals, I have three full months free this summer, and two months where I have nothing other than a few scattered performances. During this time I will audition as much as I can. 
I will also work on my own musical projects, since there is no time for that during the busy part of the year. Perhaps the biggest challenge for me is getting used to living in a small city after having lived in New York City for the past ten years. The entire population of Switzerland is less than the population of New York City. I am a true city girl, and I don't know if I'll ever adjust fully. In the evenings, and on Sundays, when the entire town shuts down, I miss New York terribly. In my free time I hike, ski, and enjoy nearby Zurich. 
When did you develop a love of yoga? How frequently do you serve as a labor doula in Switzerland?
I trained as a dancer for many years, and when I gave it up, I missed it terribly. When I found yoga, it was like coming home. I began training in 1999, and because of my dance background, the physical part of the practice came relatively easily to me. What amazed me the most at first was how much yoga helped my singing. I saw an immediate effect, and from that point forward, yoga has been a part of my daily life. When I was a young artist at Glimmerglass Opera, several friends asked me to teach them. It never occurred to me that I would want to teach yoga, but after working with them three times a week for the summer, I was in love with teaching yoga. I became certified in 2003 in New York, and have taught ever since. I teach mostly privately, since my singing schedule is unpredictable. 
In 2006 I certified in pre-natal yoga, in response to several of my students' pregnancies. This led to my interest in becoming a labor doula, which is yet another calling of mine. I worked very sporadically as a doula in New York, fitting it in between singing gigs whenever possible. When I came to Switzerland, I had to accept that my work as a doula and a yoga teacher would be on hold for a while. I did, however, coach an actress colleague through the natural childbirth of her baby boy in January. And now it looks as though I will be teaching yoga to the dance company here at Theater St. Gallen. As always, this work is tremendously rewarding, in a completely different way than singing can be.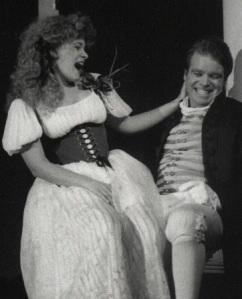 Alison singing Barbarina in 'Le nozze di Figaro'
What would you like to be doing in five years? Ten years?In five and ten years, I hope to still be singing. I want to perform at a world-class level in the world's top opera houses and with the world's best symphonies. That is not a goal I ever intend to give up. I will always be a singer. 
You're on Facebook, Twitter and YouTube. When did you embrace social media and how has it impacted your career or visibility?
To be honest, I embrace social media because it helps me feel connected to my friends and the world around me. Especially here in Europe, Facebook and Twitter keep me abreast of what is going on in my friends' lives, allows me to see pictures of their children, etc. I hesitate to use Facebook or Twitter for career purposes, although I know that can be very helpful. The marketing end of this business is my least favorite part, but I am working on getting more comfortable in this area. 
What is something most people don't know about you, something not on your resume?
Hmmm, well, most people wouldn't know that I am adopted, or that I have a degree in Sociology and am finishing my Doctorate in Vocal Performance. I am also a writer, and I am working on a book about adoption, and a book of short stories.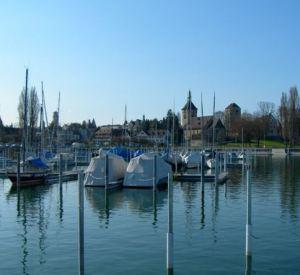 The Bodensee in Rorschach, Switzerland
Where can we expect to see/hear you in 2011?
Over the next couple of opera seasons, I will sing Adele in Die Fledermaus, Oscar in Un ballo in maschera, Gilda in Rigoletto, Rosina in Il barbieri di Siviglia, and Zerbinetta in Ariadne auf Naxos. Some of my dream roles! I am really excited about what the next few years hold for me. 
Here's a wonderful clip of Alison singing Edvard Grieg's Med En Vandlilje: 
* * * 
More information on Alison's career, including reviews and recordings, can be found at www.alisontrainer.com. You can friend her on Facebook and follow her on Twitter @SopranoAlison.