Mushrooms Recipes That Can Fool Anyone
By 

Robin Asbell

 | August 7, 2012 ~ Courtesy of VegNews Magazine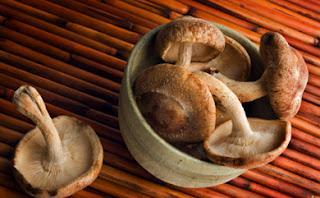 The fascinating science behind these versatile fungi, and three recipes for delicious, savory mushrooms.
Have you ever noticed how the veg option is usually something featuring mushrooms? Turns out, it's more than flavor—it's, quite honestly, science. There's serious chemistry behind the "meaty" reputation of the mighty mushroom. According to chemist and New York Times columnist Harold McGee, who writes about the science behind cooking, mushrooms contain large concentrations of free amino acids including glutamatic acid. Glutamic acid, the natural source of monosodium glutamate, is aided in its mission to taste great by another chemical, guanosine monophosphate. What does this mean? It means that mushrooms are a plant-based source of the same kind of mouthfeel that animal foods deliver. The phenomenon is called umami, a Japanese word for meatiness, and is more intense when mushrooms are dried. This too, has science behind it: according to McGee, shiitake mushrooms get their appealing aroma from a chemical called lenthionine, which is created and maximized by enzymes as the mushrooms dry.
That same lenthionine will be created by slow cooking, which explains the difference between deeply brown, shrunken sautéed mushrooms that my mom always served over steak. Understanding the chemistry in mushrooms is really all about one thing, and that is getting the most flavor out of them. So, take a tip from the Japanese, and start using more dried mushrooms. You may not be as enamored with eating dried mushrooms in a stir-fry, but you can always infuse a stock, sauce, or soup with them. Grinding dried mushrooms to a fine powder gives great flavor to any dish. When cooking with fresh mushrooms, slowly sauté them over low heat. They may not be pretty, but they will taste amazing, especially with a shot of tamari or wine. Bon appetit!