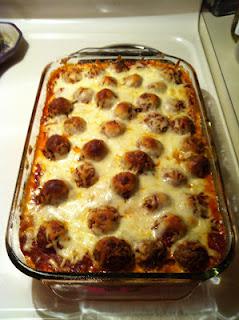 Meatball Sub Casserole
We made a recipe from another blog today. The Country Cook always has something good. We've actually made a number of recipes from her blog. This is what ours looks like. It was great! We will make it again. It was also very easy and didn't take long to make at all. That's a good thing nowadays. You can find the recipe for Meatball Sub Casserole here.
Andy will be 4 weeks old tomorrow. He's growing and getting heavier. I will be glad for the day when he mostly sleeps through the night. Despite the lack of sleep things are going well.
Enjoy the recipe!