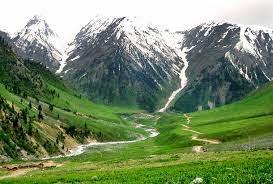 Encircled by towering peaks, heart grabbing attractions and hanging glaciers, Sonmarg Valley is one of the many
 gems in the Kashmir region. If you wish to rejuvenate yourself while admiring the heart grabbing attractions and wonderments then you must visit to this exotic place which will certainly leave incredible mark and memories to cherish from heart. Beautifully located, at an altitude of 3,000 meters above the sea level, Sonmarg is just 87 km away from the Srinagar.

Literally means 'meadow of gold' Sonmarg in itself is a beautiful place full of natural grace or gifts. Be it nature lover, honeymooners of adventure-thrillers this place never fails to disappoint any one. From this exotic place, one can explore numerous towering snow clad mountains of the Ladakh region which is really a treat for eyes. This beautiful town is encircled with alpine trees from all the sides which make their pleasurable surroundings. Nilagrad, Krishnasar Lake, Baltal are some of the must visit attractions of Sonmarg which one can explore during touring to Sonmarg. Apart from the attractions and destinations, Sonmarg has good number of hotels of all kinds of ranging from ordinary to luxury. There wouldn't be any problem related to transportation, Sonmarg is well connected with road and airways, which makes the journey memorable and unending chain of happiness.


So book from us the tailor made Sonmarg tour packages and enjoy vacation in a delightful and memorable way in the charming beauty of the nature with which Sonmarg is blessed with. Wish you a happy and delightful vacation in Sonmarg, a beauty holidaying destination located within the state of Kashmir – the Paradise on Earth.