Another blog i turn to for honest skincare reviews is
Rebecca
from
Be Beautiful
, i came across her a while ago and i instantly loved her blog. I bought the md formulations cleanser because Rebecca could not stop raving about it and i knew it must be good if she loves it this much, so i popped online and ordered my very own bottle without even batting an eyelash.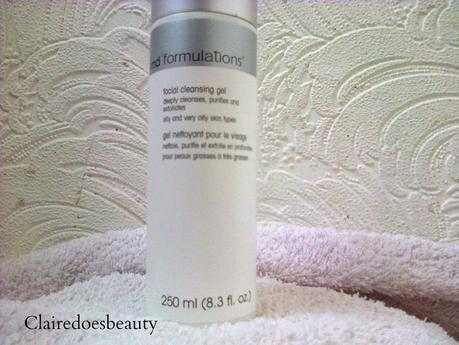 md formulations facial cleanser - Feelunique RRP £25 on sale at £20
md formulations is a cleansing gel for oily and blemish prone skin that deeply cleanses, purifies and exfoliates the skin. md formulations contains a whole bunch of ingredients including Glycolic Acid, which is a natural exfoliant that gently removes the top layer of dead skin cells that likes to clog our pores, to reveal softer, smoother and healthier looking skin which is something we all want... right?
How I Use
I am a double cleanse kind of gal and i tend to use this as my second cleanse, that is just my preferred choice. I take roughly about the size of a 20p piece blob of cleansing gel and rub it all over my face avoiding eye contact until it becomes white, after this i then splash my face with some water to then turn the cleanser into like a foaming face wash and really start to work it into my skin, before taking a damp facecloth to remove every trace of the cleanser from my face. I will then again splash my face with some more water just to make sure there is no cleanser left on. Afterwards my skin is left feeling cleaner, softer and much more brighter looking. My skin seems to love this and i do notice fewer blemishes when i use it and my skin certainly  notices when i don't use it!md formulations facial cleanser is well worth every penny in my opinion and you get a massive 250ml bottle which i am not even halfway through even though i have had it for months and use it ever morning and night!Does this sound like a cleanser you would like to try? Have you used anything from this brand before?