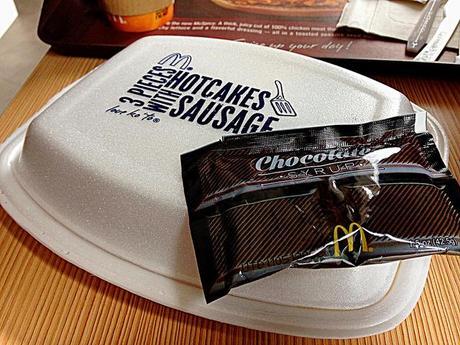 Heavy breakfast!
Now that Alvie and I are at different work shifts, we try to make up for the difference in time by going out for quick meals every now and then. We do tend to rely on restaurants that are nearby, so naturally, McDonald's is one of them, being nearby to everywhere. I was interested to see that they now had new syrup choices for pancakes, because I love pancakes. When I was a kid, I used to stack them up as high as I saw them in cartoons, and I always finished off my plate!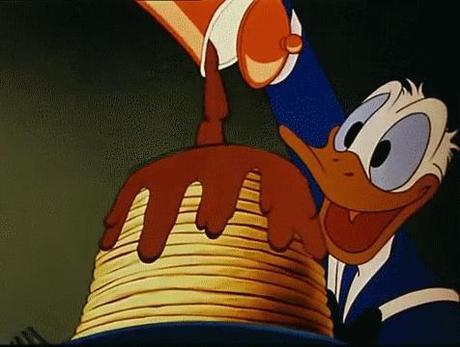 Yep, this was me.
Image from here.
We shared the three piece hotcake with sausage meal, and the syrup wasn't quite as I expected.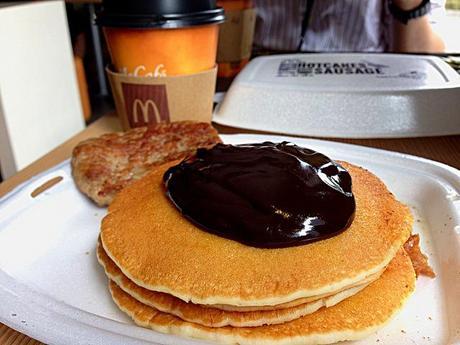 3 pc. Hotcake and Sausage Meal (coffee included), P115.00
The syrup wasn't as syrupy as it was on the posters. It's a bit more like pudding. It was alright though. Not as moist as I imagined, but it tasted good. The pancakes were your average pancakes, and the sausage was the same as always. Coffee at McDonald's is a bit too strong for my taste, but it's definitely convenient and cheap. Haha.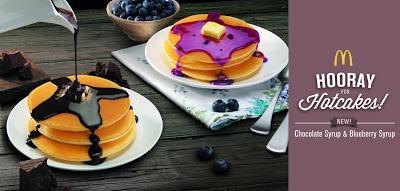 Texture-wise, the syrup was nothing like this.
Calories: 
McDonald's now has a flyer for the calorie counts of their meals. There wasn't one for this meal specifically, but I extrapolated data from it and it looks like this meal has around 700 or so calories. Yeowch! Glad Alvie and I split this. Haha. I suggest going for a jog or something to make up for this hefty breakfast.
Verdict:
Good - The syrup, however did not turn out to be better than the good ol' maple syrup so I might just stick to that next time.
Not the best of new things from McDonald's, but I'm still happy to see something new. Whatever happens, Hooray for the delicious-but-rarely-spicy McSpicy, and cheap, decent coffee!
Love McDonald's new syrup? Hate it? Let me know by commenting below, or just
tweet
me!

Also from McDonald's:
McDonald's McSpicy: The Next Big Zing
Did somebody say Pancakes?
IHOP: The Latest Pancake Craze
Pancake House: Cookie Butter Pancakes Surprise
Slappy Cakes: Make Yer Own Pancakes!
MCDONALD'S
Facebook: McDonalds Philippines
Website: http://www.mcdonalds.com.ph/