Hello makeupholics!
We girls are always jotting to get that perfect flick while doing winged/cat eyes. The best makeup tool for a novice is definitely a pencil liner but after the launch of Maybelline's The Colossal Liner our lives are sorted because the 0.4 mm flexi tip applicator does the job pretty well. I have done a post for achieving Cat flick in 6 easy steps (Read here).
Price : Rs 425
Quantity : 1.2 gms
Buy Online at Amazon.in
| Flipkart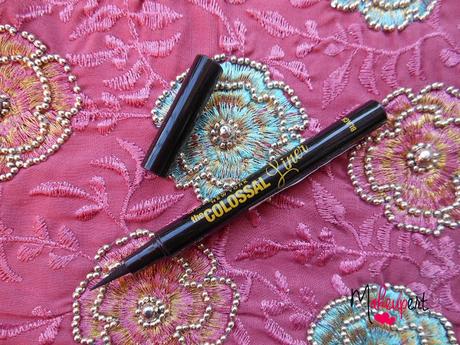 Maybelline The Colossal Liner Review, Swatches & Buy Online India

Maybelline The Colossal Liner (Product Claims)
A definite must have in your make-up kit, get your inner Cleopatra out with Maybelline's Colossal Liner. It comes with a 0.4 mm Flexi Tip Applicator which enables error-free and quick application. It's empowered with Ink-pigment technology providing stunning, defining lines as well as intense color.It is the perfect antidote to your eye liner woes!Its smudge-free, quick-dry formula ensures long-lasting bold application. Fade-proof and lasts 12-hours long.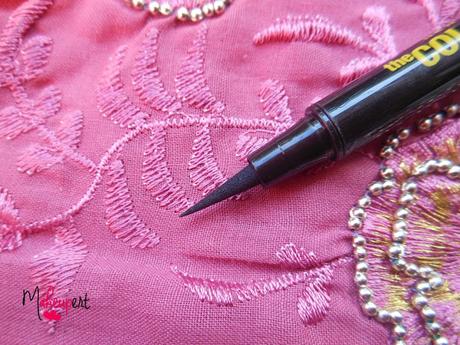 Maybelline The Colossal Liner Review & Swatches
Packaging
Maybelline The Colossal Liner comes in a sleek black pen type packaging with metallic black plastic cap. The applicator tip of the eyeliner is firm yet flexible felt-tip pen like brush, the bristles are packed closely in a fine point. The tip of the brush is really sharp and one can draw very fine lines easily. The pen style packaging gives a lot more control and precision than a liquid liner and this is very useful for beginners.
Pigmentation
The Maybelline liner is darkly pigmented and delivers dark black color in a single stroke. The result is not matte black - infact it gives a nice glossy, satiny finish. 
Efficacy
Maybelline Eye liner dries pretty quickly into a smudge-proof and waterproof finish - will not break down if you have super oily lids and does not transfer to socket line. You need to vigorously rub it with a oil makeup remover to get the color come off. The eyeliner stayed on my lids for good 7 hours without any smudging or fading, even in extreme humid conditions. 
Rating : 4.5/5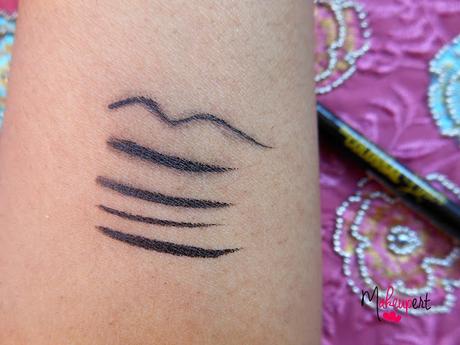 Maybelline The Colossal Liner Swatches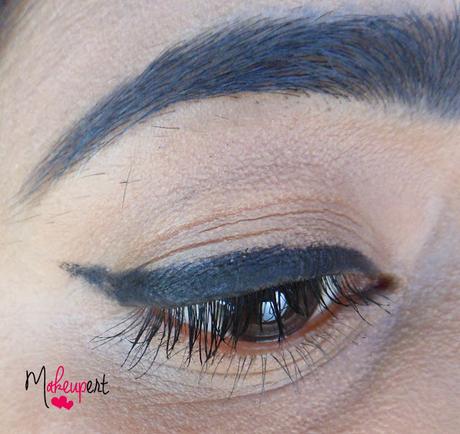 Maybelline The Colossal Liner : How to do Cat Eyes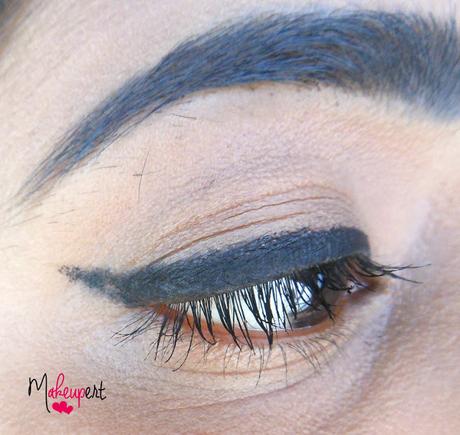 Cat Eyes in 6 easy steps with Maybelline The Colossal Liner