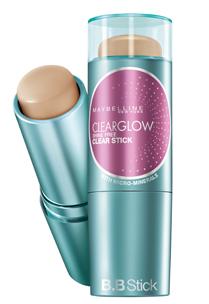 Maybelline (India) BB Stick

So, you love your BB cream? Loved the results? or may be not. bRegardless of what you think about the formula of a BB cream, Maybelline is all set to launch its BB Stick. Sounds like fun stuff, huh? It sure is!! Let's see what Maybelline has to say about it-
BB Stick is different from our BB Cream for -
1. Mineral clay formula guarantees 12hr shine control.
Check it here: http://www.maybelline.co.in/products/face/cream/bb_stick_india.html
Price: 
Rs. 250.

Available in 2 shades:
1.Radiance
To me, it sounds like a promising product because OMG, Delhi summer is already here during day time and we need something that controls sweat, sebum, makes our skin shine free and hides pores. Above all, it has SPF. So, let's welcome our Maybelline BB Stick!!
I will be reviewing the product soon because I have all the above mentioned abnormalities that BB stick promises to keep away.
In the mean while, read Maybelline BB Cream review here on SSU.
See you next time!