Before any more blabbering, let me just tell you I have very sensitive eyes. My previous two attempts to use contact lenses failed miserably. My eyes turn red and dry very soon. So, I guess my poor little eyes are jinxed with glasses for a lifetime or till I turn brave and opt for Laser, which I don't forsee soon because i am quite a chicken when it comes to scalpels, needles. Before using this makeup remover, i would use olive oil or almond oil to remove my eye makeup, specifically, liner and kohl. No mascara. Even those oils, used to sting my eyes and make them hazy for hours if the oils got inside my eyes.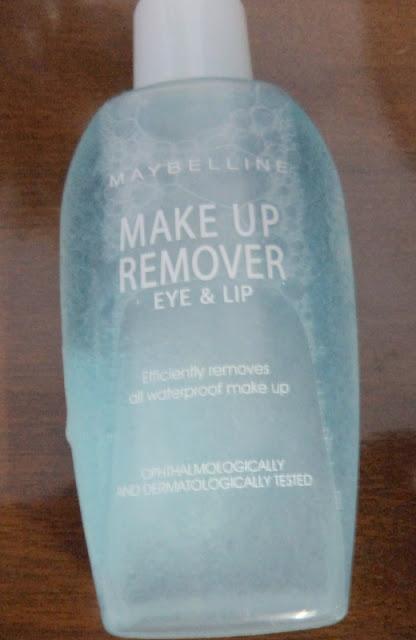 What Maybelline claims about its Eye & Lip Makeup Remover
Efficient & Easy: Instantly removes all eye and lip makeup, even waterproof and non-transfer. Gentle: Formulated for sensitive eyes, it is especially very gentle for the delicate skin around eyes. Ophthalmological and Dermatologically tested
Direction for Use:- Expert Tip – Shake well before use. Soak a cotton pad with the lotion and apply on your eyes or lips. Price:- Rs.215 for 70 ml
Shelf Life:-30 months from the manufacture date.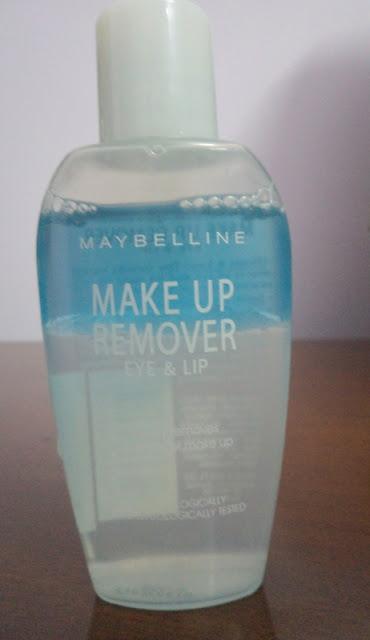 Packaging:- The makeup remover comes in a transparent plastic bottle with a tiny hole to dispense the product with a screw on cap.
Maybelline Makeup Remover is a Bi phase liquid which has layers of oil and water like liquid, which when shaken get mixed together well to work as cleanser.When shaken, both liquids mix together and become an icy blue color. Gosh! I love the color. Yup, it feels so soothing. (Weirdo me).
This makeup remover is a miracle worker. A tiny amount, say 7-8 drops effectively remove the kohl and eyeliner with just a single swipe. Even if it gets inside my eyes, it does'nt sting but my eyes feel little hazy, till I rinse them with clean water. That's it! No haziness, no creamy or oily residues and no racoon eyes.
It's absolutely fragrance free .
What else do I say ?? Nothing. I just love it. It's my HG eye makeup remover. And the price makes it even more affordable.Of course, I will re-purchase,  but whenever it gets over, which I don't see soon, because a tiny amount is required.
Btw, my experience is only limited to eyes. I have'nt used it on lips or face. I eat all my lipsticks and don't use foundations, concealers on face. So no need there.
 Maybelline Products are available at Beautykafe.