I am never into so much of eye makeup to work but one thing which I always keep it in my handbag is the Maybelline Colossal Kohl in Black! The new variant is awesome. I will have to write a review on it. Will do it super soon. Anyway coming to this, Maybelline always stood upto the expectations with the quality,quantity and cost. It never became a burden neither it compromised with the quality. Out of very few brands that are available in India, Maybelline is one brand that we girls go back to always. Keeping in mind, they launched this new variant in the Maybelline Colossal Range, A Turquoise Kohl ! Perfect for the summer eh.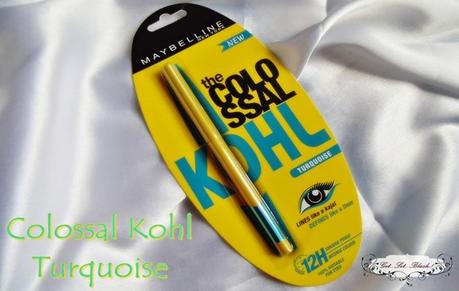 Price and Quantity:
INR 249 for 0.35gms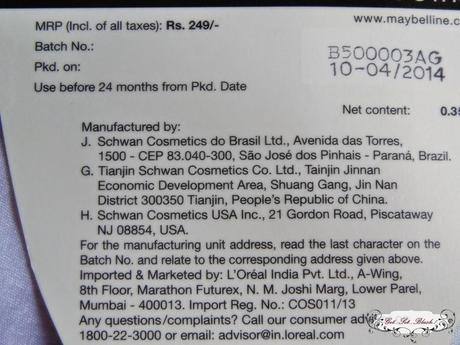 What it says:
For all those ladies out there who prefer reading the whole package for more information regarding the product,this is for you.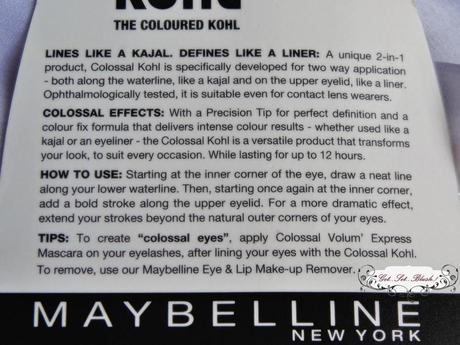 This comes in the signature
Colossal Package ie yellow
pen but with the letters in metallic turquoise which goes with the theme. The cap is tight and locks with a click sound and
sleek
package makes it more
chick and travel friendly.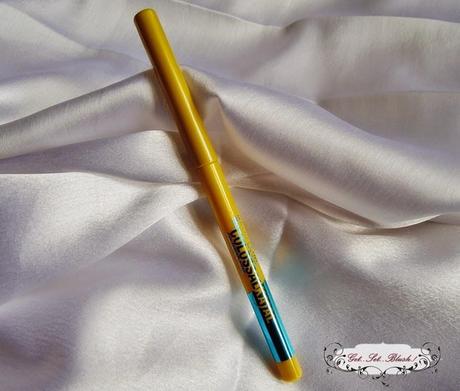 My Take:
I usually do not judge a product by checking out other people's review but I judge it based on my own experience. When I got this,I wasn't really hoping that it can look great or me or so. Because usually this color is metallic and bright and I am sure it would look great on fair skin tones. I was a bit doubtful on this. But eventually when I tried it on, I was blown with the pigmentation and staying power. This is not too bold but because it is metallic it makes the color pop. I used it on my lower lash line and  on upper lash line and once I did a thick line around my eye shape. Out of all, it looked stunning on the lower lash line. It  just made my eyes pop with ease and it is not bold when you wear a thin line and for a bolder look,you can always wear it thick. The texture is super creamy and it just glides on the skin. The pigmentation is great. I have swatched it just with one swipe. The lasting power is great too. It survived my office hours (ie 8 hours !! )without creasing or spreading. Once set, it can only be removed clean using the eye makeup remover.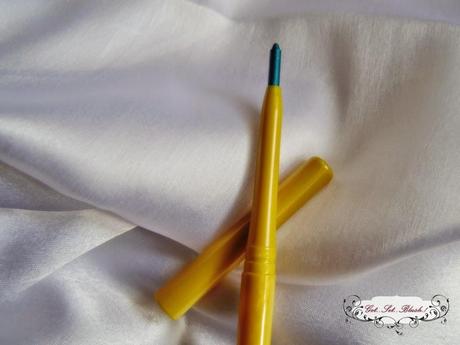 Swatches: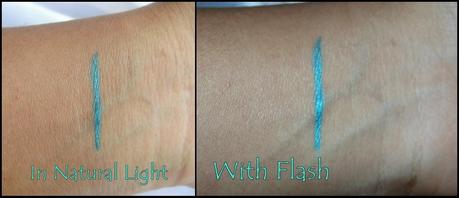 On my eyes: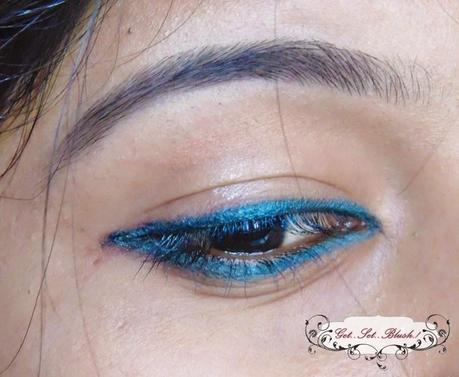 My Rating:
4.5/5
Recommendation:
It is a cool color for summer and if you are bored with the usual black kohl, you can go for this. Well I can say that is not really a must have. Maybelline could have come up with any other shades rather this. Quality wise,it is awesome but the color can't be liked by everyone.