Hello everyone!
Wish you all a very good morning!! No matter how many nail paints a girl has, it would never be enough, right? We always seek a variety, something new, something more than what we already have and so after looking at work-wear shades on Monday, a party wear shade yesterday, today we will be looking at a couple of casual wear shades, apt for a day out with friends
J
Keep reading to find out what the shades are ;-)
What Maybelline says about their Color Show Nail Paints :
"The fashion fix for your fingertips!
Stay right on trend from your tips to your toes with new Maybelline Color Show. Our   gel based formula with color popping pigments, comes in 40 bold, super stylish shades that look great on nails. So go on, mix, match and make the most of color."
LAVENDER LIES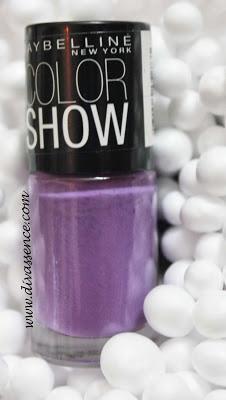 My personal favorite of the two shades! No, not because I like lavender more than the other shade (it is actually the opposite) but because of the way it applies and looks on my nails, read on to know what I think about it JShade: A slightly dark lavender shade, not my kind of color but looks pretty on the nails. If you love lavender, definitely pick this up!Price and quantity: 6ml for Rs.75 Texture: Not too runny, not too thick, perfect! The texture of this nail paint is same as that of the nude skinshade.Finish: Crème finish. The glossiness stays till the end.  


Coverage: Opaque coverage. One coat was enough, two coat makes it look better.Application: Application is slightly (very slightly) streaky. But the brush is dense and I like it.Drying time: It dries quite quickly.Staying power: It stayed well for 5-6 days, started chipping by the start of the sixth day. Suitable for: Casual wear. Perfect for a day out with friends J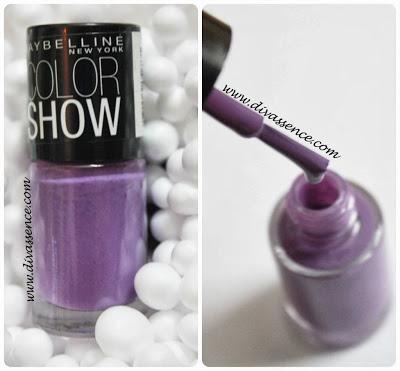 Thumbs Up for:
·

  
The finish! Such a glossy finish at Rs.75??!! Hats off to Maybelline!
·

  
Drying time was impressive.·

  

Glossiness stays till the end.


·

  

Staying power is very good.


·

  

The shade – I haven't seen such a lavender in a while (Is there any dupes for this one? If you know, let me know

J

)




Thumbs down for :

·

  

Nothing!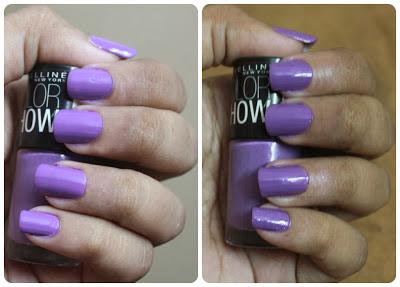 Rating
: 4.5/5
CONSTANT CANDY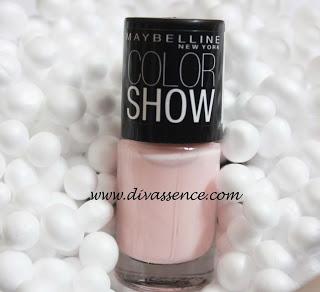 I love pinks in any form but not this one! Well, I do love the shade (and it's name :P) but performance-wise, this one was a disappointment. Might not look good on dusky beauties but if you are fair skinned, you would love it!
Shade
: The shade can be described in two words: very pale pastel pink!
J
Price and quantity
: 6ml for Rs.75
Texture
: A little runny, not easy to apply.
Finish
: Sheer and glossy.

Coverage
: Sheer. One coat will give you a sheer look, looks better with 2 coats and 3 coats would give you the best look (I'm wearing 3 coats in the pics here).
Application
: Application is very streaky and gets a big thumbs down from me.
Drying time
: Not impressive when compared to the other shades from this range. Second coat takes a long time to dry.
Staying power
: It stayed for 3-4 days with 2 coats.
Suitable for
: Casual day out with friends!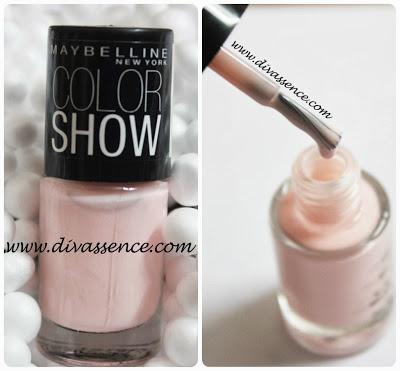 Thumbs Up for:
Price!

Staying power is good.

Easily available
Thumbs down for:
Application is very streaky

Requires 2-3 coats for opaque coverage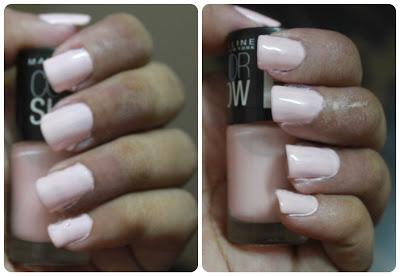 Rating
: 3.5/5

Final Word:

Lavender Lies wins my heart out of the two in terms of texture, application, staying power (in short, everything!) though I'm partial to the shade of Constant Candy! Which one would you pick? Let me know in the comments below

J