I have been wanting to try out the play by sephora ever since i first heard about it. I was excited and yes did a little dance when i got the email that it was open. So here is my first Play by Sephora unboxing. I am going to show you up close pictures and give you more information about the products and at the bottom is the video so make sure to check it out.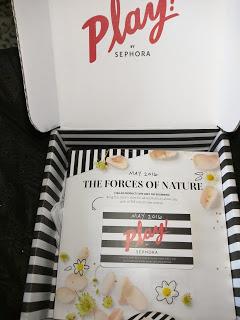 You bring the card into the store for advice that is centered around you and you also get a free one on one tutorial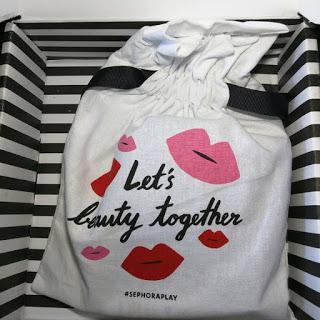 This month is the forces of nature. I love this bag. Its super cute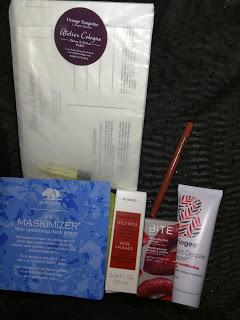 Here is an over view of all the products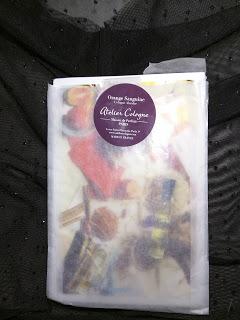 Atelier Cologne in Orange Sanguine-- A refreshing burst of sweet blood orange and bitter orange peel paired with notes of geranuim..
DID YOU KNOW-- Orange Sanguine is part of Atelier Colognes collection originale which is made using high concentrations of essential oils to create fresh citrus scents.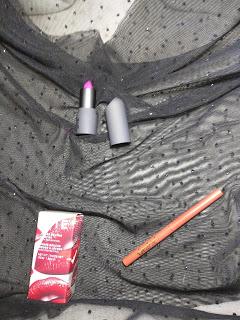 Bite Beauty Amuse Bouche in Kimchi-- handcrafted, high pigment lipstick delivers intense hydration using twelve edible oils
ABOUT THE INGREDIENTS-- Coconut oil- Highly anti inflammatory, anti bacterial and hydrating
                                              ---Pomegranate oil- Moisturizes and protects from environmental damage with antioxidants
DID YOU KNOW--bite beauty creates all its lipsticks using food grade ingredients that are antioxidant rich and made in small batches
                                        Tarte Tarteist lip crayon in Latergram  --Prime and line with this lip crayon that nurtures with vitamin E and antioxidants
ABOUT THE INGREDIENTS--Vitamin E- A natural preservation that nurtures dry skin and helps protect from free radicals
   -- Mineral pigments- product vibrant, long lasting color and help to soothe the skin
DID YOU KNOW--The mineral pigments in tartes products are made by crushing actual earth minerals into fine powders and contain no synthetic counterparts, so they're perfect for sensitive skin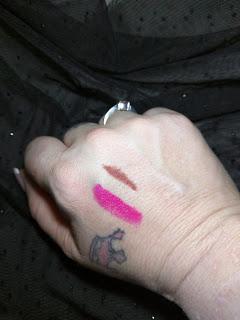 Here is swatches of the the lip products. I am excited to try these out.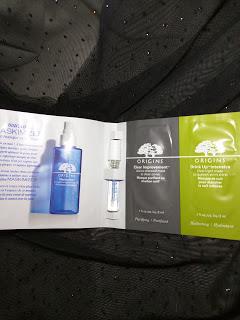 Origins Maskimizer +Drink up and clear improvement Masks-- Innovative priming mist optimizes skin's condition, while the charcoal mask cleanses and the overnight mask deeply moisturizes
ABOUT THE INGREDIENTS-- Marine algae-- A powerful anti- irritant that helps to soothe and calm the skin
   --Bamboo charcoal- deeply purifies, draws out impurities and unclog pores
   --White china clay- absorbs toxins and balances while being ultra gentle on skin
   --Apricot kernel oil-a non greasy oil that nurtures and hydrates
   --Japanese seaweed-helps repair skin, which prevents moisture loss and visible signs of aging
  DID YOU KNOW-In partnership with the American forest' global ReLeaf project Origins has planted over 500,000 trees around the globe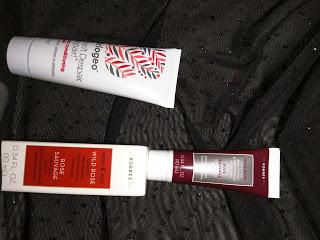 Sorry the photo is sideways
   Korres wild rose sleeping facial-- Lightweight overnight facial treatment melts nto skin to brighten and moisturize with wild rose oil
 ABOUT THE INGREDIENTS- Wild rose oil- Rich in vitamin c for helping even skin tone and visible improve fine lines
DID YOU KNOW--Based in Athens, Korres works with local farmers to product botancials and other natural ingredients that are unique to Greece's climate
   Briogeo Don't despair, repair! deep conditioning mask-- Intensely hydrating hair treatment, made with naturally derived ingredients to restore and replenish
ABOUT THE INGREDIENTS--Argan Oil- A potent multitasking oil that repairs, softens and reduces frizz
                                               --Avocado oil- Deep conditions and enhances shine without weighing down hair
DID YOU KNOW-- Briogeo's founder was inspired to start a cosmetic company by her grandmother, who harvested raw ingredients from her own farm to make hair care products
Here is the video,