Sharon Loving - The Ginger Baker Longridge.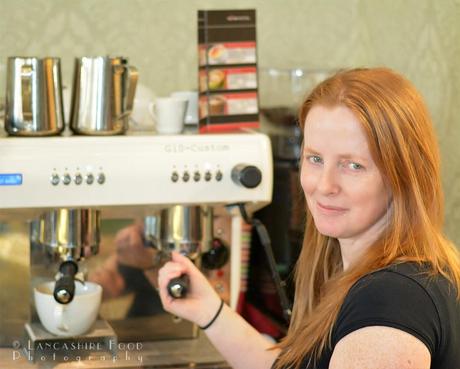 Meet Sharon Loving , The Ginger Baker who is this month's featured foodie. Sharon is a talented Gluten Free baker and owner of The Ginger Baker cafe / tea room in Longridge. Check out our recent post on her newly opened cafe.
Sharon is a gluten free baker who has become a feature of the Lancashire Food scene supplying a wide range of tasty treats direct to customers and through various quality outlets and now her own venue too.
Here's her answers to our questions.
·

  
What is your favorite cookery or food book or publication ?
I have two bibles, Laduree 
Paris   'Sucre'   and   'The Golden Book Of Chocolate'
·

   
What sentence sums up Lancashire Food to you ?
An entire meal on your doorstep, vegetables, meat, fish, bread cakes all on your doorstep.
·
If you weren't doing what you do now, what would you like to be ?
I'm a trained organic horticulturist, so that would be my backup career
·       
·
Which piece of kit could you not do without ?
My Microwave for melting chocolate
·        
·
Who would join you at your ultimate dinner party and why?
My In Laws Enid and James – amazing adventurous cooks, they opened my eyes to the world of ingredients, how many ways to cook venison and how many ways to pickle vegetables
·       
·
What advice would you give to your younger self ?
Be patient, it will happen
·       
·
Describe your style in three words
Pretty   Unique   Flavoursome
·      
·
What was your latest foodie gadget purchase 
       My Lovely vintage green Kitchen Aid
·

        
·
What is your greatest achievement to date ?
My Glutenfree  Tearoom 'The Ginger Baker', it's been many years in the planning.
·        
·
What is the worst mistake you have made ?
I once covered a vegan cake in normal chocolate and didn't realize until I woke up in the middle of the night in a cold sweat. I got a lovely card saying it was the most amazing cake she'd ever eaten
·       
·
Tell us a secret about yourself ? may be something we wouldn't expect !
I was interviewed to present a gardening programme on a well-known channel but fell ill and had to have major surgery, so that was put on the back burner.
I also had a glass of champagne with John Hurt when we sat together at a movie premier, in my late teens. We chatted for a while and I just thought he was a strange old man – no idea who he was
J