I've been using this foundation, Max Factor - Ageless Elixir 2 in 1 foundation & serum, for a while now and thought it would be time to do a review and share my thoughts on it. I bought this product last year sometime, can't really remember when, and when I first used it, I thought it was okay but nothing amazing. I then started using it again and it's all I use now. Every morning this is my go to foundation.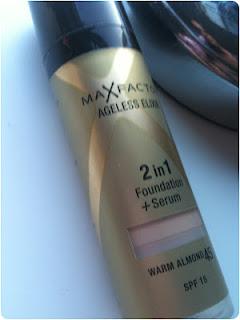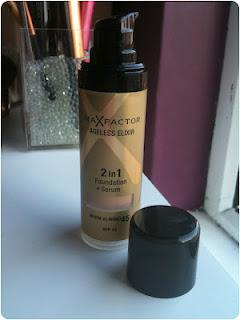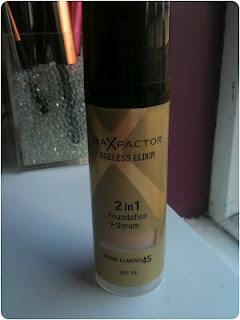 Warm Almond - 45
As I said above, at first this foundation was nothing special, I thought the color was too dark, it didn't look very good on my skin. However, I decided to give it another go and now I love it! I wear it every day without fail.  The packaging it just a simple pump bottle and for once you can actually get all the product out without wasting any. I do think the bottle is slightly boring. The color now is fine. It blends really well into my skin. There isn't an amazing color selection to choose from as there are only 6. Not only is it a foundation, it has SPF 15 to protect  your skin from sun damage and it also contains a serum to provide an effortless and flawless coverage. Having the terrible dry skin that I have, this product sits beautifully on my skin. It doesn't get clogged or full cakey. The foundation feels really smooth and soft and gives a great medium coverage and my skin feels moisturised all day.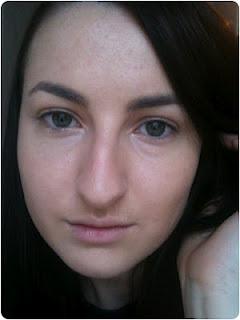 Sorry for the awful picture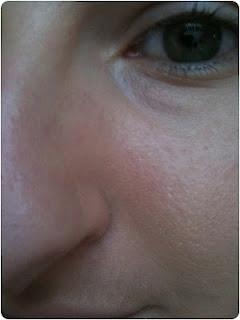 I apply this foundation with my Real Techniques buffing brush and it's the perfect brush ever! I can not express how much I love this foundation. It's amazing and I will be using it for a long time! This product retails at £12.99 which I think is reasonable for a good foundation.
Have you tried this foundation? What do you think of it?