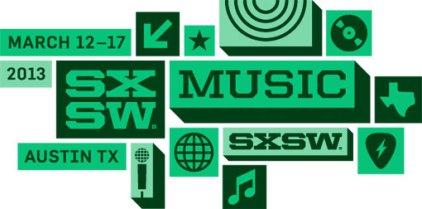 Continued from Part 1
SXSW has now been over for about a hundred months, and this is now completely irrelevant. But it's also cathartic, so bear with me?
Thursday
Since Thursday was the first day I didn't have to volunteer, I got to sleep in a bit and still catch some excellent day shows.
First on the agenda was The Lone Bellow, whose brand of "Brooklyn country music" (their words) I gave a bit of a hard time earlier this year. Consider my words eaten – they were absolutely marvelous performers; the songs were earnest, the harmonies vacuum-tight, the passion real. These guys made my first ever trip to The Broken Spoke absolutely worth it. Must listen: You Never Need Nobody.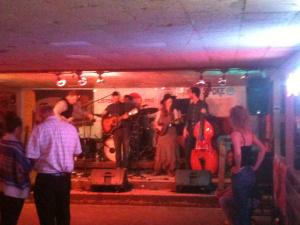 The Lone Bellow
Next up was electropop up-and-comers Gold Fields on the Waterloo Day Stage. The crowd was digging these guys and I was too. Black Sun is a formative debut LP that the band backed up tenfold with a live act that included two drummers and an abundance of self-assured energy. Perfect soundtrack to the beginnings of a nasty sunburn. Must listen: Dark Again.
The Joy Formidable followed with a rollicking set that rocked surprisingly hard for a three-piece. Lead singer/guitarist Ritzy Bryan interacted with the crowd with the persona of a cheery elementary teacher, saying things like "Let's sweat together, shall we?!?" and gaping wide-eyed with every crushing riff she played, as if to say, "Look what I can do!" Crowd favorite "Whirring" closed out the set, and sunburns were officially in full effect. As soon as the set was over I headed east with fierce, lonely determination. Must listen: Cholla.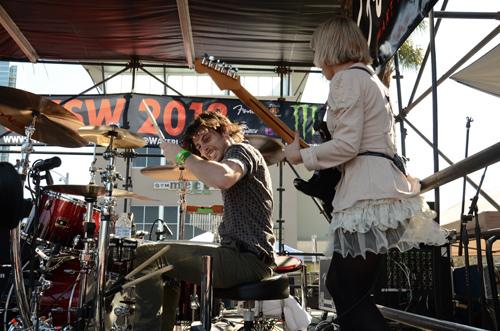 The Joy Formidable; picture from fender.com
My prize awaited me at the BrooklynVegan Day Party at the old Emo's venue, and that is a sentence I just wrote. Whatever BrooklynVegan is, he/she/it/they hosted a delicious lineup that, for me, included Cloud Nothings (yes, I saw them again, they were just as good the second time) and Beach Fossils. Left behind by previous guitarist Zachary Cole Smith, who started DIIV and achieved instant success, Beach Fossils looked like high schoolers and played a particularly frustrated brand of surf punk. Near the end of the set, they were told they only had time for one final song, so they tried to smoosh their last two songs together into one. The venue lady, having none of it, physically climbed up on stage and shut their amps off, at which point singer Dustin Payseur gave up and crowdsurfed. It was so punk, man!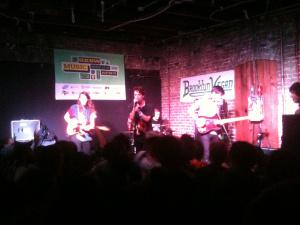 Beach Fossils! Scuzz! Brooklyn!
I can say with some degree of confidence that David Ramirez played the best music I've ever heard in a Sheraton lobby, and his set gave me all sorts of feels. No backing band necessary; Ramirez captivated the packed space with just his words and a guitar. New songs were played, emotions were stirred, we had ourselves a time. David is one of the best singer-songwriters out there right now, period. Must listen: Find the Light.
The showcase set of my night included The Sheepdogs, Fitz and the Tantrums, and City and Colour at Austin Music Hall. Fitz and the Tantrums played a solid set, but Fitz himself was surprisingly restrained, especially next to co-singer Noelle Scaggs, who looked like she was having a controlled tambourine seizure. City and Colour was entirely serviceable and patently unremarkable. All in all a solid show.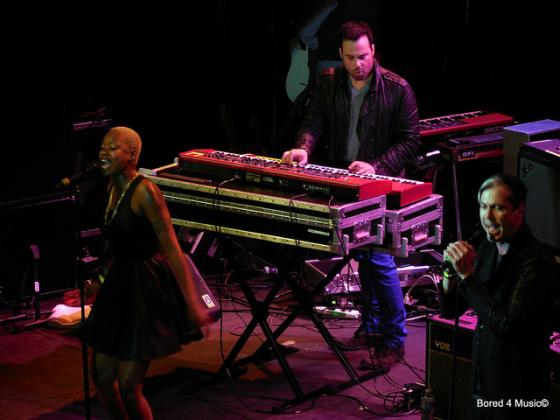 Fitz and the Tantrums; photo from guerrillanights.com
Killer Mike capped off my Thursday at Bar 96 on Rainey Street, playing for the most obnoxious crowd to be found this side of I-35. Sporting a shirt that read simply "DO DOPE F— HOPE" on his near-Rick-Ross-ian frame, Mr. Michael Render gave the most jovial rendition possible of his vitriolic song "Reagan," which ended with him pretending to shoot his DJ, who was wearing a Reagan mask, to the words "I'M GLAD REAGAN DEAD." End scene.
Friday
Friday was one of the weirder days of my SXSW experience, for reasons to follow. It began innocuously enough with Seattle's very talented Pickwick in the Convention Center. Galen Disston has one of the best voices I heard all week.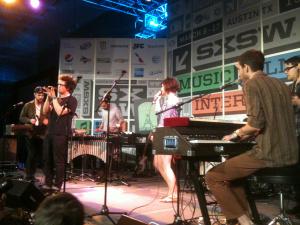 Pickwick and the VOICE OH THAT VOICE
From here I tried to catch Toro Y Moi at the Mohawk but got STIFFED AGAIN because the venue was at CAPACITY. BUH. So I turned my sorry butt around and walked straight back to the convention center to catch Dawes, an entirely boring band I have nothing to say about. Vampire Weekend followed with a decent set, and guys I still don't really get ALL THE HYPE… but hey they were fine. Whatever. Also The Giving Tree Band was playing music in the middle of 6th Street.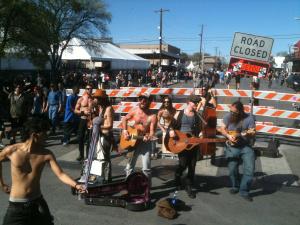 The Giving Tree Band. Street performer kid included at no extra fee.
Frightened Rabbit played a set at Rainey Street's Lustre Pearl that was heavy on material from their new album Pedestrian Verse. It was a short set, hampered by an unfortunately long soundcheck with all sorts of issues, but a solid show nonetheless. As good as advertised.
And then the grown man made his way across downtown to see Forever The Sickest Kids. So what? I will not apologize for that. The fangirls and I had loads of fun. I then dropped into the Belmont to check out Andrew WK, and immediately checked out of the Belmont. Party 'til you puke, as it were. Also, if you find any of my IQ points on the ground, please let me know.
Austin's Black Joe Lewis and the Honeybears can best be described as "James Brown leading the Black Keys," and besides being mind-blowingly fun, they afforded me the opportunity to catch a show Antone's before it packed up and moved east. If a local soul man playing a bright red Telecaster with his teeth doesn't appeal to you, go home; SXSW is not for you.
And then the night got really interesting.
I scooched over to the Pandora Porch, a temporary outdoor setup a block over, to be there as early as possible for Third Eye Blind, because Third Eye Blind. This meant I had to see Angel Haze first, which was fine, although I had no idea what an "Angel Haze" was.  Trance? Psychedelic? R&B? None of the above! Turns out Angel Haze is a pretty sharp rapper chick from New York who's certainly not short on passion. She held back tears as she told the crowd of her journey from homelessness to lyrical success, and made a closed circuit gallop through the sea of stunned Third Eye Blind fans. I like her.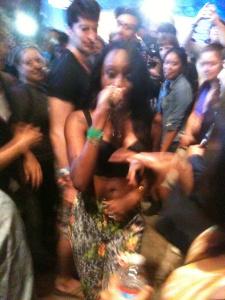 ANYTHING IS POSSIBLLLLLLE
AND THEN THE NOSTALGIA FEST COMMENCED. You guys. I have never been part of a crowd that collectively knew more words to more adolescent anthems than that fateful Friday night when Third Eye Blind took the stage. Stephan Jenkins held our attention captive with songs old (Narcolepsy, Faster, Graduate, Wounded, Never Let You Go) and new before the police had to shut down the show because there were so many fans that they were packed into the street outside the venue blocking traffic. I didn't understand what was happening until Jenkins pointed out behind us and said "You guys figured it out!" That's when I turned around and saw fans lining every row of the parking garage across the street.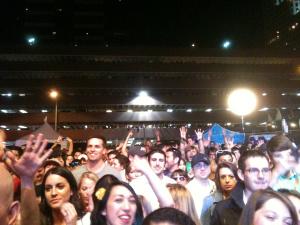 Jenkins was visibly ticked at having to cut the set short but, given one more song, asked the crowd if they wanted the band to close on an old song or a new one. We're not idiots so we asked for an old song, and when they launched into Jumper, we lost our crap.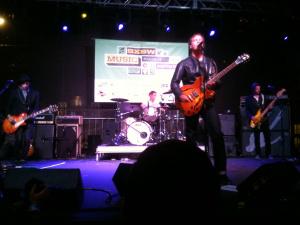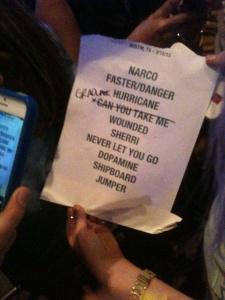 Talib Kweli was supposed to follow, but since Third Eye Blind broke Austin, he had to cancel his entire set as well. The crowd reluctantly/angrily dispersed, police in riot gear at the ready. I got a souvenir guitar pick. This show alone was worth the volunteer work.
Saturday
We celebrated Eric's birthday with friends Saturday morning, going to brunch and then the Flatstock music poster exhibition in the convention center. I saw Stephen Kellogg, True Believers, and John Fogerty that night. Somewhere in between, I died physically and mentally. I crawled, torn and broken from exhaustion and feverish malaise, towards the proverbial SXSW finish line and spent the next week sleeping forever.
Was it fun? Yes. Was it worth the 60 hours of volunteering and several hours of sleep lost? Absolutely. Will I do it again? Not anytime soon. Although a year from now is a pretty long time.
-Matt