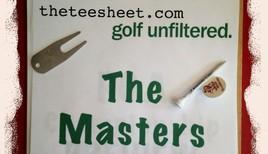 Like any great sporting event, the Masters has had its share of heartache and controversy. Nothing may match this.
As reported so eloquently by Wright Thompson, something is amiss this year at Augusta: they have changed the recipe for the pimento cheese sandwich.
While it is hard to imagine this could be true, a simple look at this years ingredients list compared to previous years reveals the shocking truth: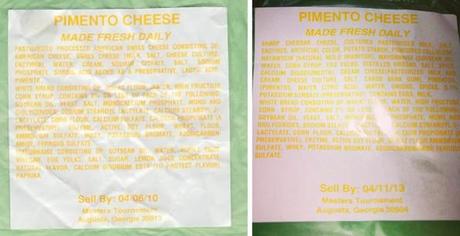 The Ingredients for the 2010 Masters Pimento Sandwich versus 2013 [click to enlarge]
A couple changes are obvious:
The cheese in the pimento cheese spread has changes from "Pasturized processed American Swiss cheese consisting of American cheese; swiss cheese" in 2010 to the new "Sharp Cheddar Cheese" in 2013.
Instead of cream in the 2010 recipe, there seems to be "cultured pasturized milk" and corn starch (which may account for the "gumming" up described in Wright's story).
"onions and spices" have been added for 2013.
The mayonnaise seems a bit cheaper. It has changed and no longer contains whole eggs, lemon juice concentrate and paprika but now has only egg yolks instead of also whole eggs and appears to be sweeter with corn syrup as the third ingredient in 2013. To make up for lack of whole eggs, they appears to be a thickner too: carob bean gum. The new mayo is not southern classic Duke's either by looking at the ingredients.
The bread appears to be the same.
It is impossible to tell from the ingredient list alone, but it looks like they may have spent more on the cheese and went cheaper on the mayonnaise.
From our comprehensive recipe testing in the Clubhouse Kitchen, more expensive cheese is not always better for this cofort food. In some ways, the creaminess of the processed american cheese was what made the sandwich delicious.
We will continue reporting on this critically important story and, if there is time, news that North Korea may be close to nuclear ballistic missile capability.
Douglas Han