About House of Flying Daggers (2004)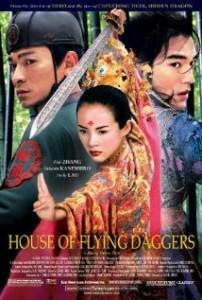 A romantic police captain breaks a beautiful member of a rebel group out of prison to help her rejoin her fellows, but things are not what they seem.
Starring: Takeshi Kaneshiro, Andy Lau, Ziyi Zhang, Dandan Song
Directed by: Zhang Yimou
Runtime: 119 minutes
Studio: Twentieth Century Fox
House of Flying Daggers (2004)
Zhang Yimou is undoubtedly one of my favorite directors with five of his films worthy of 10/10 ratings in my opinion, and I have yet to see them all! Yimou often delivers visual treats, whether it's the golden fields in The Road Home (2000) or that serene lake in Hero (2002) where Jet Li and Tony Leung run on the surface of the water to exchange an emotional duel. Yimou's talents are at their very best, however, in his masterpiece – the breathtaking House of Flying Daggers (2004).
Set in 859 AD under China's crumbling Tang dynasty, rebel groups are formed throughout the country with one particular faction, The House of Flying Daggers, being the most prominent. Adopting a Robin Hood motto of helping the poor at the expense of the rich, the Flying Daggers become the government's primary target and the film depicts a plot to bring their organisation down once and for all. Two police captains, Jin (Takeshi Kaneshiro) and Leo (Andy Lau) plan a mission to assassinate the leader of The House of Flying Daggers. They arrest a blind dancer, Mei (Zhang Ziyi), who works at a brothel and is believed to be the daughter of a previous leader of the rebel faction. As part of the plot, Jin breaks into the prison where Mei is held and leads her into the wilderness, all the time having the authorities nearby, believing she will reveal where the Flying Daggers are hiding.
Yimou's film is a beautiful feast for the eyes whether it's the exquisite costumes or the stunning scenery ranging from golden fields to bamboo forests. Combat plays a big part in the film as well with such scenes as the flight path of daggers and arrows through forests and long grass being notable spectacles. Bloodshed is more prominent here than in Yimou's Hero but it is never to the extent that I feel it would alienate an audience with an aversion to violence.
House of Flying Daggers boasts many wonderful set pieces, beginning with the echo game between Mei and Leo and continuing outside the city as Jin pretends to be fighting off the pursuing police. It's hard to convey in words just how amazing the effects, settings, locations and characters are in this film. I enjoy a film that surprises me and House of Flying Daggers manages this on more than one occasion. While a dilemma faces Jin it's important to remember that nothing is as it seems in this film and a rebel organisation that has evaded capture and outwitted the government is not so easily brought down even when faced with a clever plot from the local authorities.
Yimou has the ability to showcase the most extravagant of spectacles but at the same time to give prominence to the small and seemingly trivial things. So many of the shots in House of Flying Daggers will take your breath away and though its conclusion may leave more questions than answers, it somehow feels completely apt. The three central characters deliver terrific performances and this is arguably Zhang Ziyi's finest role to date. Although this does offer as much combat as Yimou's wonderful Hero, the characters are better fleshed out and the love story that develops makes for a moving one. Yimou's finest hour in celluloid is also one of the most beautiful films you will ever see.
Enjoyed the read? Subscribe!