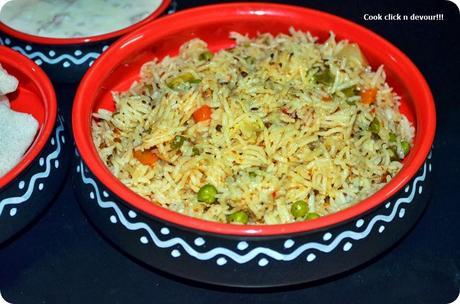 Today I have yet another favorite recipe from Maharashtra.Next to Tamil cuisine,Maharastrian cuisine has become my favorite,I really enjoy the flavorful spicy dishes of this cuisine and never miss a chance to cook those dishes.Yesterday I saw this recipe for masala bath in Sanjeev kaoor's site and I really liked it.I made it right way for our dinner.I did not have the vegetables mentioned in the recipe still I made it with whatever I had,and we enjoyed it to bits.The freshly ground masala gives a distinct and vibrant flavor to the rice along with the aroma of basmati rice.I was amused by the taste for such a simple recipe with no store bought masala,this is surely a winner.I urge you all to try this at least once and I am sure you will like it.
Masala bath recipe
Star ingredients:Veggies and basmati rice
Time:30 minutes
Serves:3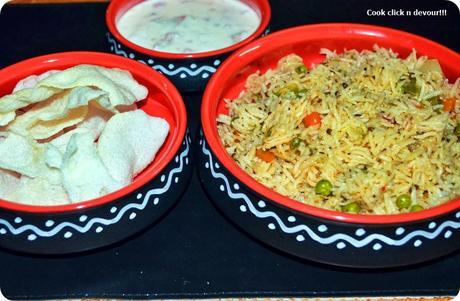 Ingredients:
1 1/2 cup basmati rice
1 onion sliced
2 potatoes cubed
1 carrot cubed
1/4 cup green peas
1/4 bell pepper chopped fine
2-3 cloves
2 cardamoms
Salt
Oik
To fry and grind:
1 teaspoon cumin seeds
1 teaspoon coriander seeds
3-4 dried red chillies
6-7 whole almonds(I used in place of dried coconut)
Method:
1.Soak basmati rice in water for 30 minutes.Drain and wash once.Drain again and spread on a plate.
2.In a small kadai heat one teaspoon oil and fry cumin,coriander seeds and green chillies.Grind coarsely along with whole almonds.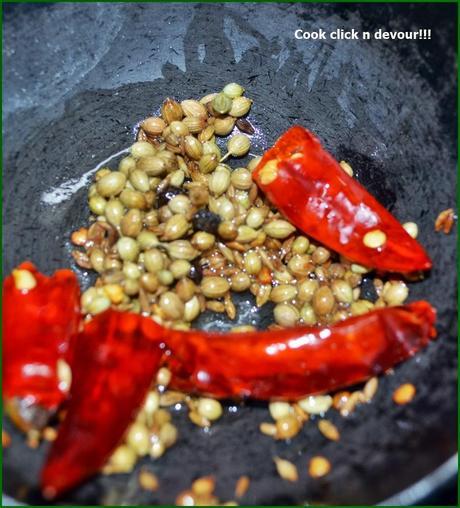 3.Heat a thick pressure pan or cooker or kadai and add 3 teaspoons oil.Once hot add cloves,cardamom and saute for 1 minute.Add the ground paste and saute well for 3-4 minutes.
4.Add sliced onions and saute till translucent,add the cut vegetables and saute for 5 minutes.
5.Add the rice and mix well.Saute for 3 minutes and add 3 cups water.Add salt and pressure cook for 2-3 whistles.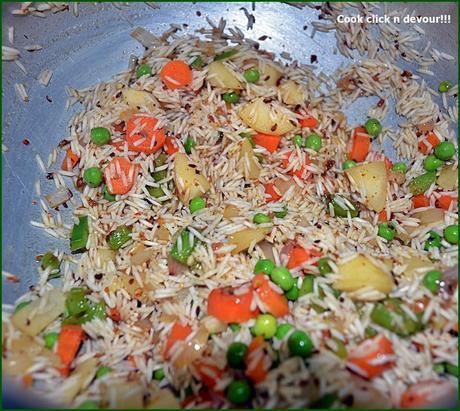 6.Open after the pressure is released,mix gently.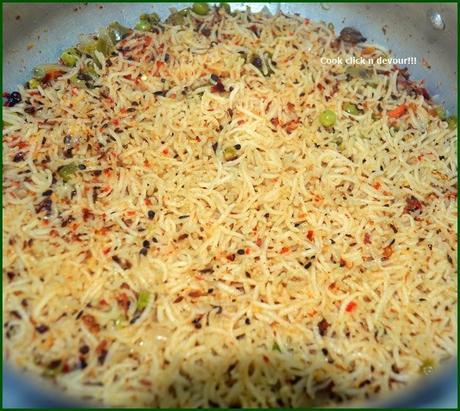 7.Serve hot with papad/vadam and raita.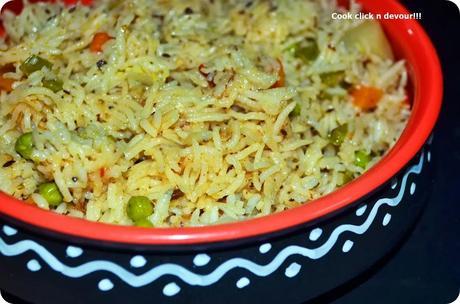 Notes:
1.You can add vegetables like brinjal,ivy guard in this reipe
2.I used almonds in place of coconut as I did not have coconut.Almonds give the same texture and taste.
3.The water level should be just above the rice.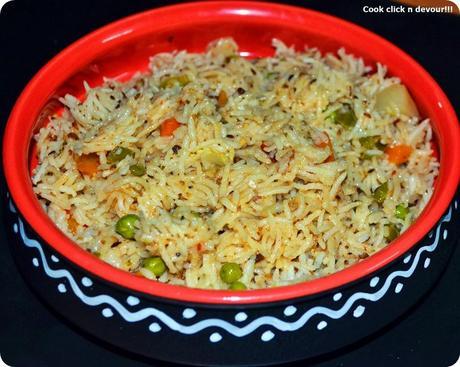 4.Once pressure is released open the pan after 10 minutes and mix very gently first.Allow to rest for 5 more minutes before serving