Masala Library opened in Delhi this July, right next to Le Meridien in Janpath. After its more than just successful time in Mumbai, it took its own sweet time to come to Delhi but came with a bang nevertheless. Zorawar Kalra has opened a lot of restaurants in India in the past few months, and Masala Library was easily the most awaited one out of the lot for us.
The restaurant has such nice plush interiors, with comfortable seating for you to settle in and eat your way through the menu. There's a huge bar made of glass with reflections falling beautifully (it looks even better at night), and a really high ceiling with an attractive chandelier in the center that's the highlight of the decor.
I went to Masala Library for their Chef's Tasting Menu paired with wine. Priced at Rs.2300 plus taxes for non vegetarian and 2100 plus taxes for vegetarian, the menu is real value for money. Looking at the dishes you get and the price you pay for it, you can't call the place expensive even though the image has been portrayed so. Masala Library has two time slots for dinner- 7:30PM and 9:30PM, and one slot for lunch, at 12:30PM.
A nineteen-course menu spread across snacks, starters, main course and dessert. The six snacks were all vegetarian (even in the non vegetarian menu), and are literally bite-sized. You do feel like you're craving for some more of that delicious snack, but as the menu progresses and other courses come to your table, you realize how that quantity was just fine for an appetizer. Because by the time you reach the desserts, you're pretty full. And that's not the conception you have when you start off.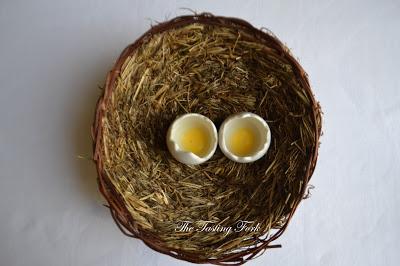 We started with an amuse Bouche called Fake Eggs, which was a coconut and mango mix (get the colours?) and you pop it into your mouth. Sets the tone for the meal ahead. Deceitfully presented with a purpose, and so so good in taste.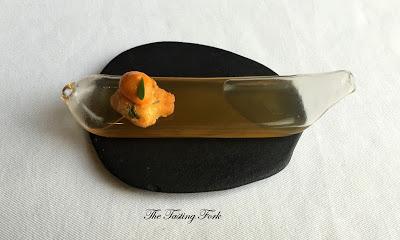 Madur Vada with rasam, served with a drop of tomato chutney was an absolute star! The vada is literally the size of one box of your finger, but the yummy spicy flavourful rasam and the crisp vada that you pop into your mouth with the chutney is like "oh my god, it doesn't get better than this". Really really leaves you wanting for another portion of it, but you have other things to try too.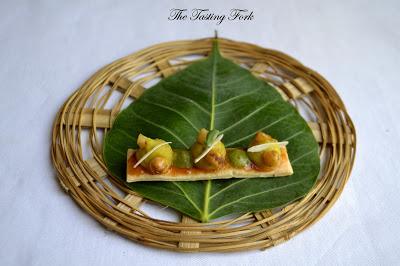 Deconstruction of Samosa had all the elements put together one on top of the other. Not very impressive in taste. Found the saunth too much. Farmer's staple was a bajre ki roti with white butter. This was too too good in taste. Delicious comfort food. While the Charcoal Bhajiya was beautifully crisp with a delectable smoky flavour, the Nadir Churma wasn't something that matched the other dishes. The dip was lovely but didn't go with the dried lotus stem for me.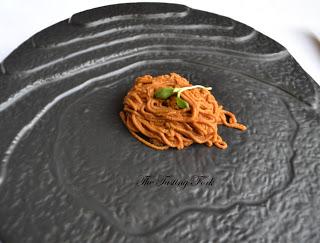 Mushroom chai was dried mushrooms put in a cup, with a mushroom broth poured on it, and a little bit of truffle. Exceptionally delicious! The aroma makes you fall in love even before you taste it. Next up was Galouti Kebab that when you look at, will give you the impression of noodles. Served on a sheermal that's air fried, the flavours of the galouti were simply spot on. Melt-in-the-mouth!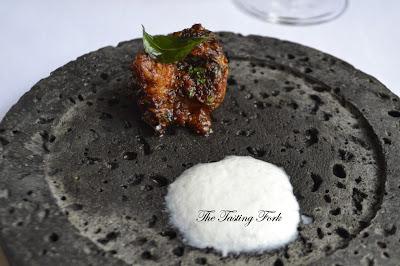 Two brilliant dishes in the tasting menu are Naga Pork braised black bean and bamboo shoots, and Curry Leaf Prawn Thayir Sadam. The Naga Pork, a specialty from Nagaland, is cooked really well, but the superb flavor of the black bean takes the cake away for me. The Curry Leaf Prawn, a South Indian dish, had an oustanding mix of garlic, onions, pepper, with a subtle flavor of curry leaf in the coating of the prawn that was filled with flavor inside too. Served with a curd based dip on the side, which was essentially curd rice but with a different take on it. My mother had the Pesto Kebab which was really soft and had a lovely flavor of pesto- she really liked that. But the roasted turai with crisp torai was something she didn't even finish. Not something that impressed her at all.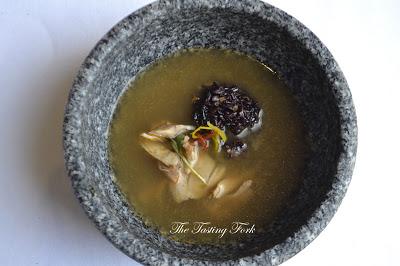 After having our kala khatta churan sorbet which was the palate cleanser, we moved to mains. Mizo Stew with black rice was a stew with black rice in it, a specialty from Mizoram, with boiled chicken in the stew too. A very comforting dish, something you call soulful food. The Pepper lamb with appam shell was equally fantastic! Soft lamb cooked in a thick peppery gravy with a small-sized appam siting atop. The appam's black color comes from the use of charcoal, the same that was used in the charcoal bhajiya.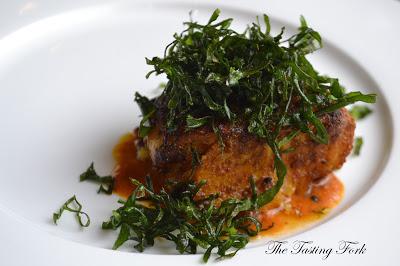 Radhuni sea bass was a soft delicious basa coated in celery which is radhuni. The green that you see on top is pui saag, a Bengali green which is shredded and fried. It has a lovely crisp texture and a yum flavour- another winner of a dish for me. The non vegetarian mains were all very very impressive in taste, all so high on flavor. We were also served a Salmon Khichdi, which was a risotto, something that completely swept me off my feet. But this wasn't it- even their Dal Khichdi which was a Gujarati dish, was something people would simply adore!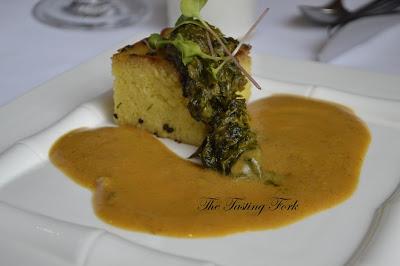 In the vegetarian main courses I tried the Dhokla, corn and dil curry. The amalgamation of dhokla and dil curry did not work at all. The sweetness of the dhokla and the saltiness of the dil curry- not a preferred combination for me. She loved the gatte ki subji and Fermented Dal Pakodi (that's served with both the veg and non veg menu). The gatta was super super soft and the curry was amazing! The dal also had the same effect on us- very flavourful. The bread platter had a lachcha parantha and tingmo (a tibetan bread) in it, with three curries. We were so full by now but the desserts awaited us.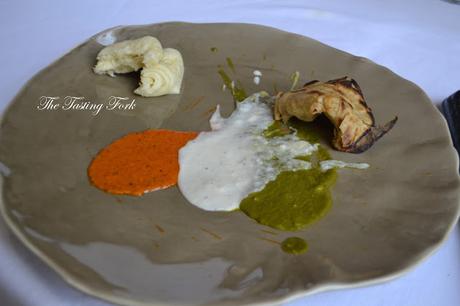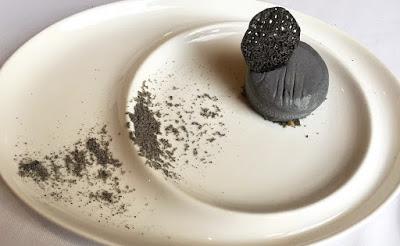 The Jalebi Caviar had jalebi made in small round pieces put together that had a crisp texture to them.  Ashen kulfi was a unique-looking dessert. A coarse texture that came from the use of banana stem. Yes, that's right- the banana stem has been burnt and the coarse texture you get is of the ashes. Surprisingly, there's no burnt flavor there.  Nothing that blew me off but. However, a dessert called 'Chocolate' at Masala Library, is going to adored by chocolate lovers! The meal ended with the chef demonstrating levitation for the chocolates that were served. This was the dramatic part where the objects stayed in the air and small pieces of chocolates were served on them. Theatrics at its best but the chocolates tasted just fine.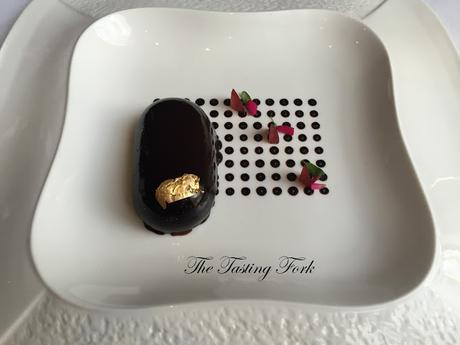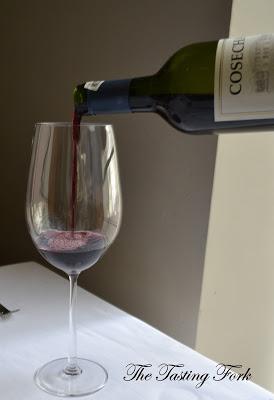 The meal offers you some delicious delicious dishes that you will keep coming back for. It's excellent value for money, I say it again. The thing that no other restaurant offers you but Masala Library does, is an experience. You don't go just for the food, you go for the exceptional presentation and the theatrics too. You go to see food presented in a way you've witnessed never before. Also for the dishes that have a twist to them like never before. Each dish comes from a different part of India, and you'll be surprised to know the vast variety of ingredients used in each. They do have a few dishes, especially in the vegetarian menu, that don't taste exceptional and are not at par with the standard that this restaurant has created for itself. But you choose wisely then. Take suggestions from your server and tell him/her what you like and don't like. It's one of those places that you have to have to tick off your bucket list. It's one of those places where you go to splurge (do take the wine pairing as well). The wines paired with the food take your experience a notch higher. Priced at Rs.2200 plus taxes alongwith the tasting menu, the wines are the perfect companion to your food.
If you're planning a meal at Masala Library, be sure to book at least a week-10 days ahead. They get sold out pretty soon.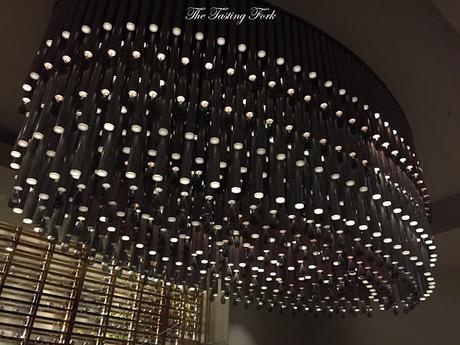 Address: 21A, next to Le Meridien, Janpath, New Delhi
Contact: 011 69400005, 011 69400006
Price: 
Chef's tasting menu-
Rs.2100 plus taxes for veg, Rs.2300 plus taxes for veg, Rs.2200 for wine pairing with these menus
Timings: 12 Noon to 2:45 PM, 7PM to 1AM

Disclaimer: The review was done on an invitation from the restaurant. All views expressed are unbiased in nature but readers are advised to exercise their own discretion.
Connect with me on:
Twitter: @sahibagursahane
Instagram: 
@thetastingfork
Facebook: 

www.facebook.com/thetastingfork
Snapchat: @thetastingfork
Roposo: www.roposo.com/@thetastingfork