Today I have an eternal classic dish of South India for you all.Masala dosa which is very famous in Tamil nadu,Karnataka,Andra pradhesh is a paper thin dosa which is stuffed with spicy potato curry and topped with butter.This is an all time favorite breakfast for most of the people in the above mentioned states.MTR in Bangalore,Saravana bhavan in Chennai are few restaurants famous for their masala dosa.It is perfect for breakfast along with a hot cup of degree kapi (Filter coffee). Usually in restaurants red chutney is applied as spread,however when making at home we can make chutney of our choice.(isn't it the whole point in recreating restaurant recipes at home :)). Here is my recipe for masala dosai with step by step pictures.Please let me know your thoughts on this.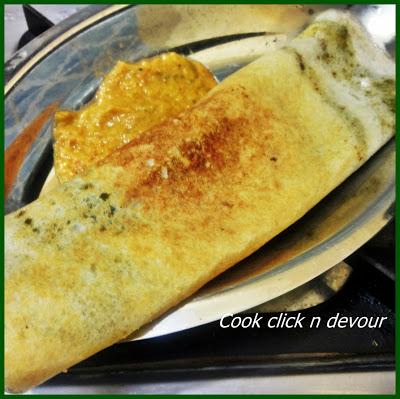 Masala dosai
Star ingredient:Potato curry,dosa batter
Time:30 minutes
Yield:10dosas
The making of masala dosai can be broken into three parts.
Prperation of idly/dosa batter
Preparation of potato curry/bhaaji
Preparation of chutney/spread
Idly/dosa batter
1.Prepare idly batter as mentioned here.
2.Take about 3 cups of water and mix with half cup of water.Mix well.
Potato curry/bhaaji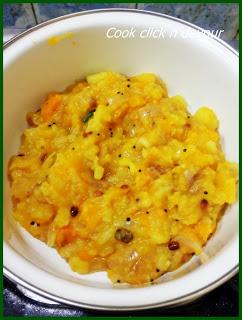 Ingredients:
3 large potaoes,boiled and peeled
1 large carrot,boiled and peeled
1 onion
2 green chillies
1 teaspoon gram dal
1 teaspoon urad dal
Curry leaves,salt
Oil
Method:
1.In a kadai,heat oil and temper with mustard,urad and gram dal.Once tempered add green chillies,curry leaves and saute well
2.Add onion and saute well. Mash the vegetables and add.
3.Add about 1/2 cup of wate,salt and cook for 5-7 minutes.Remove from flame.
Cilantro chutney: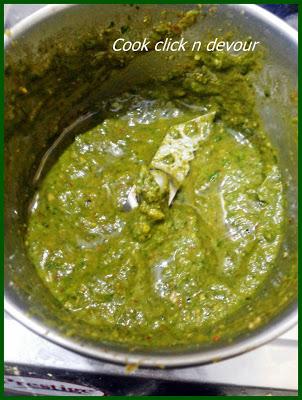 Heat about a teaspoon of sesame oil in a kadai.Fry 1 teaspoon of gram dal.1 teaspoon of urad dal,2 dried red chillies and a small piece of tamrind.Once cold grind along with 1/2 cup of cilantro leaves and salt.Keep aside.
Preparation of masal dosai:
1.Heat a well seasoned cast iron tawa.Drizzle some water and wipe with a spatula.
2.Now spread some batter as thin as possible.after 20-25 seconds,apply 1/4 oil around the edges.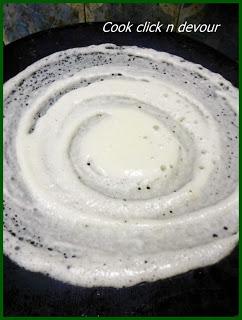 3.Spread some chutney all over the dosa.Next spread some potato curry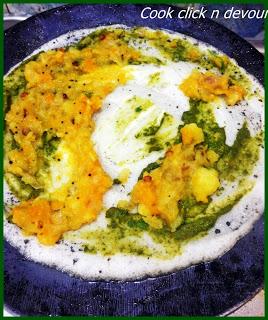 4.Roll as shown in the picture.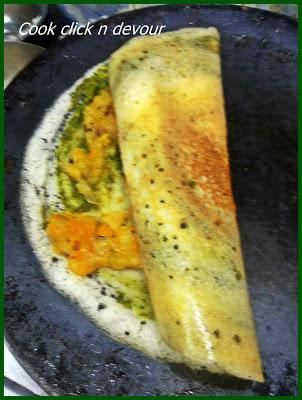 5.Serve hot with chutney and/or sambar.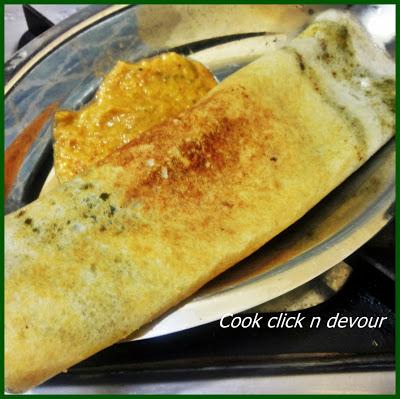 Notes:
1.Making masal dosai/or dosai itself sure takes some practice.One or two dosas intially may stick to the tawa.If that happens,apply some water and wipe the tawa and try again.
2.Keep adjusting the flame to attain the right temperature.
3.You can serve this dosa with butter if you prefer.
4.I add carrot to the curry which is purely optinal.
5.You can add about 2 tablespoons of beaten rice(aval) while grinding batter for dosa
Chutney Ideas