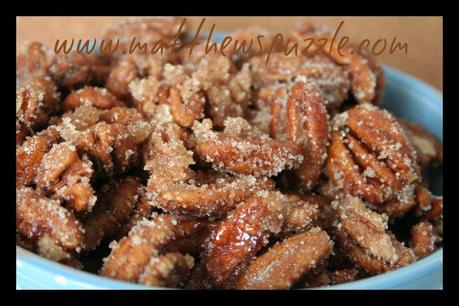 Don't you just love the smell of those Bavarian roasted nuts you find in malls across America? I do too. But you know me, I had to find a way to control the ingredients, so I decided to make some myself. I have been struggling to remain ice cream-free in an attempt to help control my weight but sometimes I still wanted something a little sweet in the evenings, enter the Honey Roasted Nuts. And I don't know about you, but one of my all time favorite salads makes use of some wonderful Honey Roasted Nuts to dress the salad just perfectly, so this seemed like a win-win-win situation. I could make my own, control the ingredients and use them in several different ways.
For the following recipe I used pecans since they are one of my favorite nuts, but you could easily substitute walnuts, almonds or peanuts if you like. I enjoyed making them, they leave your home smelling amazingly fragrant and if your kids are like mine they will be begging to try some.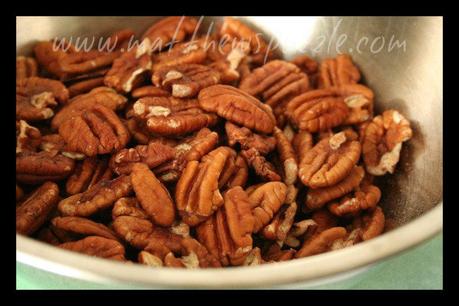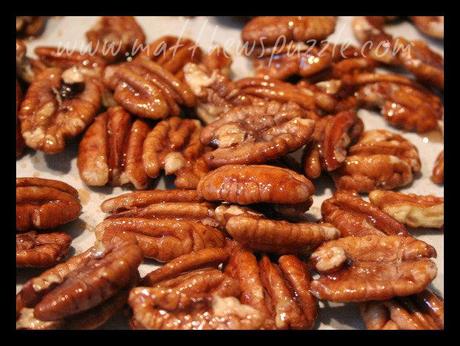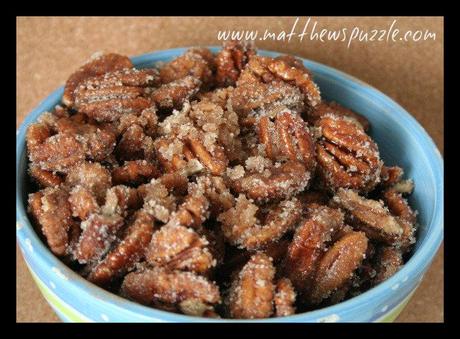 Maryann's Honey Roasted Nuts Print
Recipe type:
Snack
Author:
Matthew's Puzzle
Prep time:
5 mins
Cook time:
10 mins
Total time:
15 mins
Easy to prepare Honey Roasted Nuts great for snacking, using in salads or giving as a gift during the holidays.
Ingredients
3 Cups nut of choice
1/4 Cup sugar
1/2 to 1 tsp cinnamon
1/4 to 1/2 tsp ground nutmeg
1/4 to 1/2 tsp ginger
1/4 tsp clove
1/4 to 1/2 tsp ground cardamon
1/2 tsp salt
1/8 cup honey
1/8 cup maple syrup – or you could use all honey instead
Instructions
Preheat oven to 325 degrees
Line a cookie sheet with parchment paper, I used a sheet with sides
In a large bowl mix the nuts with the honey and maple syrup until nuts are well coated
Spread nuts in a single layer on the cookies sheet and roast for 10 minutes in the oven
While the nuts are roasting mix the remaining ingredients, the sugar and spices in a bowl
Once the nuts have roasted remove them from the oven and let them cool 2 minutes
Sprinkle the slightly cooled nuts with the sugar mixture making sure to cover all side
Serve or store in an air tight container
WordPress Recipe Plugin and Microformatting by

EasyRecipe
2.2.8