With just a few days left until San Diego Comic-Con finally kicks off, Marvel Television and Netflix (via TV Insider) have debuted the very first key art poster for their upcoming 13-part series, Luke Cage. The poster was created by Marvel chief creative officer Joe Quesada and will be available at the Marvel booth at Comic-Con starting July 20th.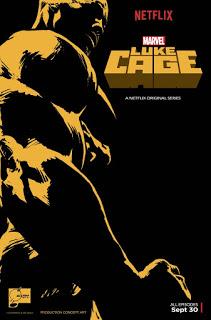 Mike Colter made his debut as the Power Man in the critically acclaimed Jessica Jones and will next be seen in his own series, which will be released in full on Netflix on September 30th. Speaking with the site, Quesada had the following to say about the star of the series:
"You've got one shot to encapsulate a character with a pose that's provocative and that you hope will someday be iconic. Mike gives Luke a smoldering strength. He's sexy and calming. And the ladies love it."
The Luke Cage panel will take place on Thursday, July 21st at 5:45 PM. The first trailer for the series might be released during the panel.
The next movie installment in the Marvel Cinematic Universe is
Doctor Strange
, featuring Benedict Cumberbatch as the man who would be the Sorcerer Supreme, Stephen Vincent Strange. Doctor Strange will have a major presence at Comic-Con International 2016 in San Diego (later this week, at the time of writing this) for that very reason, with director Scott Derrickson among those on-deck to debut previously-unreleased footage from the film at the 'Con.
Here's a better look at the new #DoctorStrange poster I found!! Enjoy! pic.twitter.com/YnGuXSOZzf— Cooper Hood (@CooperMCUEx) July 17, 2016
Beyond that, the Doctor Strange panel at Comic-Con could help to further usher in the next wave of marketing for the Marvel Comics film adaptation. As part of that marketing push, a fresh theatrical poster for Doctor Strange – featuring Cumberbatch in costume front and center – has already been released and spotted at multiple theaters in the U.S. by fans.
Credits:
HeroicHollywood
|
Screenrant