There's been a lot of speculation about what we'll see in Agents of S.H.I.E.L.D. season 4. Some believe that we'll see an existing Inhuman wielding Hellfire chains, while others of us are betting on the All-New Ghost Rider driving into town. We should find out soon either way, as Marvel TV is going to talk Agents of S.H.I.E.L.D. at San Diego Comic-Con.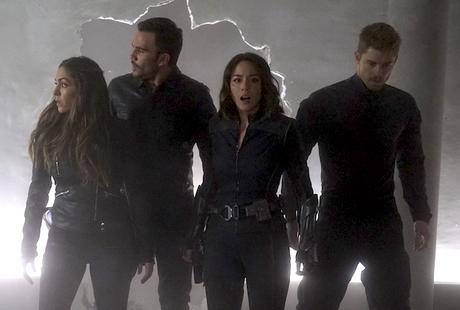 Regardless of what
the new season
will hold, though, filming is now officially underway. The cast and crew of Agents of S.H.I.E.L.D. are taking to social media to let fans know that today, July 21st, is officially the first day on the set.
Ming-Na Wen, who plays Agent Melinda May aka The Calvary, was one of the first to tweet about the start of filming. Posting at 4 in the morning, she showcased her excitement while letting fans know that she still hates early calls:
Day one. #AgentsofSHIELD Season 4 begins filming. Early calltime. The Cavalry is back on her horse, peeps!
Yeah, still hate waking so early— Ming-Na Wen (@MingNa) July 21, 2016
Chloe Bennet, who plays currently-on-the-run
Agent Daisy Johnson
aka Quake, also took to social media in advance of the start of filming. Posting to Instagram, she gave fans a sneak peek at Daisy's new look for season 4:
Say hello to season four Daisy. ⚫️⚫️⚫️⚫️ 😁color and cut by @clarissanya ✨ #agentsofshieldA photo posted by Chloe Bennet (@chloebennet) on Jul 20, 2016 at 7:25pm PDT
The crew is also excited to be back to work. Visual effects supervisor Mark Kolpack and costume designer Ann Foley both tweeted Day One comments as well, showing that they're more than ready for the challenges of the new season:
All the #VFX Gear is set. So?
Bring it Day ONE.
I said, BRIIIIIING iIIIIIT.
Ah. That felt good.#agentsofshield— Mark Kolpack (@MarkKolpack) July 21, 2016
Day 1 of Season 4! Here we go! 🙌👊💥 #AgentsofSHIELD— Ann Foley (@afoley24) July 21, 2016
Fans may get updates from other cast members such as Clark Gregg soon as well.
It's good to see members of the cast and crew keeping their fans updated, giving them a peek behind the curtain instead of just letting fans wait to hear official announcements from Marvel. It's also nice that crew members like Kolpack and Foley seem so excited about their work and the show that they're creating. With any luck, this excitement will pour through to the new season and it will be the show's best season yet.
Season four will be an interesting one for
Agents of S.H.I.E.L.D.
, as not only is there a chance that we'll see Ghost Rider (or possibly Hellfire, for those who are about to say that Ghost Rider isn't happening) but the show's new time slot will allow it to focus on slightly edgier material. Giving the show's tone a little nudge closer to Marvel's Netflix fare may be just the thing to help it move on from its Inhumans and Agent Ward obsessions after the end of season 3 – and those involved with bringing the show to life seem ready for the challenge that entails.
Agents of S.H.I.E.L.D. season 4 airs on ABC Tuesday nights at 10/9c, starting on September 20, 2016.
Source: Twitter/Instagram/ScreenRant