Well, no, Martha Stewart's not a vegan but her daughter is…and so are Biz Stone, Twitter co-founder, and Kathy Freston, author of The Veganist, who appeared on her show in an episode mostly dedicated to veganism.  It was really interesting to listen to Biz talk about Twitter and how it's taken the world by storm, but also about how he and his wife decided to turn to a vegan diet after a visit to Farm Sanctuary in New York.  Once they were up close to the animals, they changed their food intake and have never looked back.  One of his wife's favorite recipes is Seitan Bourguignon, a modified version of the classic beef recipe.  Seitan, a protein made from wheat gluten, is not something I generally cook with, and order very occasionally when out to eat, but this sounded like a really wonderful, hearty but healthy recipe.  I cooked up a batch last night (all in one pot!) and it was delicious!  It's a pretty dish, really like a stew, and after I had some for lunch today, I was full for hours.  It's probably great over noodles like a stroganoff…though I'm not sure I've ever eaten stroganoff to know!  Here's how to make it (I copied the recipe from tv so this is what I heard!)
Take 2 packages of Seitan (wheat protein), torn into pieces, and brown in 2 TBSP of olive oil until slightly brown (about 5 minutes but make sure the oil is hot before you add the seitan.)
Then add:
2 large carrots, sliced (I used a handful of baby carrots)
4 minced shallots
3 garlic cloves, diced
Pinches of pepper and kosher salt (to taste)
15 pearl onions (I omitted them)
3 TBSP flat leaf parsley
1 large bay leaf, torn into pieces
2 TBSP tomato paste
Dried thyme (I estimated about 1 TBSP)
2 c vegetable stock
1.5 cups, good Pinot Noir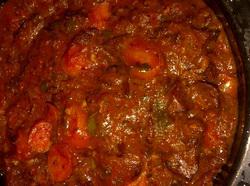 Simmer everything for about 30 minutes.  While that is cooking, roast some shiitake mushrooms (I used a cup.)  After 30 minutes, thicken the sauce, by adding:
2 TBSP Earth Balance (or any vegan) margarine
3 TBSP flour
The mushrooms…and serve!
---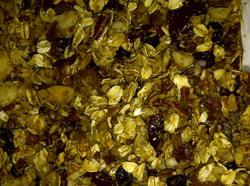 When Kathy came on, Martha made vegan breakfast bars (though she used honey which most vegans do not eat, so I replaced it with agave nectar.)  They bind a bit in the oven, and moreso once refrigerated, but I ate it more as granola…either way, it's really good!
1 cup dates, cooked, pitted and put thru a food processor
1.5 cups old fashioned rolled out
.5 cup chopped pecans
1/3 cup dried papaya (I left it out)
.5 cup ground pecans, toasted
1/3 cup dried cherries
1/4 cup browned macadamia nuts
1/4 cup chopped macadamia nuts
1/3 dried blueberries
2 TBSP oat bran flour (I left it out)
2 TBSP wheat germ
3 TBSP ground flax seed
1 tsp cinnamon
1/2 tsp salt
1/4 cup agave nectarAfter mixing all of the ingredients together, line a square baking pan with parchment paper and fill it with the mixture.  Bake at 350 degrees for 18-20 and let cool.