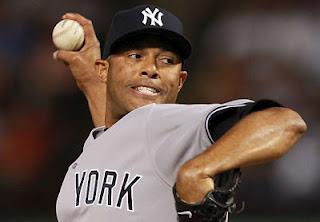 Yankees fans worldwide, or at least this Yankee fan,  has one thought today-has the career of Mariano Rivera come to an end?
The news of Mariano Rivera tearing his ACL while catching fly-balls as part of his pre-game routine, was shocking. Yes, talk of this being Rivera's last year has been circling, but this is only May, quite a few months left to enjoy the 'Sandman', right? After yesterday, wrong.  Just like that,  the Yankee organization and fans have to adjust to a different Yankee team.
Rivera and Derek Jeter are the last of the Big 3 or Big 4 if you want to count Andy Pettitte, that have been Yankee fixtures since 1996. As much as i respect and enjoy Derek Jeter, Mariano Rivera has been nothing short of incredible to me. How many times have we all said, jut get us to the 9th and we'll be ok? The Mariano Rivera cutter has been as dominant a pitch as there is in MLB.  Even Rivera's intro music-'Metallica's Sandman' is legendary. The legend may have come to end.
Shocking! In the world of sports,  it seems almost every day we all wake up to the newest shocking, or unexpected story.  These last few days have been no exception.  Talk about not knowing what you have until it's gone...
Ok, so this does open up an opportunity.
Truthfully, not in the mood to go there yet. right now a bit numb pondering....
Mariano Rivera-Is This The End?