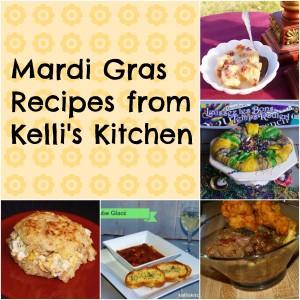 Can you tell that I'm a little bit fanatical about Mardi Gras?  I thought I would share all my New Orleans influenced and Mardi Gras recipes in one post!  Just click on the links below to take you to my favorite recipes.  Laissez les bon temps rouler!!
From the top right hand corner – Bacon and Fig Bread Pudding.
Coming down on the right side – Quick and Easy King Cake.
In the bottom right corner – Duck and Venison Gumbo.
Middle bottom is the wonderful New Orleans - Daube Glace'.
Bottom left is my Nana's homemade  - Pimento Cheese and Ham Biscuits.
By all means, look at the post prior to this one – Let the Good Times Roll!
I hope you enjoy my party recipes – obviously I'm pretty tame these days………but if you knew me way back when…..