Scarecrow's Garden Journal Notes: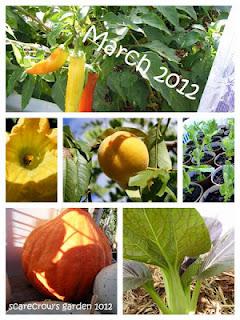 Temperatures range for March:
Lowest Min 4.1C
Highest Min 15.3C
Lowest Max 17.6C
Highest Max 32.5C
32.5mm Rain

Rain comparison with other years: March average is 21mm:
2012 32.5mm
2011 49.8mm
2010 7mm
2009 13mm
2008 0mm
2007 29.7mm

Harvest Tally for March:
Doesn't include Greens fed to the chooks on a daily basis or herbs picked for use in the kitchen for cooking or tea making. For Salads, Juice and Stirfries  I have been picking Kale, Silverbeet, Leaf Amaranth, Mushroom Plant, Gotu Kola, Parsley, Basil, Nasturtium leaves and Beetroot Leaves which are not always weighed.
Beans  Purple King 22g
Beans Roc D'Or 221g
Beans Runner 28g
Beetroot Chioggia 83g
Beetroot Golden Detroit 190g
Capsicum California Wonder 366g
Capsicum Hungarian Yellow 38g
Carrots Mixed 140g
Cucumber Suyo Long 368g
Eggplant Casper 76g
Eggplant Long Purple 229g
Kale Red Bor 80g
Onion Stuttgart  174g
Onion Domenica  Sweet 1420g
Onion Red 255g
Parsley Curled 83g
Pumpkin Australian Butter 1226g
Pumpkin Butternut 875g
Pumpkin Triamble 14414g
Pumpkin Whangaparaoa Crown 31209g
Squash Golden 3500g
Tomato Big Rainbow 328g
Tomato Money Maker 2261g
Trombone 4275g
Total Veg Harvest for March 62.3Kgs
Apple Cox's Orange Pippin 1432g
Apple Jonathon 734g
Peaches  3567g
Total Fruit Harvest for March 5.7Kgs
Total Eggs for March 85 eggs:
 74 from the 5 Farmyard Ferals
 0 from the lone Barnevelder
 11  from the 4 Faverolles
March of Previous Years:
2011
2010
2009
2008
2007
To see how the various Garden areas fit on our half acre block check out the newest Planting Plan for Autumn HERE  This is updated as planting occurs.
Come on over to the Scarecrow's Garden Facebook page and say Hi!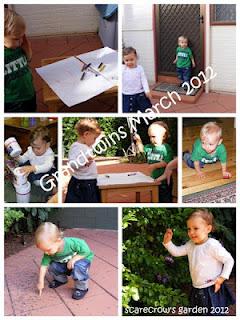 Latest photos from the latest visit to the 21 month old Grandtwins!They are growing up way too fast!!!