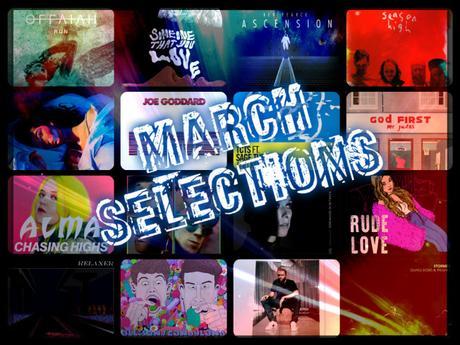 While February's music news was dominated with awards show saga's from the Brits to the Grammys, March has paved the way for some exciting new music releases. Lorde made her highly anticipated comeback with new single 'Green Light', Stormzy showed us a different side to him with the heartfelt 'Blinded By Your Grace, Pt 2' Ft MNEK, while Kendrick returned with new single 'Humble' and a cinematic video to match. But before I  get into my top tracks for March, let's see what else has been going on in the music world… which mainly consists of one very important man. Yes, Ed Sheeran has well and truly dominated the charts, taking 16 positions in the top 20 singles chart. Every single track from his new album ÷ (Divide) made the top 20, making it a record first for any artist to achieve. 'Shape of You' still maintains the top spot, closely followed by 'Galway Girl', 'Castle On A Hill', 'Perfect' and 'New Man'. Not only has Sheeran become the only artist with the most top ten singles from one album, he's become the fastest selling male solo artist ever and the third fastest selling overall in the first week, only to be beaten by the Queen that is Adele with her album 25. On top of that, Spotify announced that Ed Sheeran now has the highest number of first day streams for an album, raking up 56,727,861 streams.  Not bad, eh? In other album news… yes there are others besides Ed, Lorde announced details of her forthcoming album Melodrama out this Summer, while alt-J unveiled details of their new album Relaxer set to drop in June too.
Another month, another festival! Last month we heard that Beyonce had to pull out from headlining legendary Coachella Festival on doctor's order (Pregnant with twins). This month it's been confirmed that Lady Gaga will be her epic replacement. Haven't smashed her Superbowl performance in February, we can't think of a more worthy replacement. Although, how she can top jumping from the roof of the stadium is beyond me! Closer to home and going back to Ed for just another minute, Sheeran has finally been announced as the final headliner at this year's Glastonbury Festival and joins fellow Pyramid Stage headliners Radiohead and Foo Fighters. I feel like many people already guessed this, but a headline slot of this caliber is only fitting for a man who's breaking records left, right and center. SW4 announced that Solomun, Loco Dice, Sasha and Carl Craig's Versus Synthesizer Ensemble will be joining the already growing line-up of Sigma, Pendulum, Deadmau5, Duke Dumont, Knife Party and Nicky Romero. While Radio 1's Big Weekend revealed that Katy Perry will headline the first night in Hull. Other acts announced over the two date event include Little Mix, Kings of Leon and Stormzy.

Red Nose Day just got bigger with the addition of James Corden's popular Carpool Karaoke feature, with Take That. The boys will be joining The Late Late Show host in LA to raise money for Comic Relief. Back in London, Radio 1's Scott Mills and Chris Stark aired a 24-hour LOL-a-thon, which saw the hosts entertain the airwaves and raise £275,263 over the 24 hours. Congrats lads!
Now in March, we can look ahead to plenty of new music and festival updates! In the meantime, check out my top tracks below, with over an hour for your listening pleasure.
1) Offaiah – Run
Ok, let's kick off monthly selections with a bit of a banger shall we? Argentinian house producer Offaiah, rose to new heights last year igniting dance floors with the Summer smash 'Trouble', raking up over 20 million streams. Hoping to follow in the same suit with his highly anticipated follow-up single 'Run', Offaiah serves up a instantly vibrant sound with some driving house-piano and infectious flute hook. No doubt a top line vocal will be added to the already infectious instrumental soon enough. 'Run' is available now via Hits In The Bag and Virgin EMI.
2) Jarreau Vandal – Someone That You Love ft Olivia Nelson
Rising Dutch producer Jarreau Vandal, unveiled his new single 'Someone That You Love'. Known for his unique remixes for the likes of Digital Farm Animals & Dua Lipa, as well as 2013's Soulection debut 'Perfect For Me', his new single 'Someone That You Know' serves up a delightful 90's throwback with soulful, jazzy vibes. The track recently featured on The Magician's Magic Tape 69 and features the vibrant vocals of 21-year-old Olivia Nelson, who effortlessly sparkles over some funky basslines, soulful chords and infectious beats. Vandal delivers a track with plenty of structure and depth so expect a lot more from him this year.  Having recently completed his sold out European Sound of Tomorrow Tour, 'Someone That You Love' is taken from his forthcoming 5-track EP Suburb Superhero, which is set for release April 29th via Hear This Records.
iTunes: Suburb Superhero
Google Play: Suburb Superhero
Tour Dates
3) Ben Pearce Feat Elias – Crescent (Running)
Ben Pearce is back with re-working of his single 'Crescent' now featuring the stylish vocals of Swedish singer/songwriter Elias. While the original is taken from Ben's forthcoming EP 'Ascension' –  a series of 4 EP's to be unveiled throughout the year, the original instrumental track is given further layers of depth and creativity with the addition of Elias' powerful vocals. Mix that with Pearce's layers of intricate synth melodies, soft basslines and luscious tones throughout to deliver a truly impressive piece of work. 'Crescent (Running)' is available now via Different Recordings while the Ascension EP is available April 17. Upcoming dates for Ben include Lost Village Festival (Aug 24-28)
iTunes: Crescent (Running)
Google Play: Crescent (Running)
Tour Dates
4) Sweet – Little Dragon
Swedish four-piece group Little Dragon, unveiled their latest single 'Sweet' which serves as the follow-up to the previously released 'High'. 'Sweet' serves up more of a trippy-dance track, perfectly framed by  lead singer Yukimi Nagano's sweet vocals and plenty of futuristic elements shimmering throughout. Taken from their forthcoming fifth album Season High and follow up to 2014's Nabuma Rubberband, the band worked with producers James Ford and Patrik Berger. Season High is available April 14th via Loma Vista. Upcoming dates for the synth-pop group include Love Saves The Day in Bristol (May 27), Parklife (June 10-11) and Glastonbury (june 21-25)
iTunes: Season High
Google Play: Season High
Tour Dates
5) Lorde – Liability
With the success of her comeback single 'Green Light' released earlier this month, Lorde unveiled yet another new track. 'Liability' is the second track to be taken from the forthcoming sophomore album Melodrama and serves up a more subdued, yet beautifully lyrical track. Accompanied by delicate piano, Lorde exhibits a sense of vulnerability in her vocals, all the while remaining thoroughly captivating throughout. Liability serves up a stark contrast to the previously released 'Green Light', giving us a taste of the diversity on the album. Melodrama is available June 16th via Universal. Upcoming dates include Radio 1's Big Weekend in Hull (May 27-28) and Fuji Rock  in Japan (July 28-30)
iTunes: Melodrama
Google Play: Melodrama
Tour Dates
6) Joe Goddard – Home ft Daniel Wilson
Hot Chip's Joe Goddard is gearing up for the release of his debut solo album Electric Lines in April, and with that has unveiled his new single 'Home' ft Daniel Wilson. Sampling the retro 'We're on Our Way Home' from 70's funk band Brainstorm, 'Home' serves up an instantly feel good tune paying homage to that iconic hook – the perfect soundtrack for your journey home. With vocals from Michigan based singer Daniel Wilson, 'Home' delivers an infectious, disco anthem with plenty of soul. Be sure to check out the video directed by Pete Fowler for a truly psychedelic, disco-party experience. Electric Lines is set for release April 21st via Domino Recordings.  Upcoming dates include Field Day (June 3), Wildlife (June 9-10) and a mini US tour (May 14-15, 18 & 20)
iTunes: Electric Lines
Google Play: Electric Lines
Tour Dates
7) TCTS – Do It Like Me (Icy Feet) ft Sage The Gemini & Kelis
Back in January I posted about rising producer TCTS (aka Sam O'Neill) and his infectious single 'Icy Feet'. Now the Mancunian producer is back with a re-edit and vocal topline for the newly renamed 'Do It Like Me (Icy Feet)'. TCTS enlists the slick vocals of LA rapper Sage The Gemini and R&B singer Kelis. Their call and response vocals serve up the perfect dynamic to take this already infectious dance-floor filler to the next level. 'Do It Like Me (Icy Feet)' is available now via Ministry of Sound. Upcoming dates for TCTS include Creamfields (August 24-27)
iTunes: Do It Like Me (Icy Feet)
Google Play: Do It Like Me (Icy Feet)
Tour Dates
8) Mr Jukes – Angels/My Love
Bombay Bicycle Club frontman, Jack Steadman, has taken a hiatus from his indie rock routes and taken up the role of soul & funk producer. Re-branding himself as Mr Jukes, jazz and funk are his main influences throughout his first solo single 'Angel's/Your Love'. The single serves up a tale of two sides, with Angel's setting the tone with sassy horns, echoed vocals and sax riffs, while 'Your Love' unleashes a more brassy attitude with its funky vibes and effortlessly soulful vocals from BJ the Chicago Kid. Mr Jukes perfectly expertly recalls the vintage, old school jazz era, all the while delivering something fresh and exciting for his debut single. Mr Jukes debut album God First is set for release July 14 via Island Records.
iTunes: God First
Google Play: God First

9) Alma – Chasing Highs
21-year-old Alma from Finland kicked off the year featuring on BBC Radio 1's Future Festival. Her distinct vocal and brightly coloured hair take center stage once again with her latest single 'Chasing Highs'. The single premiered as Mista Jam's Hottest Record and serves as the follow up to last years' 'Karma' and 'Dye My Hair'. With its instantly catchy hook, breezy tropical beats and infectious synths, 'Chasing Highs' perfectly captures Alma's unique pop-stylings. 'Chasing Highs' is available now via Island Records. Upcoming dates include Mighty Hoopla (Victoria Park, June 4) and Reading & Leeds Festival (August 25-27).
iTunes: Chasing Highs
Google Play: Chasing Highs
Tour Dates
10) Gorillaz – Saturnz Barz ft Popcaan
Gorillaz unveiled four new songs from their highly anticipated album Humanz. 'Saturnz Barz' ft Popcaan follows the previously released 'Hallelujah Money' ft Benjamin Clementine, taken from their forthcoming fifth album Humanz and follow up to 2011's The Fall. 'The new track features Jamaican dancehall singer Popcaan, who you might recognize from Jamie xx's 'I Know There's Gonna Be (Good Times)', and serves up a melancholy track filled with haunting choral vocals, atmospheric production with Popcaan's effortless flow working in perfect contrast to Albarn's eerie hook. With a host of high profile guest artists announced for the album, including D.R.A.M, Rag'n'Bone Man, Danny Brown, Little Dragon and Noel Gallagher, Humanz is set for release via Parlophone Records on April 28 Upcoming dates include The Alban Arena (June 2), London's O2 (Dec 4-5)  and their very own festival called Demon Dayz at Dreamland amusement park in Kent. Be sure to check out the video directed by Jamie Hewlett also available in 360 degrees.
iTunes: Humanz
Google Play: Humanz
Tour Dates
11) VÉRITÉ – When You're Gone
New York based singer/songwriter VÉRITÉ unveiled her new single 'When You're Gone', taken from her forthcoming debut album entitled Somewhere in Between. With a string of EP's under her belt and the success of recent single 'Phase Me Out', 'When You're Gone' instantly captivates with VÉRITÉ's soaring vocals and euphoric melody, all the while delivering that extra edge with its dark undertones and atmospheric production.  The alt-pop singer has enlisted a host of talented producers for the album including Liam Howe ,(Lana Del Rey, FKA Twigs) Tim Anderson, (Solange) Pether Thoma,s (Selena Gomez) James Flannigan and Zack Nicita.  Somewhere in Between is available June 23rd. While no EU dates have been scheduled, upcoming US dates include Lincoln Hall (Aug 28, Chicago) and Great American Music Hall (Sept 5).
iTunes: Somewhere in Between
Google Play: Somewhere in Between
Tour Dates 
12) Becky Hill – Rude Love
Becky Hill unveiled her latest single 'Rude Love' which premiered as MistaJam's Hottest Record. Produced by long time collaborator MNEK, 'Rude Love' delivers a powerful statement from Hill with fierce vocals and gritty, electro-pop vibes throughout. Rude Love serves as the follow up to previous singles 'Warm' and 'Back To My Love' further solidifying Hill as a prominent solo artist. Upcoming dates for Becky Hill include London's Scala, (April 5) Common People, (May 27-28) Reading Festival (August 25-27) and a headline gig and London's KOKO (Oct 19)
iTunes: Rude Love
Google Play: Rude Love
Tour Dates
13) alt J – In Cold Blood
alt-J unveiled their latest single 'In Cold Blood'. The single is the second track to be taken from their forthcoming album Relaxer, having previously released '3WW' earlier in the month. 'In Cold Blood' premiered with MistaJam on Radio 1 as his Hottest Record and serves up some sassy horns with reggae rhythms and spiraling synths . While the indie rockers diverge from the typical 'pop song structure', they offer up a playful blend of style and sounds with twist and turns at every corner. Produced by Charlie Andrew (Alt-J, Marika Hackman and Sivu,) Relaxer follows 2014's album This Is All Yours and is set for release June 3rd via Infectious Music Ltd. Preorder the album now to receive 'In Cold Blood' as an instant free download. While the indie rock trio are kicking off a North American tour in Columbia, Maryland (July 27), UK dates include Radio 1's Big Weekend in Hull (May 27-28) and London's o2 (June 16) and Glastonbury (June 21-15)
iTunes: Relaxer
Google Play: Relaxer
Tour Dates
14) Karma Kid x FONO – Allison/Candyland
UK producers Fono and Karma Kid, have joined forces on their new split-single 'Allison/Candyland'. A-side 'Allison' kicks off with Fono's signature stylish synths, while the B-side 'Candyland' serves up some spacey breakdowns interspersed throughout the energy-laden track. Both singles demonstrate the producers diversity and creativeness. Not only do the producers continually push boundaries, they tear them down.  'Allison/Candyland' is available via Disclosure Method White Imprint.
iTunes: Allison/Candyland
Google Play: Allison/Candyland
15) Frank Ocean  – Chanel
Frank Ocean shared a new track 'Chanel' via his Blonded radio show on Beats 1 Radio. The track serves as the follow up to the recent Calvin Harris & Migos collaboration 'Slide'. Chanel is an important track for Ocean with it being his most dualistic and subversive work to date. Referencing his bisexuality with line's such as 'I see both sides like Chanel', Ocean gradually peels back layers, laying himself bare amidst shuffling piano, muffled beats and subtle production throughout. As understated as Chanel may seem, Ocean's vocals are commanding throughout this achingly-melodious track. Upcoming dates for Frank Ocean include Sasquatch! in the US (May 26-28), Parklife in Manchester (June 10-11) and Lovebox in London (July 14-15)
iTunes: Chanel
Google Play: Chanel
Tour Dates
Check out the full playlist below and here's to another exciting month of music ahead!
Advertisements