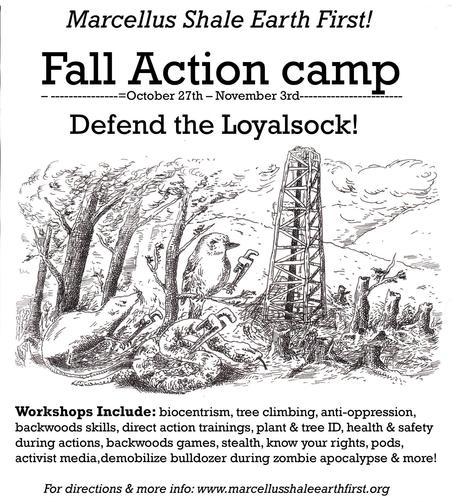 from MSEF Facebook
Join us Friday, November 1st @ 1PM for our MASS MOBILIZATION!!!
It's only 2 DAYS AWAY at the Loyalsock State Forest. Come for a big rally with music, speakers, food and plant hikes
Come out in force! Stop Anadarko in their tracks! The Loyalsock is the line in the sand for many, including those who have been active over the past year and a half publicly opposing Anadarko's development. Folks from the area visit the forest to hike, swim, camp, hunt, fish, and take solace in its wild and mostly undisturbed lands.
MSEF! Stands in solidarity with local communities fighting back, both human and non-human. Anadarko's track record is weak. They have spilled 12,000 gallons of carcinogenic drilling mud in nearby Sproul State Forest, repeatedly failed to report faulty well casings, evaded responsibility for the death of eleven workers during the BP oil spill, and has shown an inability to maintain their waste water containment pits.
It's quite clear Anadarko can't be trusted to maintain the integrity of an ecologically important forest such as the Loyalsock.
For updates on time and directions visit:http://wp.me/P1anYj-9h