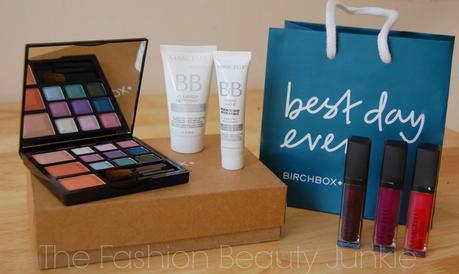 Hey Loves! 
Oh, how I have missed you guys. BUT that is besides the point. A few weeks ago, I was able to stop by the new
Birchbox
Store in Soho. I've been meaning to go in and check it out but I just haven't had the time. Since I am part of their Birchblogger program, I was picked to attend their FIRST in store blogger event with
Marcelle Cosmetics
. Exciting right? I know, I was thrilled when I got the email. Not only was I able to see the gorgeous store but there was a makeup demo with
Marcelle Cosmetics
and some other wonderful things happening that day. Two words: Lipgloss Bar.
Moving on.........
Marcelle Cosmetics
is a Canadian based company that promises
"Beauty without compromise"
.  That means no perfumes and hypo-allergenic beauty products. We were able to take a few products home with us and learn a little about the company that day. Are you ready for the best part? I mentioned it a few minutes ago- There was a Lipgloss Bar! We had the opportunity to create our own unique lipgloss colors!
(some photos were taking with my Iphone so the lightening isn't great.)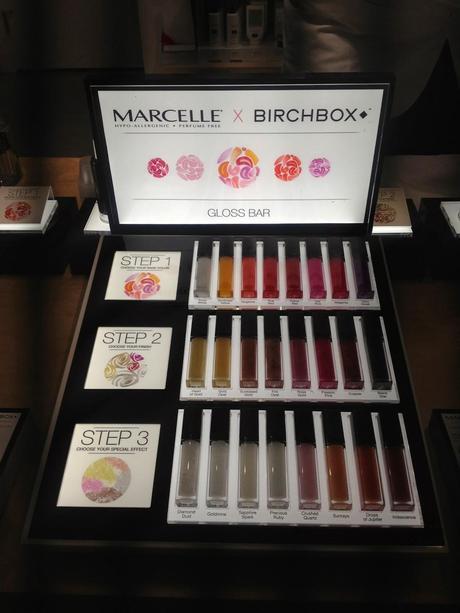 We first chose the Base Color (step 1), then the Finish (step 2) and last the Special Effect (Step 3). We had a special "mixologist" on hand who brought our creations to life. Check him out below.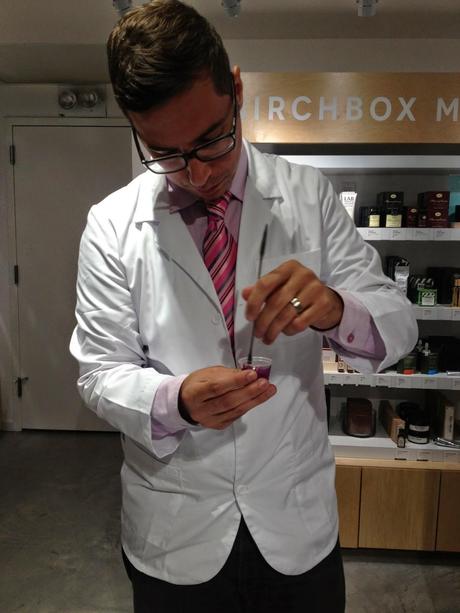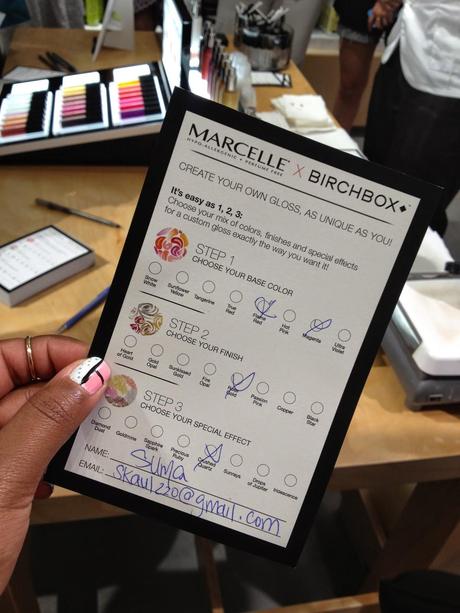 After all the chatting and mingling, we all walked away with special one of a kind glosses.  It was genuinely so much fun to create my own color. So hard to decide but still fun! ___________________________________________________________
I was pretty eager to play around with their products when I got home. I am a eyeshadow palette hoarder so I was obviously happy when I saw this beautiful palette in the bag. I like shadow palettes because sometimes I don't want to "think" when I am doing my eyes. It's nice to have colors in one place that just go together. I am obsessed with the deep blue in this palette by the way. All the colors are gorgeous and they go a long way. If you want to intensify any of the colors I would recommend using a damp eyeshadow brush.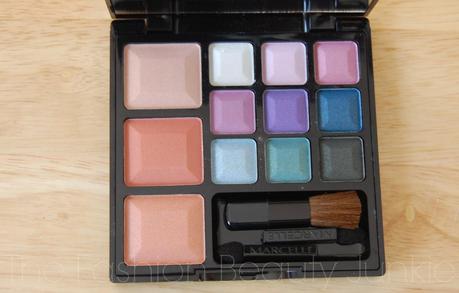 I used this palette the other day when I went out for dinner with some friends. I created a simple but fun look. I was dying to use that deep blue (as I mentioned, I fell in love with the color) so I blended some into my outer corners and used it on by waterline.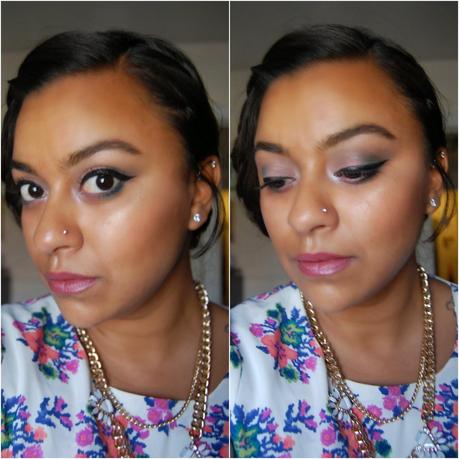 The shadows went on smoothly and had minimal fall out. I normally look like a raccoon while I apply my eyeshadow but I noticed I didn't have much to clean up. The last few times I went out, I grabbed for this palette so that is a good sign.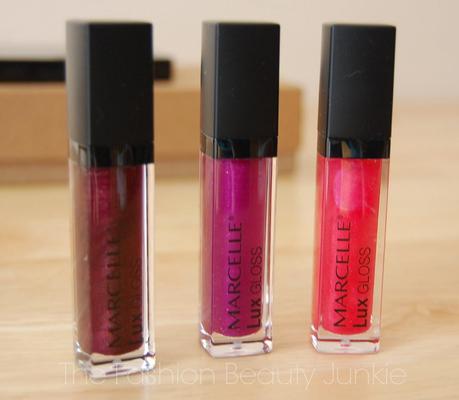 Here are the gorgeous glosses I created. The glosses are on the sheer side but add a nice kick to any look.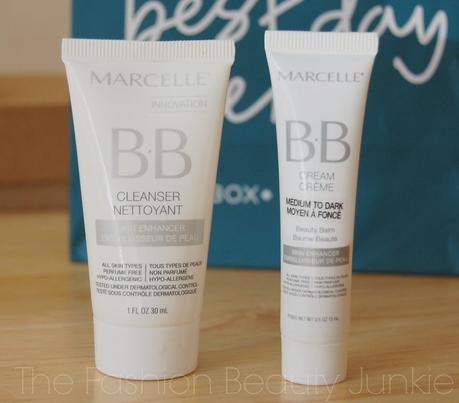 Their cleanser is pretty interesting to use- I personally never heard of a BB Cream Cleanser but it does exist, as you can see. It's a cleanser that doesn't need to be rinsed off and works overnight to give you that BB Cream effect all the time. So far, I love their BB Cream (right)- the couple of times I used it, I had no complaints. Lightweight and not oily.
______________________________________________________________________
I really enjoyed learning about Marcelle Cosmetics. I have a feeling you guys will be seeing a lot of them on TFBJ. Big thank you to Birchbox for hosting such a great event. Check out Marcelle Cosmetics and see all the amazing beauty products they have to offer! 
Until next time...................