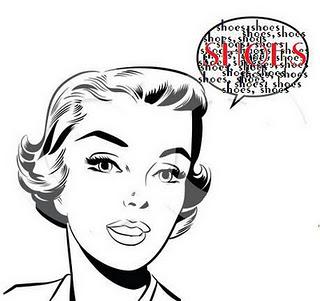 Do you ever get a vision of a pair of shoes or a dress or a coat that you need and know exactly what you are looking for? It happens to me especially when I desperately need something. I can see the item with details in my mind's eye but I can't find it anywhere. One year, I needed a pair of navy shoes and it was as though anything and everything in the navy colour had been ordered off the shelves. This month, I was on the hunt for a functional yet stylish, flat ankle boot that needed to be part masculine, part feminine and most importantly comfortable enough to wear everyday, everywhere and keep my always-frozen toes warm. I guess that long list should have been an indication of the challenges ahead in finding the pair.
I started at Aldo but it's the season of cowboy-inspired ankle boots and Kim-Kardashian/Snooki inspired sparkly high high heels. I looked around Browns/Town Shoes but both stores offered a bigger selection of knee high boots or the entire UGG family. Then I decided to give Top Shop a try. Yes! I found a pair for $39.99 but a voice in my head said, "these are going to get soaked on the way from the subway to work and you're going to kick yourself for being so cheap!" Finally, Zara. Ah ha! Found a patent pair but the sales lady said, "Sorry, we don't have your size." Curses!
I don't know about you but shopping during fall/winter months is a bit of an ordeal.  Coat, jacket, scarf, bag, plus hair in my face. Bend down, zip shoe, back up. Huffing and puffing. Occasionally I'm hot, boiling. The stores are filled with sounds of annoying tween laughter (yes, I'm against joy when I'm on a desperate hunt for shoes). It shouldn't be this difficult! OK ... There is a happy ending. While looking for nail polish at Holtz the other night (yes, next post), I found a pair of Marc by Marc Jacobs boots. The pair was a little unconventional. A little different than the image in my head but when I tried them on, it was a done deal. I think the sales guy was really impressed with my speedy decision making (well, he had no idea I've been on the hunt for about 5 weeks).
Sometimes splurging a little is the only way to keep your sanity. Marc by Marc Jacobs is one of the best "affordable" luxury lines out there. There is no lack of creativity or imagination when it comes to accessories and apparel. Have you seen his mouse flats? The brand is great quality and I will get a few seasons of wear out of them. Yes, these were the thoughts going through my head as I handed over my credit card to the sales guy. Well, what do they look like? Wanna see? Voila.... They are uber comfy and well worth the largess price tag (keep repeating that, keep repeating that).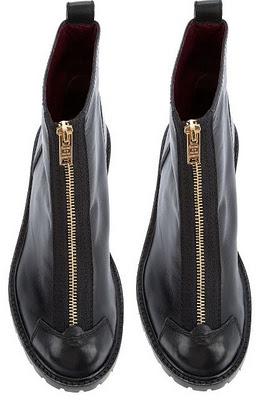 I am a fan of Marc Jacobs and highly recommend this documentary about his life as a designer, socialite, and creative mastermind behind Louis Vuitton. It was neat to learn more about who Marc Jacob is, how he designs, how much work goes into his collections, his creative force etc etc. [Oh no! Is the marketing working on me?] Anyway, next time you're looking for that item that only seems to exist in your mind...Marc my words, you'll eventually find it but when you do, you may have to dish out more than you intended and it'll be well worth it.
Enjoy!